In the food world we differentiate ourselves usually by the kinds of food we eat. Vegetarians, non-Vegetarians, flexitarians, Vegans and many many flavors of vegetarians ones who eat diary and the ones who don't, the ones who eat seafood and the ones who don't etc.
I/We are flexitarian, most Indians I know back home who fall into the category of non-vegetarian are generally flexitarian meaning they eat predominantly a vegetable based diet and also eat chicken, fish, lamb or goat occasionally. The meat in the diet is usually once a week or once in two weeks. Eggs are included in the diet regularly to supplement the protein intake.
My family includes both Vegetarian and Non-Vegetarians. My mother's side of the family does not eat meat of any form not even egg but include diary in the diet. My father's side on the other hand were/are non-vegetarians. My mother occasionally ate meat but now she has switched back to eating only plant based food. My aunt on the other hand has stuck to the ways of her parents and does not eat touch even eggs though she regularly cooks non-vegetarian fare.
As a movement Veganism has done a lot to increase the awareness of sticking to a vegetarian diet and the benefits of doing so. Vegetarian food encompasses all food groups that are essential as per the food pyramid. There is absolutely no need to depend on animal products. I know this for a fact but I don't see the need to switch to being vegan because I still enjoy chicken, fish and all that good stuff.
Even with all these plus points there is something that bothers me about the vegan food movement. It has increased our consumption of over processed food all in the name of sticking to a vegan diet. Read Mark Bittman's article
here
. If you have given up eating meat products why is there is a need to go looking for a fake meat products? The same applies for products made with soy which to the meat eater turned vegan gives the pleasure of tasting something similar in texture and taste. If you given up including diary products why is there a need to go looking for fake butter?
I particularly don't care what a vegan is eating or not eating but I abhor the rise in over processed so called vegan foods which is most cases are harmful to the environment and health than just eating the real thing. I am particularly alarmed at the variation of soy products that seem to pack the food aisles whose claim to fame is that they are all vegan products.
A lot of vegan food blogs also promote these over processed foods as substitutes for meat products. I know I am stepping into a mine field when I am talking about vegan and vegan substitutes. I needed to talk about this because vegan does not necessarily mean a healthier life style!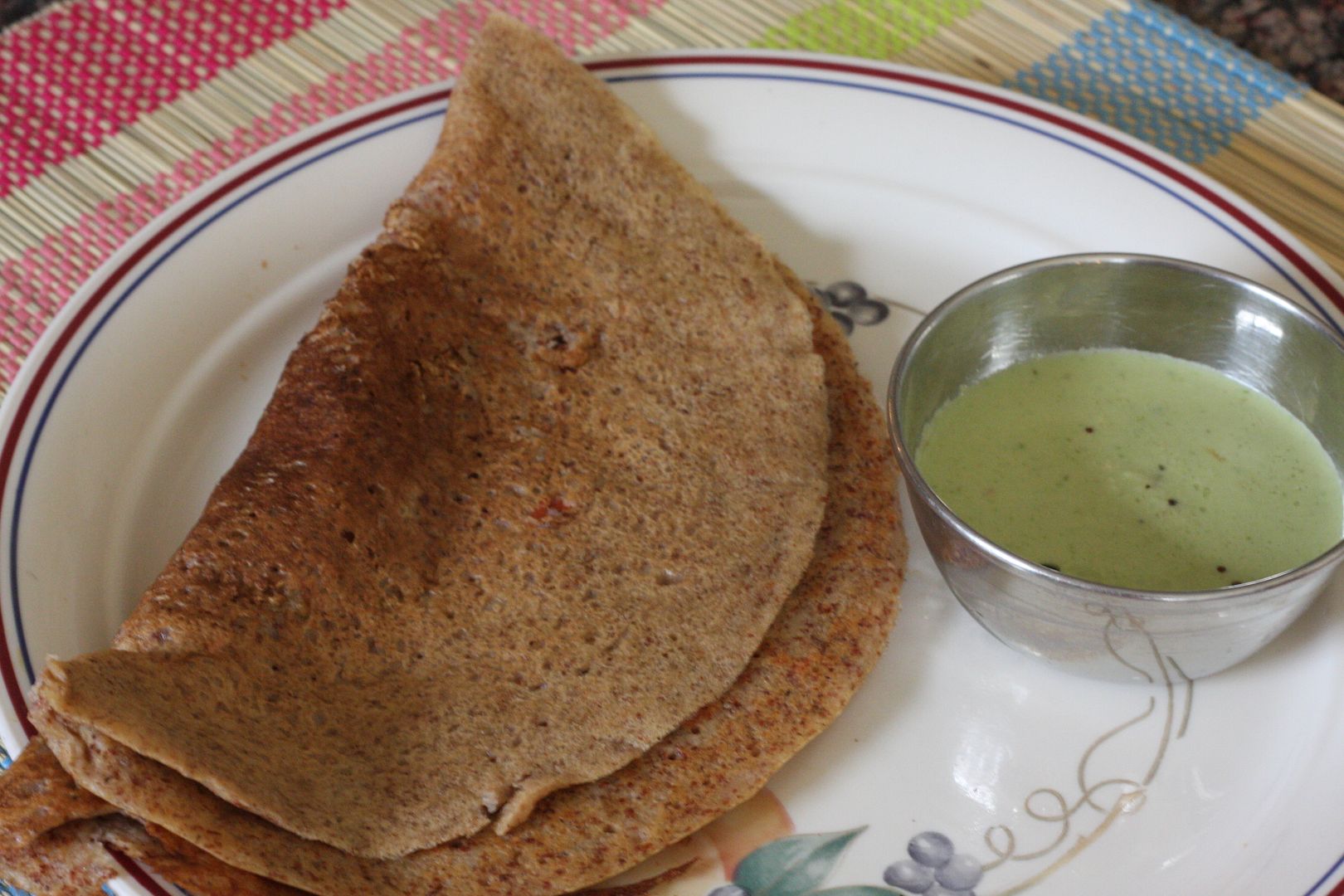 If you are practicing vegan and still reading and not fuming please give your perspective on these so called vegan processed foods.
Now onto this truly vegan recipe which uses whole grains. Did you know coconut oil is making a comeback as an alternative baking. Read this article in the NY Times,
From Villain to Health Food
.
I usually make
chola dosai
using this recipe. I changed this around a little bit added ragi to the mix increased the amount of urad dal and like this recipe better. There is no need to ferment the batter just soak the grains over night.
Tomato Cholam Ragi Dosai
Ingredients
1. 1 Cup Cholam (Pearl Millet)
2. 1 Cup Ragi (Finger Millet)
3. 1 Cup whole urad dal
4. 2 tomatoes
5. 1 tsp cumin + 1 tsp pepper corn + 1 small piece of asfoetida + 4 red chilies + handful of curry leaves
6. salt to taste

Method
1. Soak the ragi, cholam and urad dal for 8-10 hours
2. Blend the urad dal first remove and then blend the soaked cholam and ragi to a smooth batter
3. Towards the end add the chopped tomatoes and the cumin, pepper corn, asfoetida, curry leaves and red chilies and let them also blend
4. Add salt. Add just enough water for a pourable consistency
5. Heat a dosai pan or griddle add a laddle of batter and spread like you would dosai, spread or spray oil on the edges. Cook till the edges turn brown, flip and cook on the other side

Serve with any chutney of choice.