Has anyone seen the documentary "
2 Million Minutes
"? If you have what did you think of it.
This time we move right ahead to the recipe without too much talk,
Cabbage is one of those vegetables that is versatile and lends itself to any recipe. I have not heard anyone say it is their favorite vegetable neither is it mine. Don't know how but it is always there ready to be used.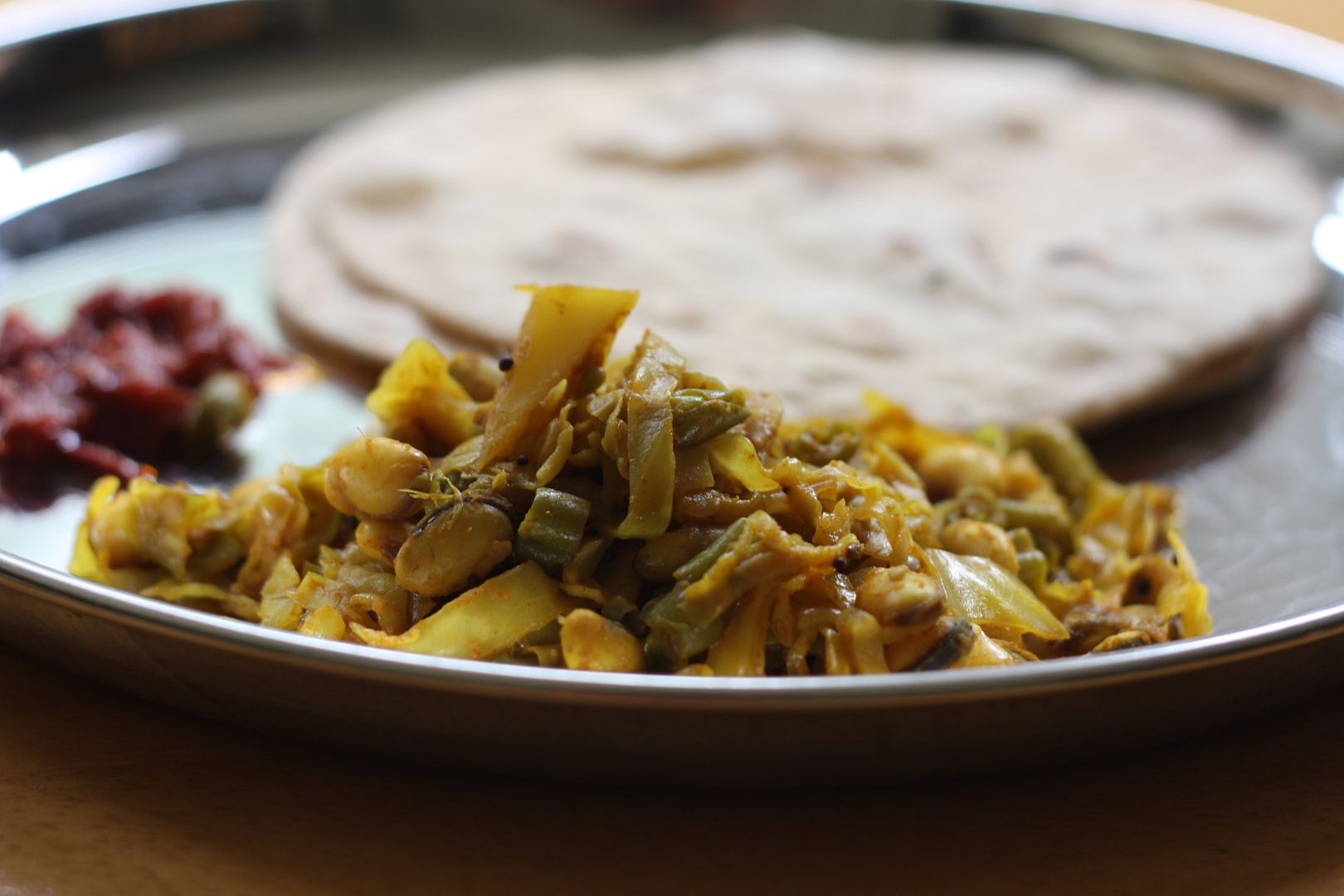 I had some soaked Val Beans left over after making this
gravy
and it lay there for a week. Add some green beans to the mix and a tasty stir fry dish was on its way.
Cabbage with Beans
Ingredients
1. 2 Cups of thinly sliced cabbage
2. 1 Cup of chopped green beans
3. 1 Cup of soaked Val Beans (any bean would work)
4. 1/4 cup chopped onions
5. 3 slit green chilies
6. 3/4 tbsp sambhar powder
7. 1/2 tbsp grated ginger
8. seasonings: mustard seeds,curry leaves and fennel seeds
9. salt to taste

Method
1. In a wide mouthed pan add oil and when hot add the seasonings and when the mustard starts to pop add the onions and chilies and saute till translucent.
2. Add the green beans and sprinkle a tbsp of water and let the beans cook for a few minutes till they are half done
3. Add the cabbage and let it cook for a few more minutes. Do NOT cover with a lid and let it cook for 6-8 minutes
4. Sprinkle the sambhar powder, grated ginger, val beans, salt and let them cook for 5 minutes more till all the moisture dries out.

Serve with rotis and rice.