It is final folks, this week I lost my freedom to blog as I wish and do the several things that I was at a liberty to do whenever. The new life is not something that I am completely unaccustomed to but one that I have to relearn the skills to survive. I am hoping the blog won't take a back seat. Let's see how that plays out. Wish the blog was like this
blog
or this
one
and help me be a blogger by profession. Fat chance y'all say and that is exactly it. So, for now I take the well travelled road.
Turkey meat is not something that I buy regularly. On the other hand I do tend to buy minced turkey a lot more often especially from the
Amish Market
. The quality of the chicken and minced turkey makes a ton of difference to the recipes. Minced turkey meat is very light with hardly any fat and my family members mistook it for cauliflower, paneer or eggs.
This
recipe
over at Tastes Like Home piqued my taste buds. I set out to read what corned beef was and a niggling doubt if turkey will work in the recipe. With Cynthia's encouragement that the same principles apply to minced turkey I set out to give it a try. It was more than a hit.
For a vegetarian version use minced cauliflower or paneer. Eggs will work well in the recipe.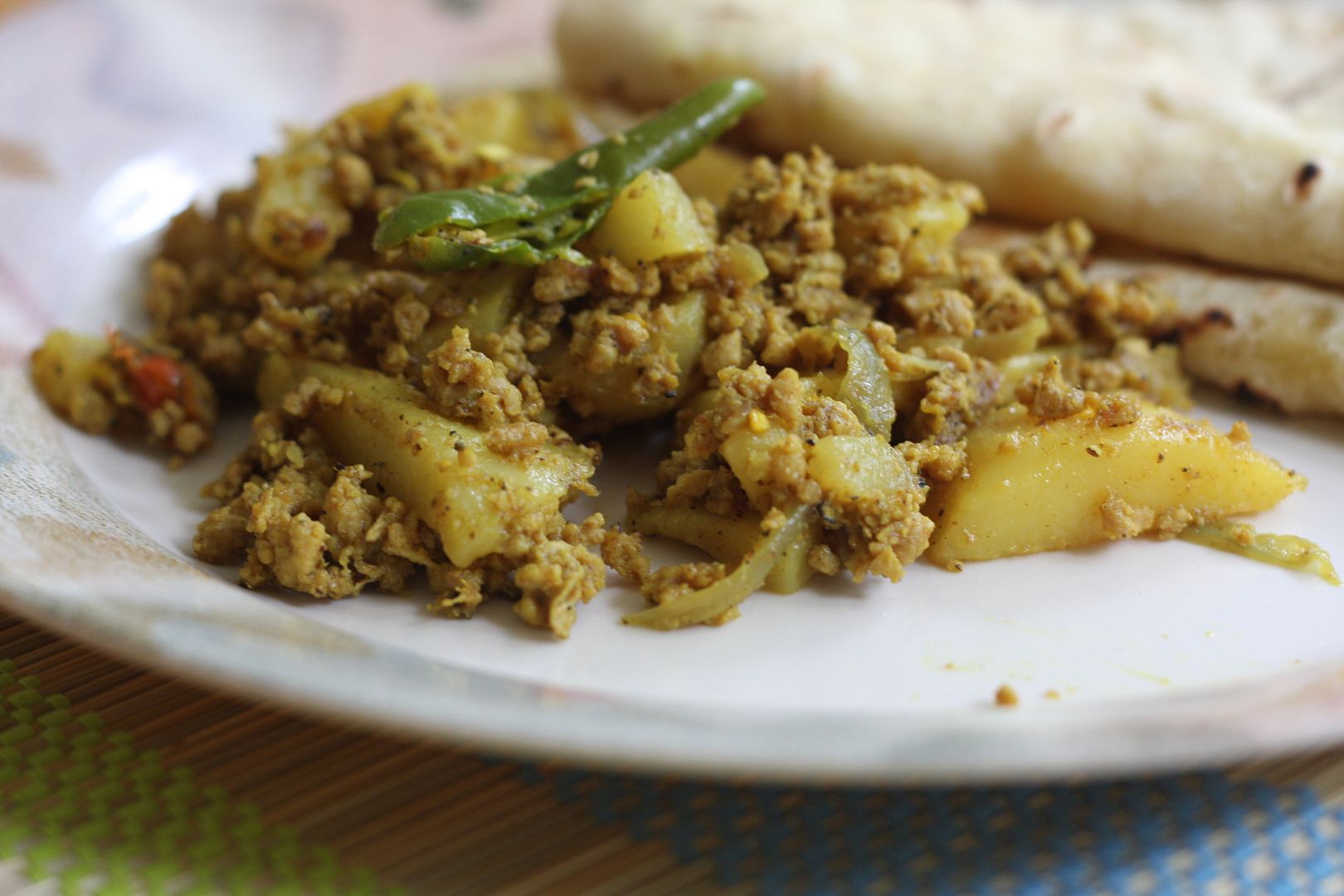 Potatoes with minced Turkey
Ingredients
1. 1lb minced turkey (2 cups of minced cauliflower or paneer)
2. 1 cup sliced onions
3. 5 slit green chilies
4. 4 cups sliced potatoes + 1/2 cup minced potatoes
5. 2 tbsp chopped tomato
6. 2 tsp pepper powder
7. 1/2 tbsp red chili powder (adjust to taste)
8. 2 tsp turmeric powder
9. salt to taste
10. 2 tsp oil

Method
1. In a wide mouthed pan heat the oil and add the onions and green chilies and let them saute till they turn pink
2. Add in the sliced (just the sliced) potatoes and let them saute till they start to brown unevenly. Keep tossing so they do not stick to the bottom. (Make them as crispy as you want them) (10 minutes)
3. Add the turmeric, chili and pepper powders and give a good mix
4. Add the minced turkey and break them completely and saute for 8-10 minutes
5. Add the chopped potatoes, tomatoes, salt and close the lid and let it cook for another 5 minutes
6. Open the lid and saute for a few more minutes till any moisture if any is completely absorbed.

Note:
1. If adding paneer add them after all the cooking has been completed. The potatoes should be fully cooked when the paneer gets added
2. If using cauliflower, add them the same time as the turkey but a reduce the cooking time