Recipes keep getting better and fool proof over time. Chicken curry is one where I let my experimentation run while I perfect it. Though the recipe depends a bit on my mood, the weather outside also plays a very important role. The recipe from
here
has evolved to an almost fool proof one if I can say so myself. Mint leaves are fresh and abundant in the yard but that does not become a sole reason for them being added to the chicken curry. The kick they impart to a chicken biryani is not how they usually work in a chicken curry and they cannot take the place of coriander leaves obviously.
I was looking a perfect opportunity to jot down all these and
Desi soccer mom
comes up with the
repost event
to record them for posterity.
The coconut-poppy seed paste is an optional one but I have realized that is the addition that brings out the oohs and aahs. This quick and easy works best when using a pressure cooker. The addition of potatoes is purely optional. DH who was very skeptical when I mentioned adding potatoes now actually prefers chicken curry with them.
The howling winds and below freezing temperatures ensured that the peppercorns added were a bit more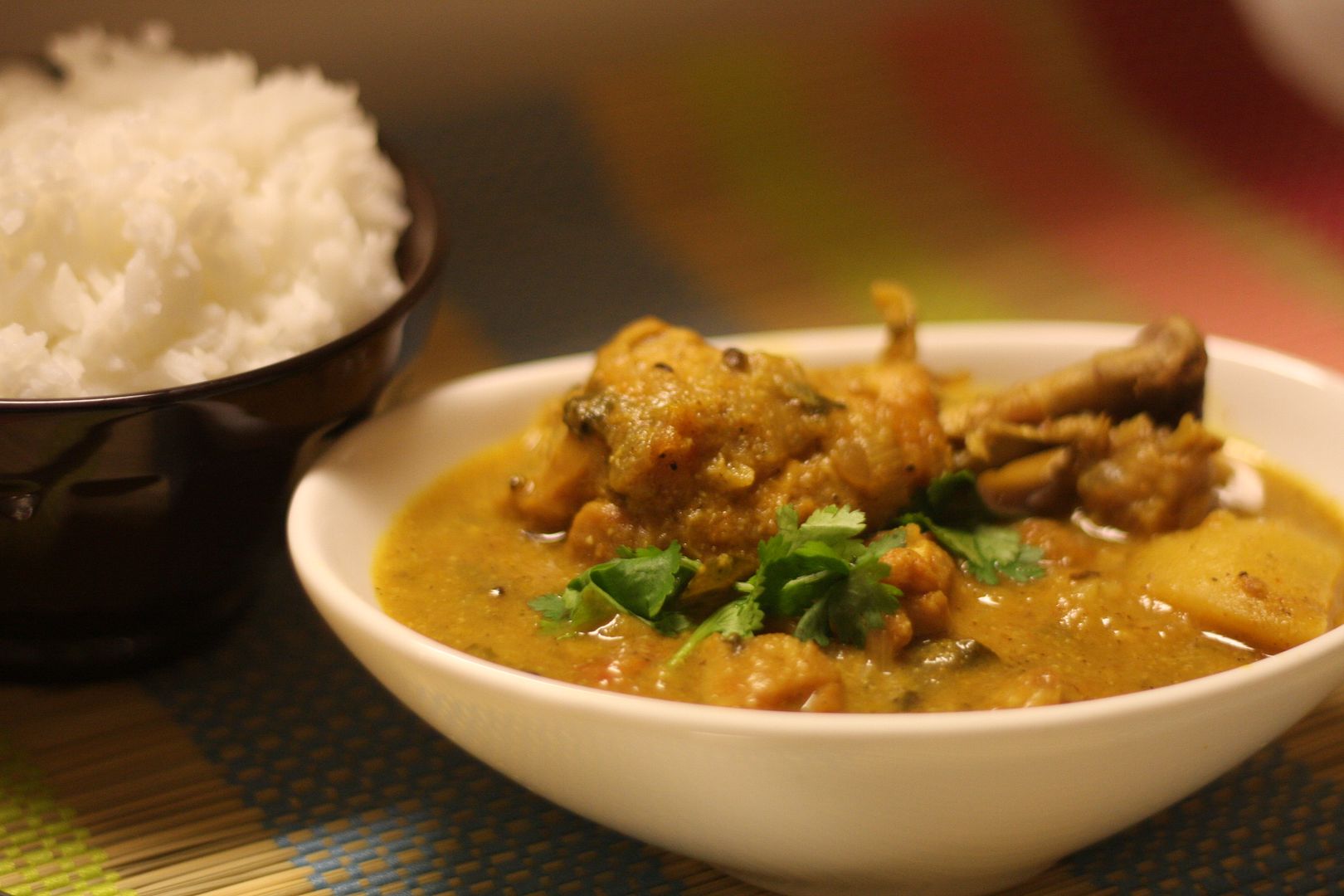 Chicken Curry




Ingredients


1. 1 lb chicken thighs cut into fairly big pieces along with drumsticks
2. 2 white potatoes peeled and cubed into fairly big size chunks (optional)
3. 1 1/2 cup red onion chopped
4. 5 green chillies slit
5. 2 tomatoes chopped - 1/2 cup
6. 6 garlic cloves chopped
7. 1 tbsp ginger grated
8. 2 tsp red chili powder
9. 2-4 tsp turmeric powder
10. 1 tbsp coriander seeds + 1 tsp cumin seeds + 2 tsp pepper powder (adjust to heat) toasted slightly and powdered
11. whole spices - 4 cloves, 2 pieces cinnamon sticks, star anise, bay leaves, curry leaves, fennel seeds and cumin seeds
12. a handful of chopped coriander leaves
13. 2 tsp oil and salt to taste



Paste (optional)


1. 1/2 tbsp grated fresh coconut
2. 1/2 tbsp poppy seeds (soak for at least an hour)
3. a pinch of salt (makes it easy to blend the poppy seeds



Method


1. Add chili powder, turmeric powder and salt to the chicken pieces and let them marinate till they are ready to be cooked. If using drumsticks makes a few slits on it.
2. In a pressure cooker heat oil and add the whole spices and let them brown a bit.
3. Add the onions, green chilies and saute till the onions turns translucent, add the garlic and ginger and saute for a minute or two.
4. Now add the potatoes and chicken and saute them for 5-6 minutes
5. Add the tomatoes, more chili powder if required, the powdered coriander mixture and mix well. Add salt.
6. Add a 1 1/2 cups of water, close the lid and cook for 2 whistles.
7. When cool add the blended paste if doing so and let it boil for a few minutes till the desired consistency s reached.

Serve with rice or bread of any kind.