Positive stories wherever they come from are heartening to hear. You do not have to be in the story to feel happy. Just hearing about it makes the day feel brighter, our attitude postive and general feeling off all around wellness. I woke up this morning and read a text from a friend who said that after 5 years of getting her life in order she is enjoying some much needed time off. Just reading about it gave a postive twist to the day.
It is perhaps in our best interest that we need to go looking for positive stories. For me any story about farms, animals, land preservation, water management all are good news stories. From watching no youtube to literally spending a good part of my time seeking these stories, it has become my evening routine in this cold weather. Cold days with no sun are the worst days to be without good news.
Talk of food is always good news stories. No wonder they are very popular in the past year. Hopefully some of us learned to cook and enjoy the benefits of good ingredients and the taste they bring. Here comes the pitch!!! Support your local farmer! If you haven't already find a local farm ASAP.
Now on to the recipe,
Some combinations are meant to be, the combination of drumstick and brinjal is one of those. Be it sambhar or this sour and spicy gravy, they go very well together.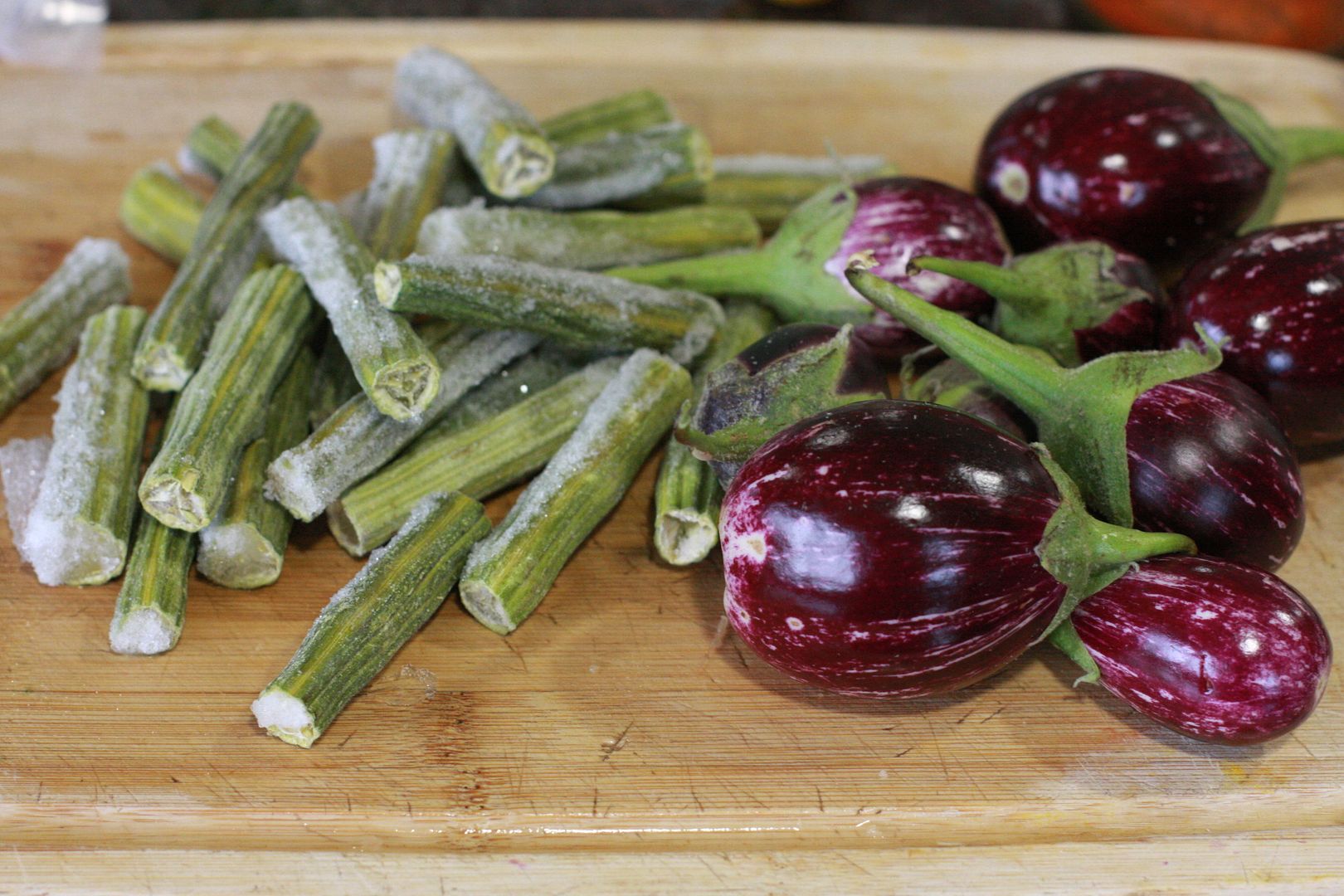 Recipe in pictures,
Spice ingredients, sauted in oil.
Cool and blend the spices to a paste, soak the tamarind in about a cup of water and extract pulp.
In a saute pan or pressure, heat oil add the sesoning ingredients, followed by the garlic and onion.
Add tomatoes and when mushy add in the brinjal and drumsticks and saute for 3-5 minutes.
Add the tamarind pulp, blended paste, 1 cup of water and mix well.
Let the kulambu come to a boil and let cook for 8-10 minutes. The vegetables should be fully cooked. Add salt and turn off heat.
Enjoy the kulambu with some steamed rice for a blissful experience for the tongue.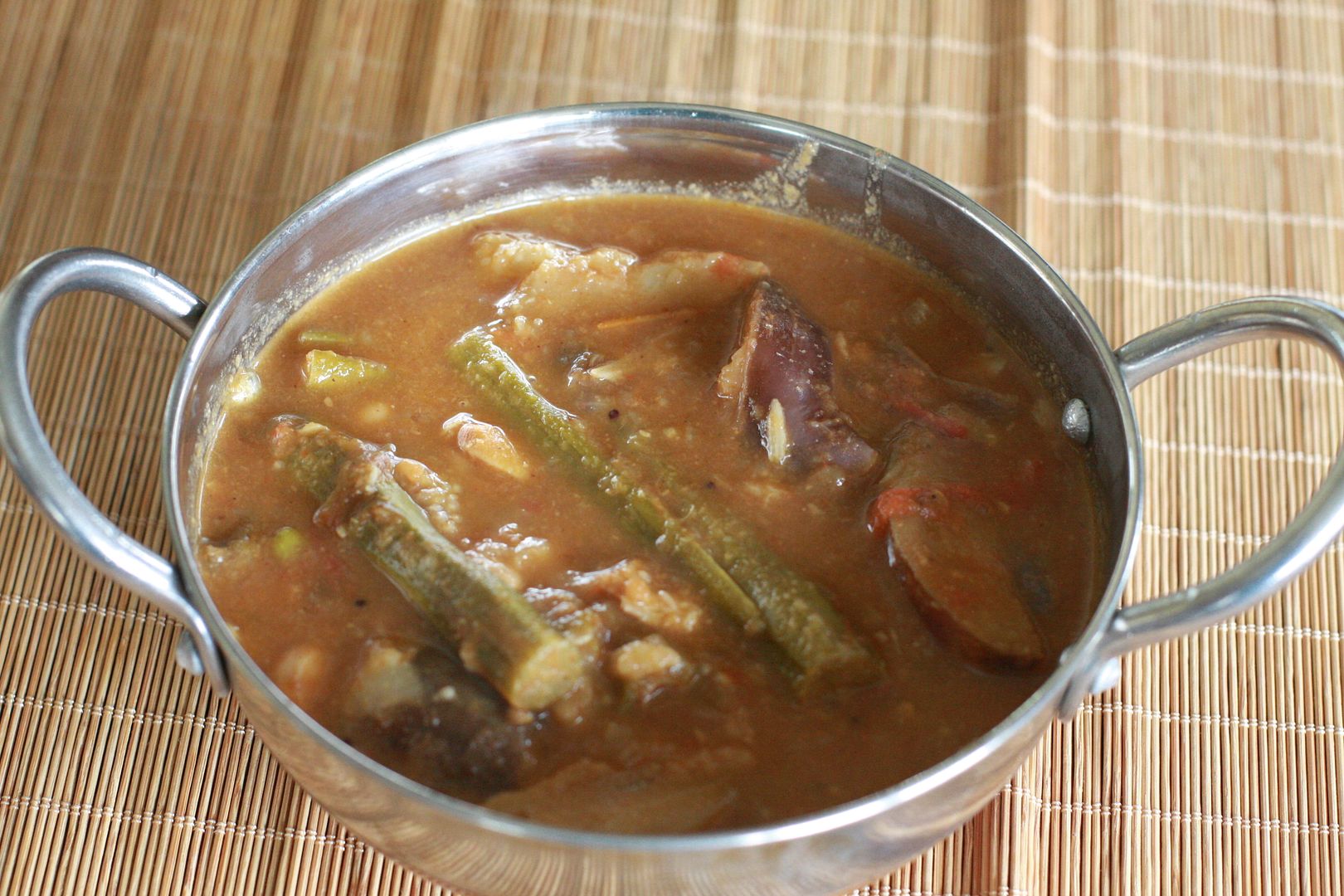 Drumstick and eggplant spicy kulambu with tamarind
Preparation Time:20 minutes
Cooking Time:30 minutes
Ingredients


For the Spice Paste
1/4 cup of red onions or small onions chopped
4-5 red chilies
1 tbsp channa dal (bengal gram/kadalai paruppu)
1 tbsp urad dal (split black gram)
1/2 tbsp coriander seeds
1/4 tsp cumin seeds
1 tsp pepper corns
few fenugreek seeds (methi/vendhayam)
For the kulambu
5-6 small purple brinjals
2 cups of cut drumstick
1/4 cup chopped red onion
3-4 garlic cloves
2 tomatoes chopped
1 cup tamarind pulp from a lemon sized ball of tamarind
seasonings: mustard seeds, cumin seeds, fenugreek seeds a pinch of each, curry leaves, asfoetida powder
2 tsp turmeric powder
1 tbsp of oil
salt to taste

Method

Let the tamarind soak in a cup of water. Hot water if you want to extract the pulp faster.
In a saute pan, add a tsp of oil, when hot add the ingredients for the spice paste other than the red onions and red chilies. Saute the spices, make sure the channa dal turns brown.
Add the onions and red chilies and saute till the onions are translucent. Transfer to a blender and let it cool and blend to a farily smooth paste with the addition of 2-3 tbsps of water.
In a pressure cooker or Instant Pot, or if cooking on stove top a wide mouthed saute pan, heat oil and add all the seasoning ingredients, when the mustard starts to pop add the onion and garlic and saute till the onion becomes slightly translucent.
Add in the tomatoes and let it get mushy. Add the turmeric powder and mix.
Add the drumstick and brinjal and saute for about 3-5 minutes. Add in the tamarind pulp and blended paste and a cup of water.
Mix and add the required amount of salt. Close the pressure and cook for 2 whistles.
If cooking on stove top, cook for about 10-15 minutes without the addition of salt and add salt once the vegetables are fully cooked.
Serve with steamed rice.
Like what you are reading? Subscribe!