I like growing jalapenos. They are easy plants to grow and make for some deliciousness. I mainly grow them for making these
stuffed jalapeno peppers
which are very popular around our house. We also eat a lot of
jalapeno pickles
, the ones in vinegar used in sandwiches. I started making these once I realized that the store ones had yellow food coloring in them.
Anyway couple of weeks in the summer I usually have an overload of jalapenos and I am ready to try any recipe that comes my way. A friend had tried this
Indian Pickled Jalapeno Chili Peppers
. She conceded that they were very spicy for her taste. I had bought seeds for spicy jalapenos and the jalapenos were indeed very spicy. I like my jalapenos to be on the milder side so they work well in the stuffed jalapeno recipe that I usually use my jalapenos for.
The sun was at its brightest and I wanted to try sun drying the chilies and making this recipe. They were indeed spicy but over time they mellowed and provided a good kick in the colder months for a sandwich or yogurt rice.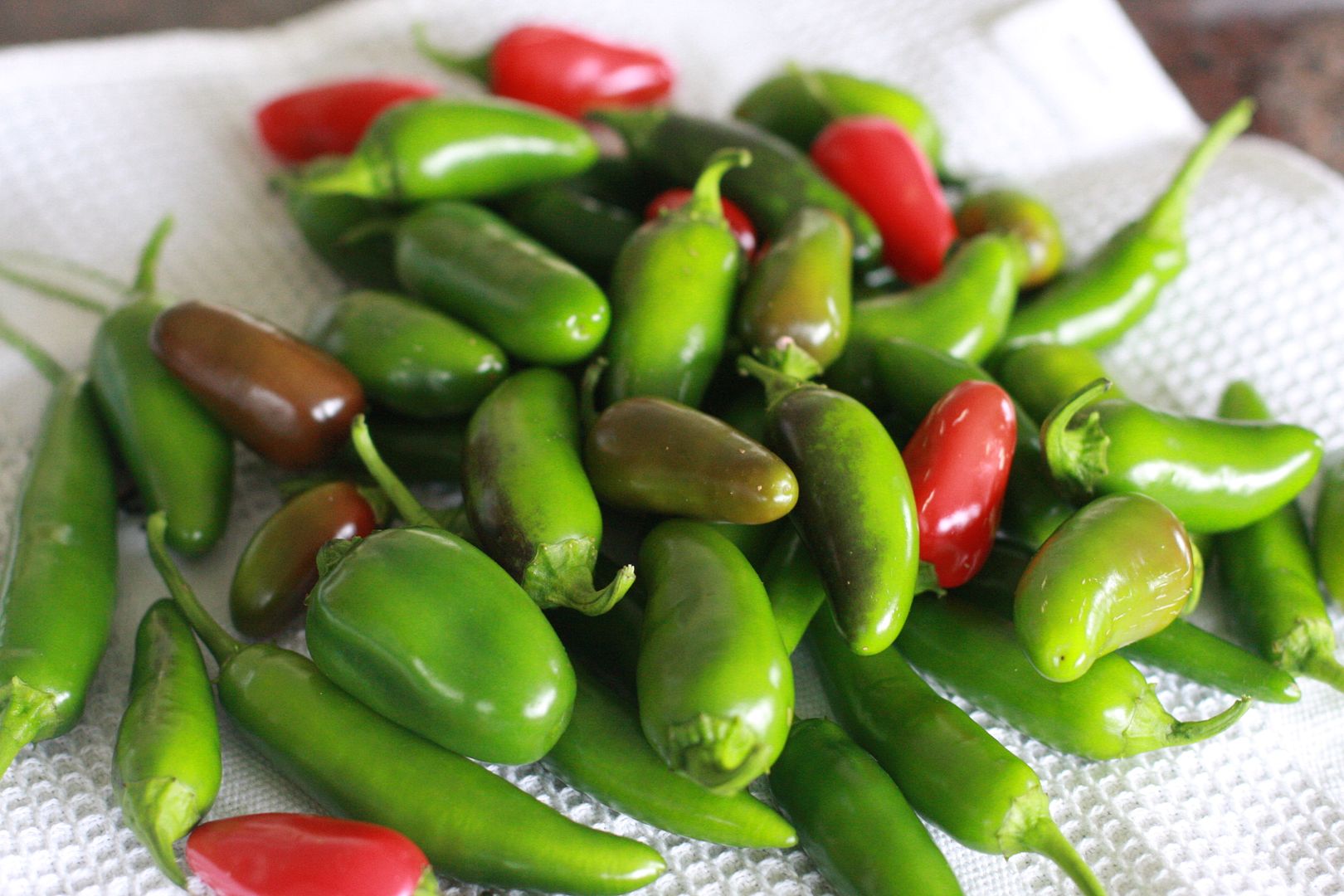 ****Some precautions to take while slicing the jalapenos. In some ways these jalapeno chili enzymes are more strong than the regular green chilies. I have forgotten or been lazy to use gloves and have paid the price for it later with burning hands, face and eyes :(
Even with gloves this packs a good punch.
Slice the jalapenos, add the turmeric powder and salt.
Mix it well. Tie a cloth around the glass container.
Let it stay in the sun for 10 days. Once it has sun dried, soak the mustard seeds overnight and blend
it.
Heat oil add mustard seeds, add the sun dried jalapenos and the mustard paste.
Mix it well and let it come to a boil and then add the roasted fenugreek-asafetida powder.
Mix the roasted powder and turn off the heat and let it cool.
The heat from the jalapenos and believe it or not, the mustard paste ended up giving it some more pungency. So we were all afraid to touch it for a while but after another 15 days it mellowed down enough and then we couldn't get enough of it and it was over in a flash :)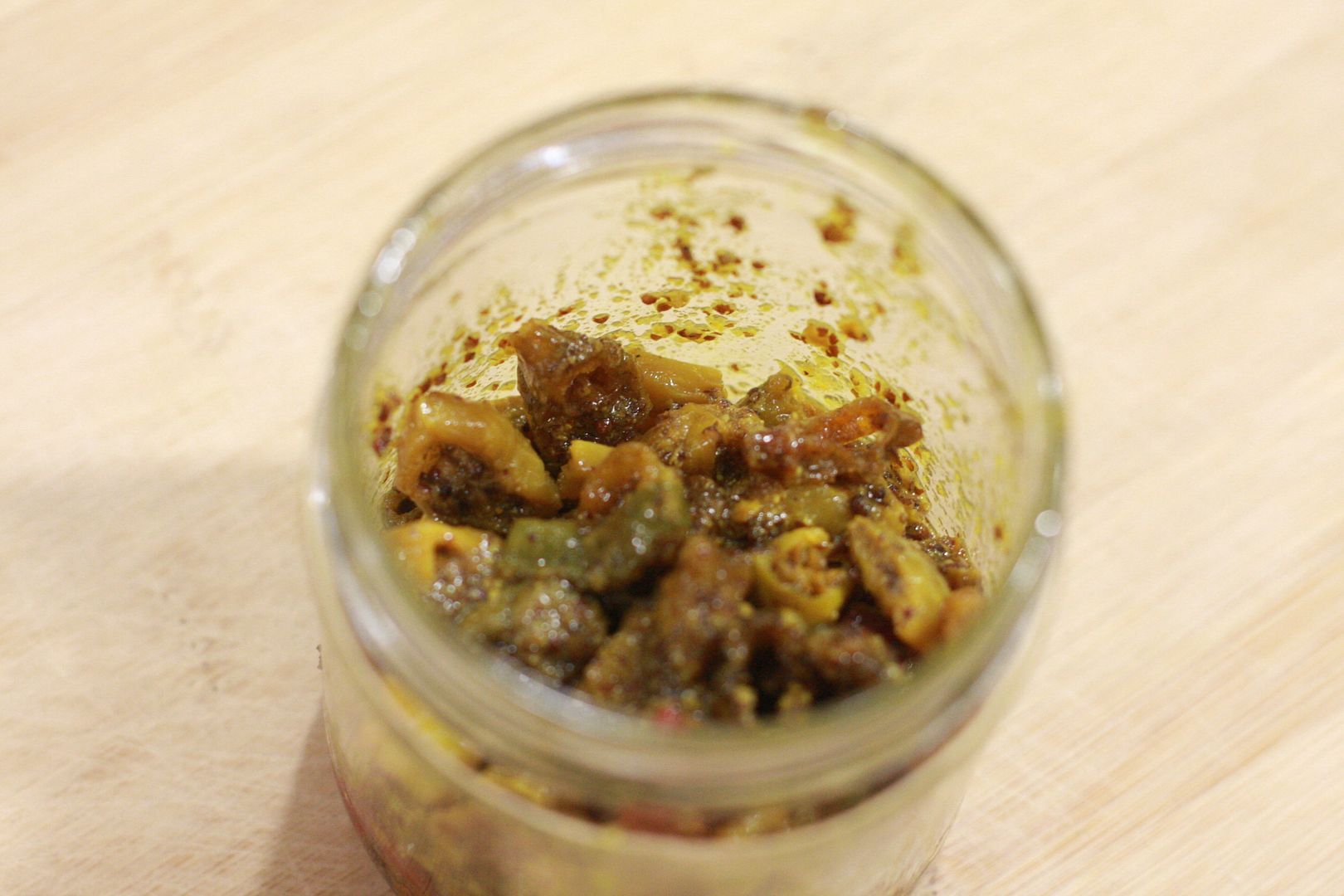 Jalapeno Pickles with mustard and vinegar
Preparation Time: 20 minutes
Sun Drying Time: 5-10 days
Cooking Time: 30 minutes
Ingredients


2 lbs of Jalapenos
1/2 cup of salt
1 tbsp. of black mustard seeds
1 cup of distilled white vinegar
1/2 cup of oil (I used sesame oil
1/2 tbsp. of turmeric powder
1 tsp fenugreek seeds
1/2 tsp asafetida




Wash and completely dry the jalapenos. Spread them on a kitchen towel overnight.
Cut the tips of the jalapenos. Slice the jalapenos, remove as much of the seeds as possible but covering the lids and giving it a few vigorous shakes. The seeds will fall out. Remove the jalapeno slices to a glass or ceramic container.
Add salt and turmeric powder, tie a muslin or cheese cloth over the ceramic or glass bowl and let it sit in the sun for as many days as you want. (I got busy with summer madness and left the chilies out for more than 10 days. No harm done.
Soak the mustard seeds in vinegar overnight and blend to a paste.
Dry roast the fenugreek powder and blend it to a powder along with the asafetida.
In a wide mouthed pan heat oil, add the sun dried vinegar pieces along with the mustard paste. Let it come to a boil.
Add the powdered fenugreek-asafetida powder, give a good mix and turn off the heat.
Let cook and store in sterilized glass bottles.
No need to refrigerate these pickles, they stay fine with all the salt and the vinegar.
Like what you are reading? Subscribe!