I know I know, a lot of bell pepper recipes. Over the summer I rediscovered bell pepper in a whole new way. Like I mentioned DD2 likes anything cooked with bell pepper but me not so much, primarily I don't seem to digest it well. But ever since I started growing them I have realized that they are not as big as the ones in the store and also not as filled with water - succulent is the word I was looking for.
The ones I have in my garden are nice and crunchy and not as gas producing as the store bought ones. Well anyway who isn't proud of the fruits of their labor? Once I got over the flatulence problem a whole array of recipes opened up where bell peppers could be used. So this one is a creamy peanut coconut curry with Bell Pepper and Potatoes. It is one of the best. Pairs well with either rice or any Indian bread.
The combination of bell pepper and potatoes works very well in a peanut coconut curry with a hint of tomatoes.
Sauté the ingredients under the sauce section and blend it to a smooth paste.
In a wide mouthed pan, heat the oil, add seasonings followed by the potatoes and bell pepper. When half cooked add the spice paste and enough water.
Cook till the potatoes are completely cooked and desired consistency is reached.
This peanut coconut curry is versatile that it can be used with any vegetable of choice. It is almost like this combination was made for each other. I for one would not have tried them together if I did not have both home grown potatoes and bell peppers harvested and just waiting to be cooked fresh :)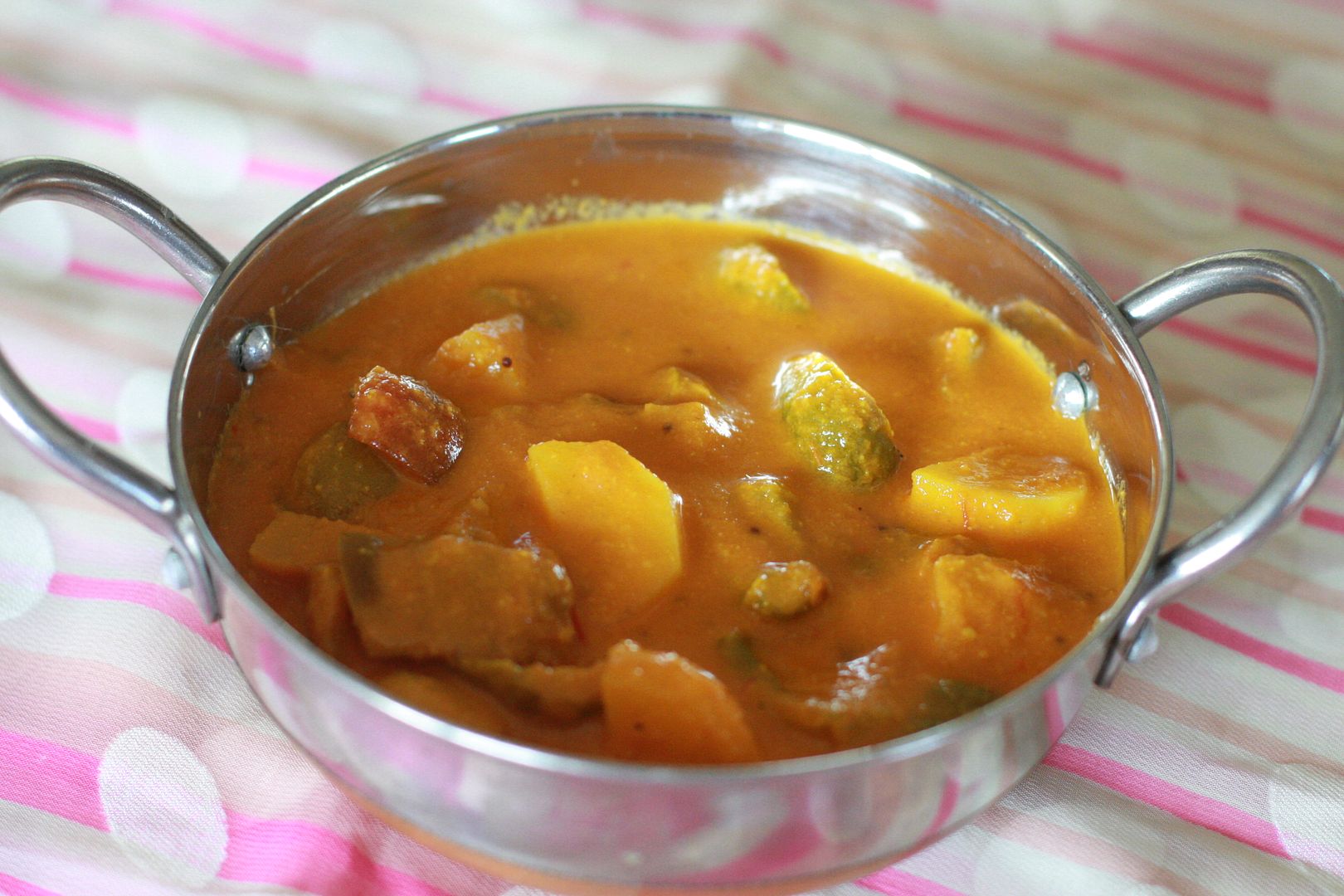 Bell Pepper with Potatoes in a peanut coconut curry
Preparation Time: 15 minutes
Cooking Time: 25 minutes
Ingredients


*6-8 Bell Peppers - seeds and the white ribs removed and diced (about 3 cups)
2 medium sized white potatoes about 2-3 cups
1/2 cup of diced red onions
seasonings: curry leaves, 1/4 tsp mustard seeds, a pinch of cumin seeds
salt to taste
1/2 tbsp oil
For the sauce
1/2 cup of onions
1 inch ginger chopped
3 tomatoes chopped about 3/4 cup
1/4 cup of grated fresh coconut
1/2 cup of roasted peanuts
4 red chilies
Note:*These are home grown bell peppers much smaller than the store bought ones. If using store bought about 2 medium sized ones would suffice.

Method

In a saute pan, heat oil saute the onions, chilies and ginger and when the onion starts to brown add the tomatoes and saute till mushy.
Add the grated coconut and the peanuts, saute for a minute and turn off the heat and let cool.
Add the sauteed ingredients to a blender along a 1/4 cup of water and blend to a fairly smooth paste.
In a wide mouthed saute pan heat oil and add the seasonings, when the mustard starts to pop, add the onions and saute till translucent.
Add in the potatoes and sauté for a few minutes and then the bell pepper and sauté till they start to blister.
Add in the blended paste and a about a cup of water (or more if you want a slightly loose curry) and salt.
Cook for about 6-8 minutes till the potatoes are fully cooked.
Like what you are reading? Subscribe!