Have you tried growing Bell Pepper plants? They are easy to grow but have a tendency to topple over with the weight of the fruit. Other than having to support them as they are starting to bear fruit it a pretty easy plant to grow. I talk a lot about growing because I like growing them but if you don't then if you have a farmer's market or a farm nearby, stop by and get some bursting with freshness vegetables. While I am on the topic, this is a beautifully made magazine called
Plenty
about our county's agricultural reserve where a number of farms are located. If there was no agricultural reserve there wouldn't be farms and if there were no farms ...
I am very careful about completely cooking store bought bell peppers because of some issues related to indigestion with under cooked bell peppers. So it goes without saying that I don't eat raw bell peppers. But the amazing thing about these farm grown bell peppers is that they don't cause that problem. It has less water content than the store bought ones for one thing and lot more tastier.
There are couple of other recipes that I regularly use bell pepper in :
Bell Pepper Tomato Masala
Quiche - Bell Pepper - Mushroom Omelette
Now this bell pepper rice has also become one of my favorites. Very easy to make with minimal ingredients but tasty and is great as lunch box item. I use
tomato pickle
as a taste enhancer instead of using fresh tomatoes and it makes the cooking process much faster.
In a saute pan heat the oil, add seasonings then garam masala followed by the onions, green chilies and when the onions are translucent, add the garlic and ginger, follwed by the bell pepper.
Roast the coriander seeds and pepper corn. Using a coffee grinder or blender make a coarse powder.
Add in the tomato pickle mix it into the cooked bell pepper followed by the powdered penauts and mix it in well.
Add the cooked rice into the bell pepper mixture and mix it well till the rice is coated.
Colorful bell pepper rice is ready.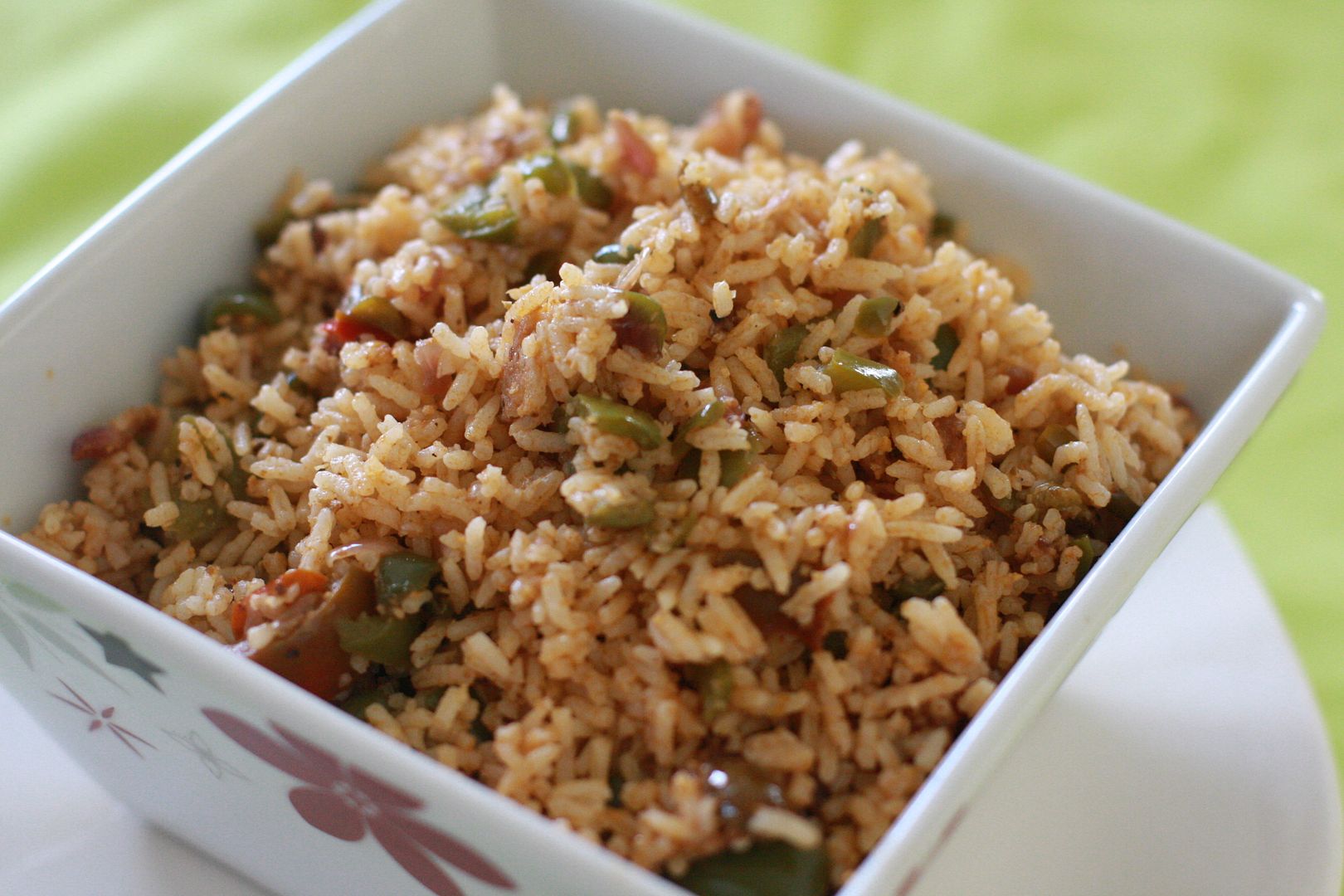 Spiced Bell Pepper Rice
Preparation Time: 20 minutes
Cooking Time: 20 minutes + Rice cooking time
Ingredients


1 1/2 cup of Basmati rice (I used Surti Kolam Rice )
2 cups of diced bell pepper
2 cloves of garlic sliced
1 tsp grated ginger
1/2 cup chopped red onions
4 green chilies slit or 2 jalapenos chopped fine *
1/2 tsp of coriander seeds + 1/2 tsp of pepper corn (or substitute with coriander and pepper powder
1/4 cup of roasted peanuts
2 tomatoes finely chopped or 1 tbsp of tomato pickle
1/2 tbsp oil + 1 tsp of sesame oil
salt to taste
seasonings: Cumin seeds, curry leaves
1 tsp garam masala powder (store bought or powder cinnamon, cloves and star anise)


Method


Cook the rice with some salt a tsp of sesame oil along with the required amount of water. I used Instant Pot and both Basmati and Sruti Kolam Rice use 1 1/2 cups of water for a cup of rice. Once cooked fluff up the rice and set aside.
Cut the bell pepper into about 1/4 inch dices after removing the seeds from the inside.
In a saute pan, add oil and when hot add the cumin seeds and curry leaves followed by the garam masala.
Add in the onions, green chilies and saute till the onions are translucent, add the garlic and saute for a minute followed by the ginger and saute for another minute.
If you are using fresh tomatoes add it at this point and let it become mush and saute till oil separates.
Now add the chopped bell pepper and saute till the bell pepper is cooked, cooking times will vary depending on how much you want the bell pepper cooked, takes about 7-8 minutes for it to be completely cooked.
While the bell pepper is cooking saute the coriander seeds and pepper corns till they are just browned. Powder along with the roasted peanuts in a coffee grinder or blender to a coarse powder. Set aside.
Add salt and add in the tomato pickle if you are using and let it cook for about 2-3 minutes.
Add in the rice and mix it gently into the bell pepper mixture. Do not to much rice. Add the cooked rice in batches.
Serve along with raita.
Like what you are reading? Subscribe!