I have always tried to grow Zucchini but by the time the fruit starts to come the squash borer does its thing and kills off the stem from the inside so it looks almost like the the plants rotted from inside. So this time lucky for me the borer kept itself away. I was blessed with a good amount of fruit. Bear with me while I repeat myself here. There is nothing like fresh produce. The best place to get these delicious delights are at your local farms. For the lucky few who either grow them in your garden or have access to a CSA or a farm you know what I am talking about.
I find it extremely hard to follow recipes. I always improvise. I do this even if I know that with baking it is best to stick to the recipe. The first time I made this zucchini bread I added a bit too much zucchini than needed and ended up with a moist texture which was fine after a few minutes in the toaster but it did not look like bread. So after having learned my lesson for the umpteenth time I decided to stick to the recipe. It was a good idea that I did. The zucchini bread was delicious. I have grated and froze zucchini for enjoyment over the winter when everything in the store is dull and tasteless.
Farm fresh eggs makes everything taste good and with the vibrant yellow color it is a delight for any baked product. This is a simple recipe that I found on
Simply Recipes - Zucchini Bread
. I don't like adding spices to my bread so did not add the cinnamon, nutmeg or ginger powders. Chocolate chips are a great addition to the bread and the kids like so I add them.
Before the summer is out, if you can get your hands on some good zucchini, give this bread a try. I use whole wheat white flour and for this recipe I ran out of the whole wheat flour, so i used half and half of sieved chapathi flour.
The recipe in pictures,
Whisk the egg till nice and frothy. Add the sugar and vanilla to the egg mixture. Whisk together flour, baking soda and baking powder.
Add the melted butter and grated zucchini to the egg mixture. Add the nuts and chocolate chips.
Transfer the mixture to a baking pan.
Transfer the mixture to a baking pan and bake in a preheated 350F for 50 minutes or till the skewer inserted comes out clean.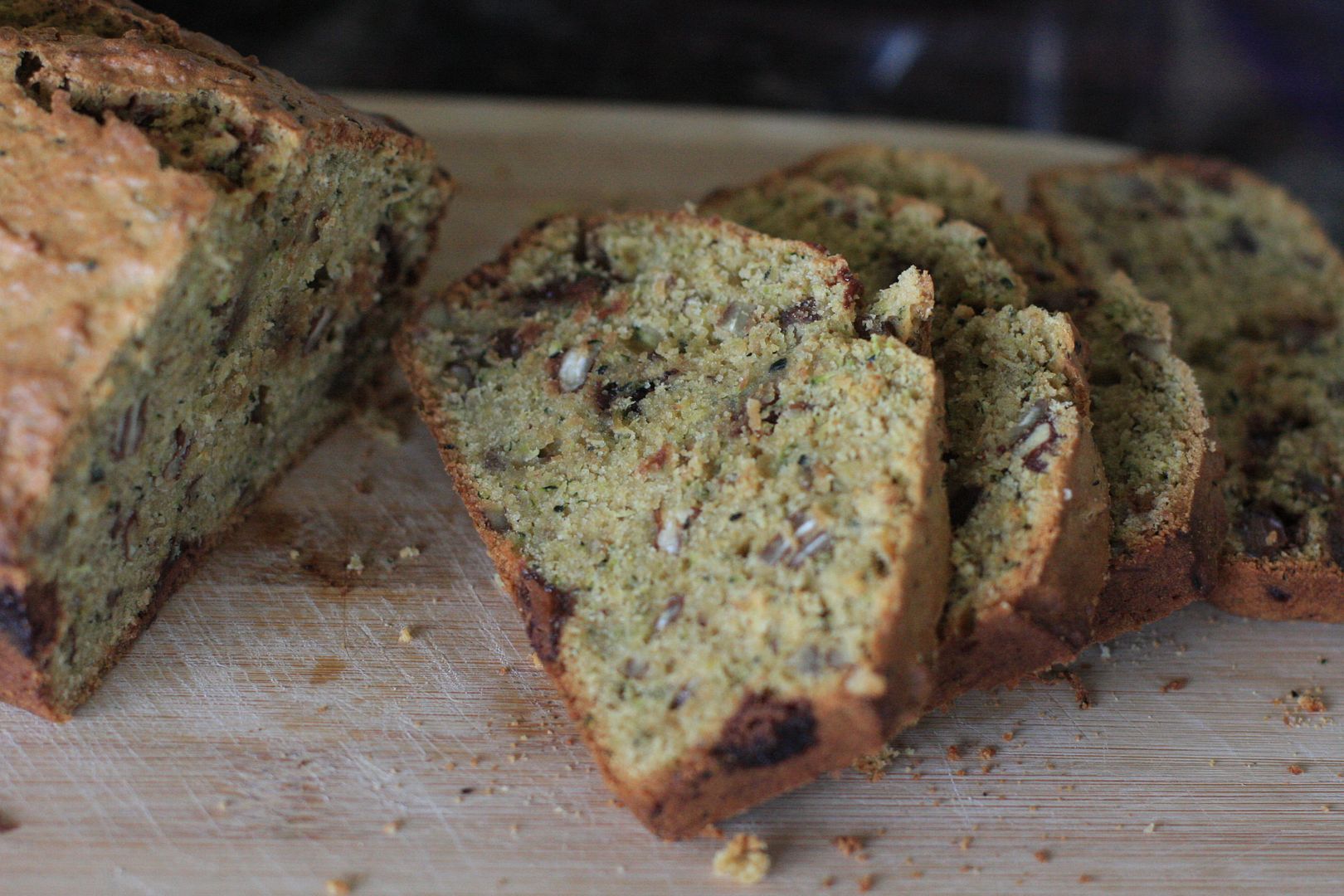 Zucchini Bread
Preparation Time: 20 minutes
Baking Time: 50 minutes
Ingredients


3 cups of grated zucchini
3 cups of whole wheat white flour(1 1/2 cups of white whole wheat flour + 1 1/2 cups of chapathi flour)
2 large eggs
5 tbsp butter(i used salted butter)
2 tsp Vanilla extract
3/4 cup of sugar (I used raw cane sugar)
1 cup of roasted chopped pecans
1 cup of chocolate chips
1/2 tsp salt (if using unsalted butter)
1 tsp baking powder
1 tsp baking soda


Method


In a sauce melt the butter and cool it to room temperature.
Preheat the oven to 350 F. Grease a 9x5 baking pan.
Drain the grated zucchini on a colander or squeeze most of the liquid out by hand.
Take eggs in a bowl and beat with an egg beater till nice and bubbly. Add the sugar and vanilla and mix it in.
Add in the drained zucchini and melted butter.
In a mixing bowl take the flour,baking soda, baking powder and salt if using and whisk them together.
Add the flour to the beaten egg mixture a little at a time. Using a spatula mix all the flour. The batter should be fairly thick.
Add the nuts and the chocolate chips and mix it in.
Transfer the batter to the baking pan. Bake for 50 minutes till a skewer inserted comes out clean.
Cool and then cut into thin slices. Stays fresh for 3-4 days on the counter top.



Like what you are reading? Subscribe!