Lots of friends have asked why I don't grow onions and garlic. So last fall I planted some garlic and onion bulbs on a trial basis to see how they do and when to harvest. From theory to practice. The garlic bulbs have to be planted in the Fall with enough warmth for the bulbs to sprout. Once the cold hits they go into dormancy during the winter months and starts growing again in spring. According to another friend who is a lot more experienced farmer than me told me that the garlic and onion should be harvested on summer solstice. I delayed harvesting because of some other unavoidable work. There is always a lot unavoidable work like that in the farm. Anyway the week delay did not cause major damage to the onions and garlic but I have learned after a season of hard work growing them, time needs to be set aside for harvesting on time however busy.
So when the first Ridge Gourds of the season were harvested and as luck would have it a friend sent this recipe that she had tried and really liked. So with farm grown onions, garlic, green chilies and ridge gourd this recipe came to be. Very simple but oh so good.
Here is the recipe in pictures,
Chop the ridge gourd, onions, garlic and green chilies. In a saute pan add oil and add fennel seeds and chopped garlic, onion and green chilies.
Sauté till the onions are translucent, add the ridge gourd and turmeric powder, sauté for a minute and cover with a lid.
After 3-4 minutes, open the lid and add the sambhar powder and salt. Coarsely powder the roasted peanuts.
Sauté for 2-3 minutes. Add the peanuts and turn off the heat.
Tastes great with rice or as a side dish.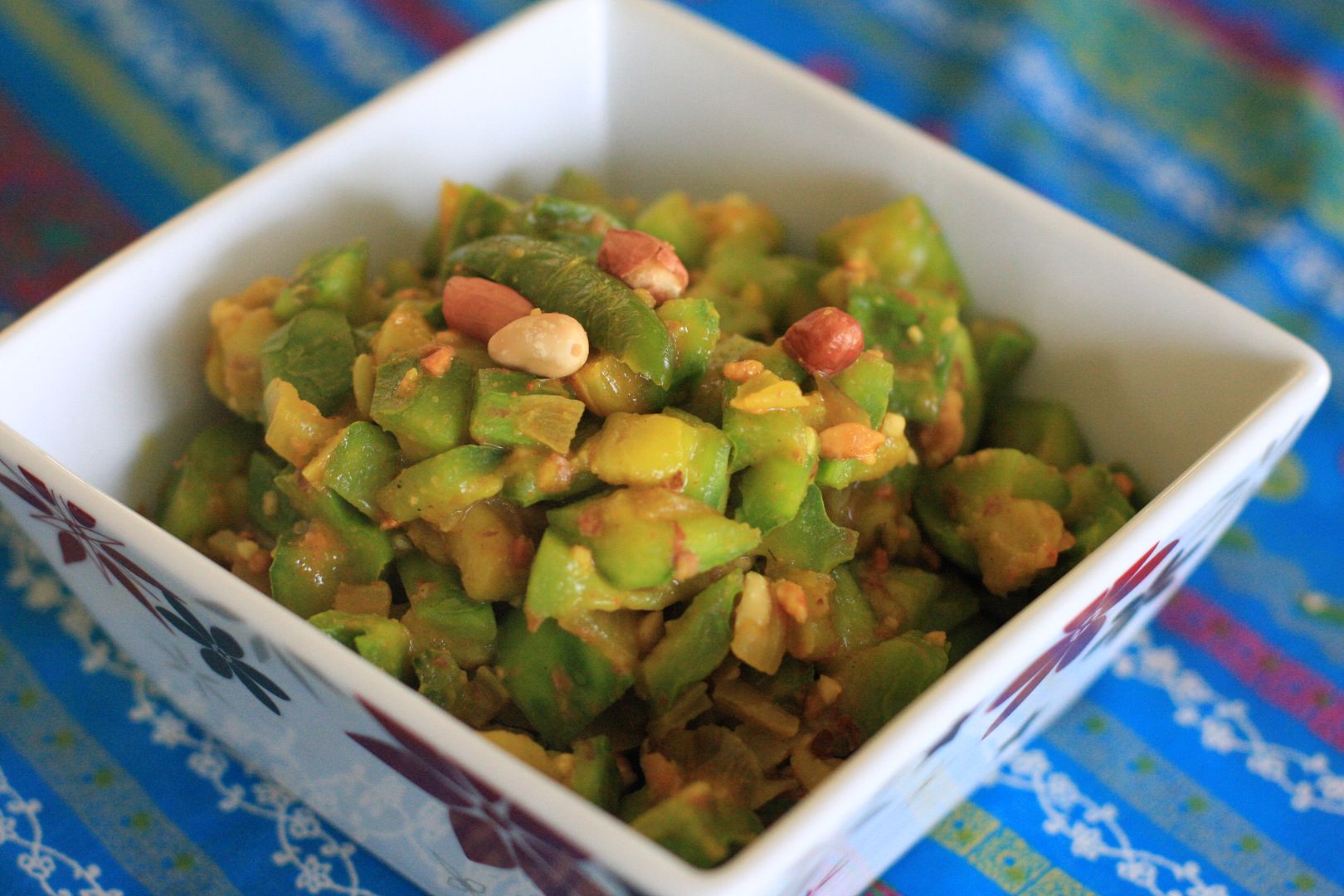 Ridge Gourd Saute with Peanuts
Preparation Time: 10 minutes
Cooking Time: 20 minutes
Ingredients


2 Medium sized Ridge Gourds, the thicker skin peeled and cubed (about 3 cups)
6-8 shallots chopped or a 1/4 cup of chopped red onions
3-4 garlic cloves diced
4 green chilies slit and seeds removed (adjust according to heat)
2 tsp sambhar powder
1 tsp turmeric powder
1/3 cup of coarsely crushed roasted peanuts
seasonings: fennel seeds
2 tsp oil


Method


In a saute pan, add the fennel seeds followed by the onions, garlic and green chilies, saute till the onions are translucent.
Add in the cubed ridge gourd and turmeric powder, mix and cover with a lid and cook for about 3-4 minutes, the ridge gourd will send out moisture.
Now open the lid, the gourd should be cooked by now, add salt, sambhar powder and mix. Sauté for another2-3 minutes or so.
Sprinkle the crushed peanuts mix and turn off the heat.
Serve with rice.
Like what you are reading? Subscribe!