Every Fall as we all know there is new prime time lineup on TV. Mostly I ignore because most of these serials are downright bad. This season one jumped out because it had a Bollywood actress in a lead role. So I tuned in more out of curiosity than anything else. Bollywood actress or not the show was not all that entertaining. So I stick to my old favorites 'The Good Wife' and the other mysteries on PBS. Sadly none of the new series this Fall seem to do the trick. Have any recommendations?
Well anyway if you have something interesting to watch on TV but also have the job of getting dinner or lunch ready, this quick and easy fish dish is what you need to have up your sleeve and can be put together in less that 20 minutes. I am using frozen fish which is what works best for me but if you have access to fresh fish by all means. With some steamed white rice or some tortilla or wraps you are in for a treat.
Marinate the fish. Heat oil in a cast iron pan and saute the onions.
Place the fish in the pan and cook on both sides.
You can add some grated ginger and garlic and saute them along with the onions.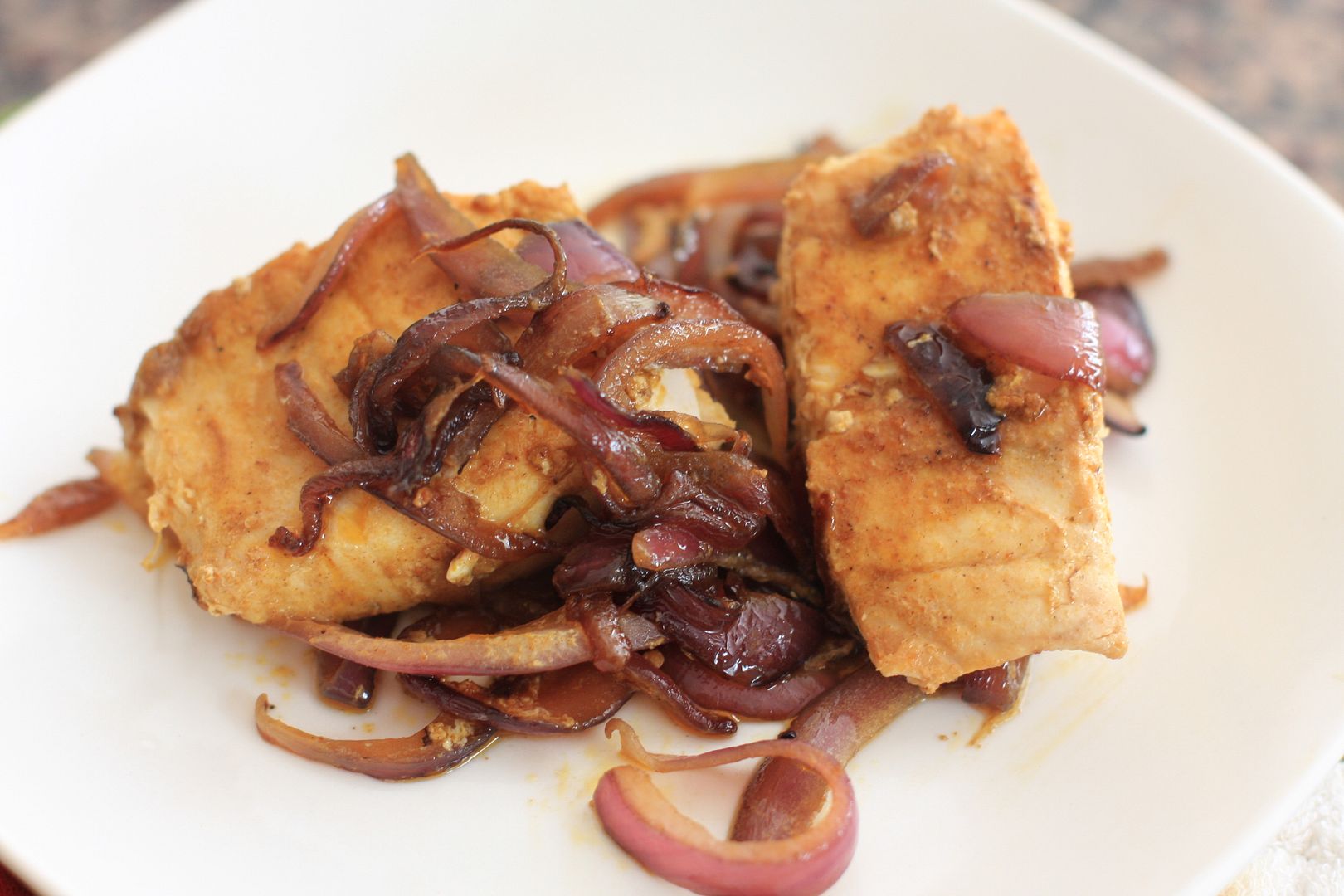 Roasted Fish with Onions and Black Pepper
Preparation Time:10 minutes
Cooking Time:20 minutes
Ingredients


3-4 Fish steaks or fillets cut into 2 inch pieces (I used frozen Mahi-Mahi). Iff you are using fresh fish, clean and cut into steaks.
2-3 cups of sliced red onions
2 tsp pepper powder
salt to taste
1/2 tbsp oil
For the marinade
1 tbsp red chili powder
1 tsp salt or to taste
2 tsp of oil


Mehtod


Thaw and clean the fish and pat dry.
Mix together (the marinade ingredients) red chili powder, salt and oil and gently apply the paste on all sides on the fish and set aside.
Heat a cast iron pan or a thick bottomed pan and add half the oil and when hot add the sliced onions and saute till they start to turn brown. Add pepper powder and salt and mix it in.
Move the onions to the outer edge of the pan and place the marinating fish pieces in the center.
Let cook for about 3-4 minutes or a little bit longer till the fish is completely cooked on one side. Flip and let cook on the other side. Add more oil if required.

Serve with rice.

Like what you are reading? Subscribe!