Beans, Beans, they are good for your heart.
The more you eat, the more you fa.t. Click the link for more
bean rhymes
.
This is what I hear from the kids whenever I cook something with beans. The singing does not necessarily mean they don't like them. Like or dislike usually depends on how it is cooked. This salad for instance is one that never gets any negative reviews. It is also perfect for a crowd. It tends to hold its own among the deep fried goodies that abound in most parties. Easy to make and it provides a healthy alternative to those who want to avoid the deep fried stuff.
While corn and peanuts are good enough on their own, they also work very good in a combination of beans as well. Soak about a cup of different kind of dried beans. I used dried white peas (Vantana), purple eyed peas, kidney beans, frozen corn and peanuts. I used dried raw peanuts but if you have access to fresh peanuts that will be great. I am not very fond of raw onions so I cook them in lime/lemon juice and add it to the mix. If you prefer add the onions raw and squeeze the lime/lemon juice to the mix, that should work fine.
Cook the beans, peanuts and corn and set aside. Soak the chopped onions in lime/lemon juice.
In a pan heat oil and add seasonings, saute the ginger and chopped coriander leaves. Add the chili powder. Mix in the cooked beans, onions and chopped pickled jalapenos.
Pickled Jalapenos
are perfect for providing the heat element in these kind of salads. If you have some home made ;) even better.
Cooking time is just for the beans, putting the salad together takes no time at all. I used dried peas, I would not add fresh green peas but if you like it go ahead and add fresh.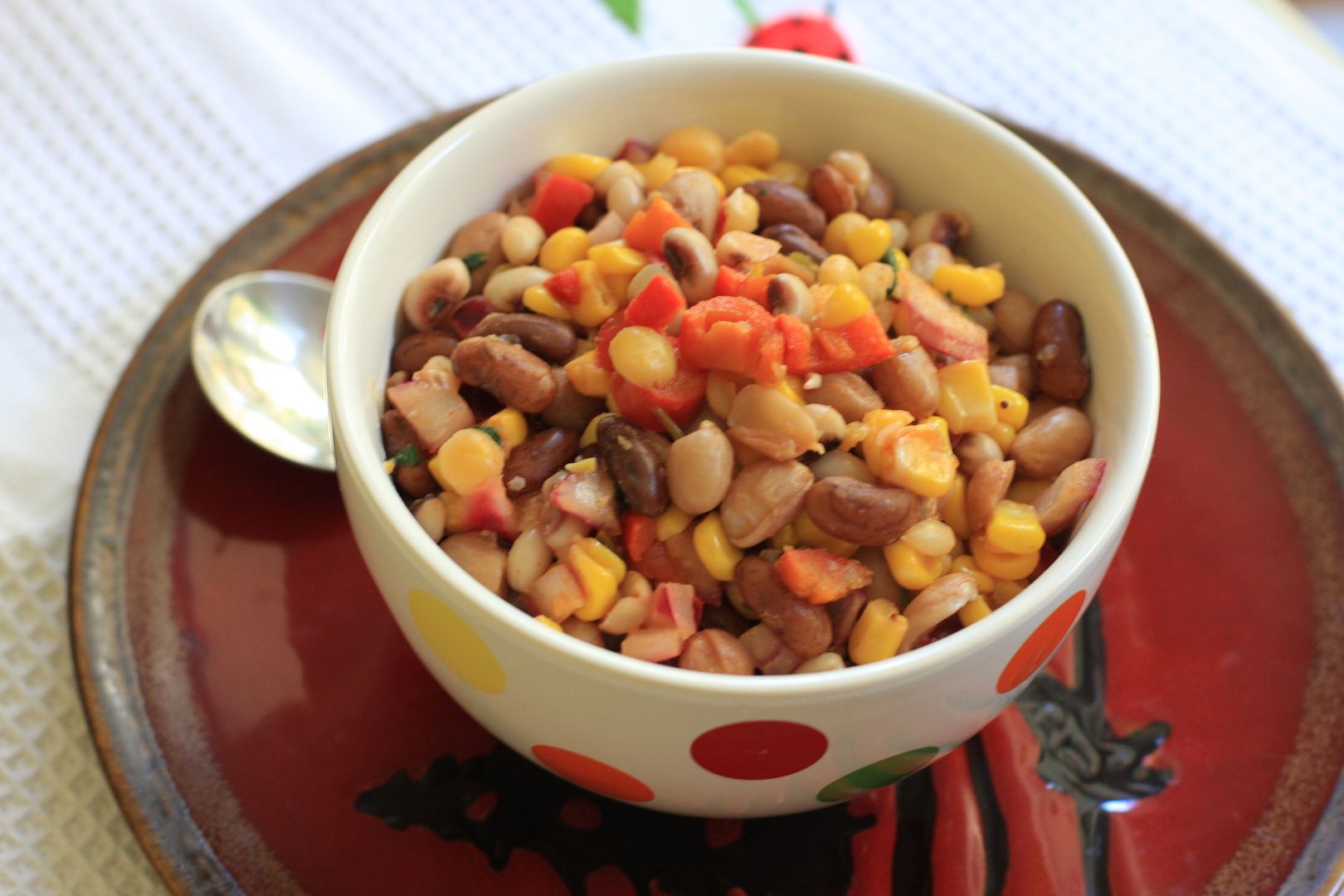 Corn and Peanut Salad
Preparation Time:10 minutes
Cooking Time:20-30 minutes
Ingredients


1 cup dried black eyed beans (fresh works as well)
1 cup black, pinto, kidney or navy beans
1 cup dried white or green peas (vantana)
1 cup of raw dried peanuts or 1 1/2 cups of shelled fresh peanuts
4 cups of frozen corn kernels (fresh cooked or roasted will work as well)
2 tbsp of minced jalapenos (add more if needed) + 2 tsp of the pickling liquid
2 handful of chopped cilantro leaves
1/2 tbsp of red chili powder
2 tbsp grated fresh ginger
2 tsp of oil
a pinch of mustard and a pinch of cumin seeds
juice from 3-4 limes or lemons
1 red onion finely chopped
1 -2 tsp of Sriracha or any chili sauce (optional)
salt to taste
cut cucumbers and tomatoes (optional)


Method


In either a pressure cooker or sauce pan cook the beans one by one. The beans should be fully cooked but still maintaining the shape. Do not let them get mushy.
Pressure cook the raw peanuts for about 3 whistles and it becomes like fresh boiled peanuts.
Microwave or heat the frozen corn for about 5-8 minutes.
As the beans are cooking let the onions cure in the lemon juice. Take the onions in a non reactive cup and add the lemon juice and set aside for about an hour or so.
In a wide mouthed pan heat oil, add the seasonings and when the mustard pops, reduce heat and add the ginger and saute for a minute. Add the chopped coriander leaves and give a good toss. Now add the chili powder mix and turn off the heat immediately. Do not let it burn. Also if you see a few clumps add the pickling liquid or lemon juice and stir it around to loosen it.
Now add all the cooked beans, corn and the peanuts with salt.
Add the minced pickled jalapenos and the pickling liquid and give a good toss so they are all mixed well together.
If a little bit more spice is required add the chili sauce and toss to combine. Let sit for about 10 - 15 minutes.
Sprinkle cut cucumbers and tomatoes on top before serving.



Like what you are reading? Subscribe!