Some families are big on tradition. They have things they do on special occasions together. Ours is slightly different in that regard. We do things mostly on whim. But without realizing it we seem to have developed a tradition. Nothing fantastic. We visit the National Book Festival in DC every year. The kids seem to derive immense pleasure in visiting the book festival.
When we were growing up reading the newspaper from front to back was a morning ritual. Sometimes we fought over it when there was more than one person wanting to read it. Anyway I wanted my kids also to derive pleasure in reading the newspaper and by chance they might also learn about what is going on in the world around them. It obviously improves their vocabulary and also teaches them to hold their attention span when reading something that is not interesting in the sense of a novel or fiction.
Sadly the opposite happened. While the first few sections which is were the news is, is skimmed over. The Style section with its color print and comics seems to hold their interest most. I have not given up on making them read the other sections but the Comics seems to win hands down. There is nothing wrong in reading comics but my opinion is that it doesn't teach them anything. But whenever some topic comes up they seem to know about it. Apparently the comic section is not all about heroes and outrageous stuff that I grew up with, it also addresses serious issues and relevant topics.
So it is only natural when the National Book Festival had these comic book authors headlining and signing books we had to go. The first time I saw lines snaking for the book signing I was surprised at their popularity but understood it very well. They do the amazing job of breaking down complicated stuff in a humorous way and a lot of people seen to identify with that.
DH and I struggled with kids reading a whole lot of comics. We have arrived at an uneasy truce in the form of balancing how much comics is read with books of other kinds. But if your child loves reading comics and nothing else, it is not a bad thing seems to be the conclusion -
Using comic books (like 'The Avengers') to get kids to read
.
The comic book author we waited in line for this time was Stephen Pastis who writes a comic strip called "Pearls Before Swine" which appears in our local newspaper The Washington Post. Anyway I have not heard of him or paid any particular attention to him except read the strip a few times when the kids show it to me. DD2 managed to get his signature even though we were late and the door to the signing room was closed. That is a story for another day. Following the signing he also had an interview where he talked about how he became a graphic novelist. Very interesting and obviously how these things usually go he was a fantastic talker too. Before he got established in writing comic strips he was a lawyer defending insurance companies, yes! that and hated every minute of what he had to do.
These days obviously he does what he loves and people pay him to do it. Well that is the sentiment that I want to share now. The intro in the first paragraph is to arrive at this moment. Though we visit the Book Festival for the kids I seem to learn a something every time. Loving what you do for a living is a gift. I know there are a few lucky ones who are in similar situations like some of the bloggers I read about. There are many of us who find it almost painful to go to work everyday but don't have a choice. For some of us it is not the work itself but the people we have to work with who mess it up. But sticking with something you love and trying your best seems to be the common theme of most of the people who have made it in their chosen field.
Take blogging for instance, there are bloggers who are very successful and for whom this is their main job while for some like me this is a hobby that gives great pleasure in doing and I am even more glad there are readers for this blog. Thanks to all of you who read this blog.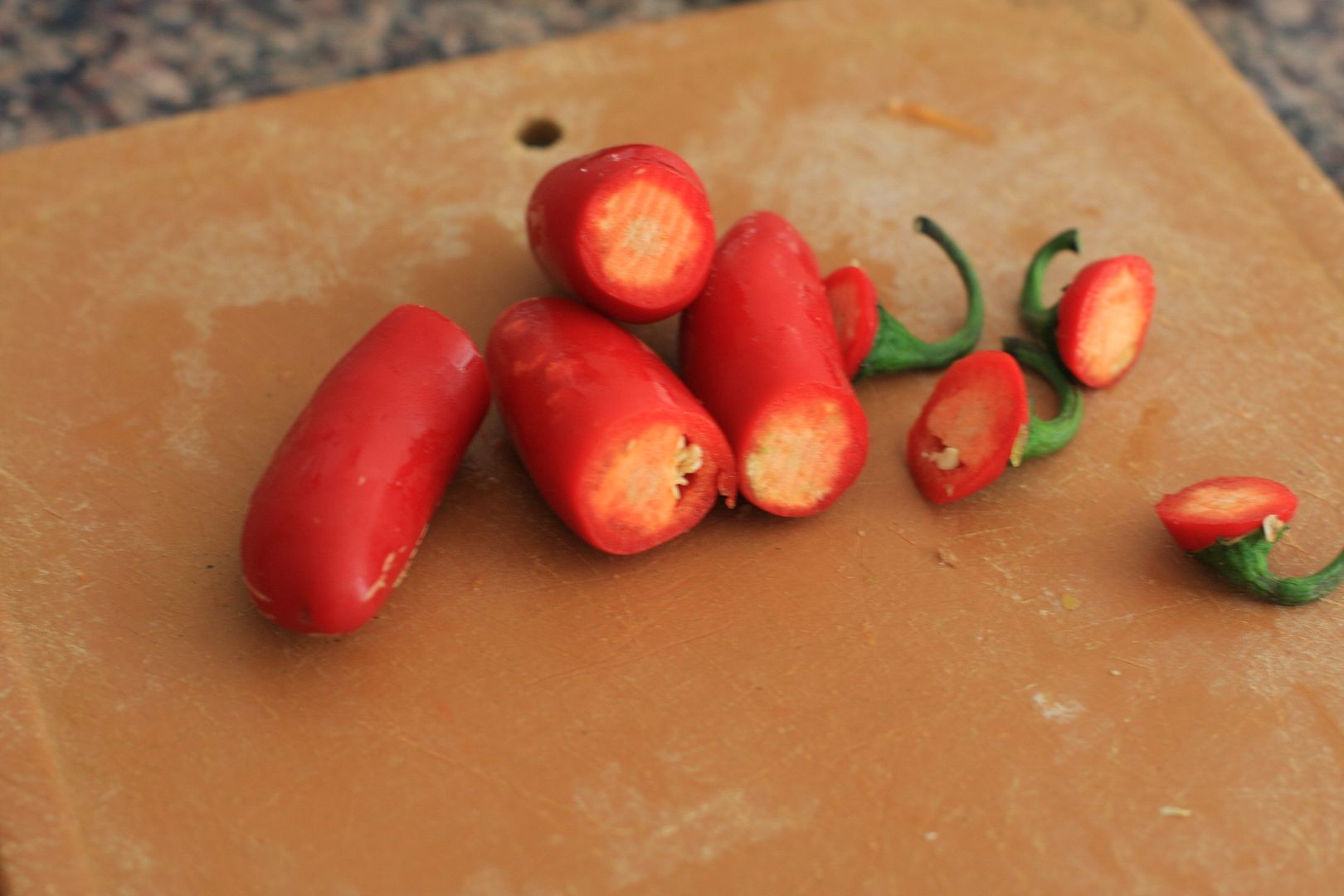 Now on to the recipe,
You never know what plant is going to do well in a particular year. This year the bumper crop is jalapeno peppers. I have become an expert in cooking stuffed jalapeno peppers and it has become a hit around here. I was wondering what else I can cook with jalapeno peppers when I realized I hadn't cooked that famous Hyderabad recipe - Mirch Ka Salan. All of us love peanut based curries so this one was double fun.
(Use kitchen gloves)Cut the top of the pepper. Make a slit on one side, do not slit the pepper in half.
Use the tip of the knife to remove the white ribs and seeds in the pepper.
I usually do not have sesame seeds and did not add it to this recipe. The gravy was still delicious. I strongly recommend using kitchen gloves or in the absence of those rub your hand with sesame oil to avoid your hands from burning like mine did because I was bone headed and thought I could deal with it. It burned for almost a day :( I strongly recommend removing the ribs and seeds or the gravy would up too hot to be enjoyed. On the other hand if you like mind numbing heat you can leave it be. I added 2 red chilies for the paste but if you are using chilies that are hot, skip it.
In a cast iron pan saute the cleaned pepper till you see blisters.
Get the ingredients for the paste ready in a blender, add in the peanuts and blend to a smooth paste. In a wide mouthed pan, saute the seasoning and onions and add the peppers.
Add the blended paste and the tamarind pulp and enough water and cook till it is of the required consistency.
It is totally amazing how sweet these peppers get when they are roasted but be ready for the occasional one that get a bit hot to the tongue.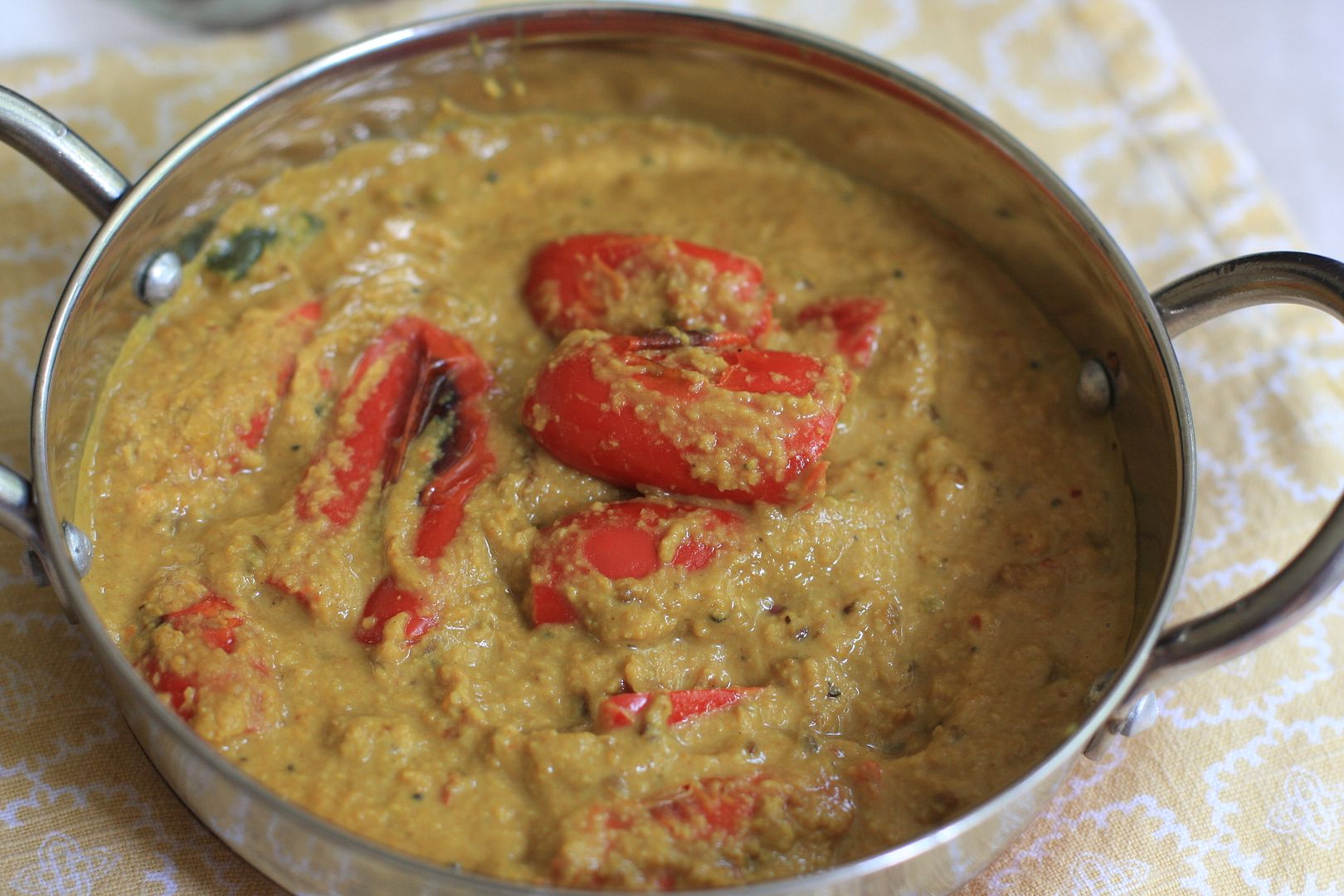 Mirchi Ka Salan - Jalapenos in a peanut sauce
Preparation Time:15 minutes
Cooking Time:25 minutes
Ingredients


1 lb of jalapeno peppers or about 15
1/4 onion chopped fine
seasonings: cumin and mustard seeds
salt to taste
1/2 cup of tamarind pulp from about a small lime sized ball of tamarind or 2 tsp tamarind paste
2 tsp of red chili powder (use only if needed)
3 tsp of oil
For the Paste
1/4 cup of roasted peanuts, skin removed
1/4 cup of onions or shallots chopped (optional)
2 red chilies
2 tbsp of grated fresh or frozen coconut

Cleaning the peppers:


Make a cut on the pepper but do not slit the pepper in two.
Use the edge of the knife and remove the white ribs and seeds.


Method


Clean the peppers and set aside.
In a cast iron pan or wide mouthed pan, heat a tsp of oil and saute the cleaned peppers till blisters appears on the skin (about 8-10 minutes)
While the pepper are sauteing heat oil in a saute pan and when hot add the onions and saute till they are just starting to turn brown.
Add in the red chilies and saute for a minute.
Add in the coconut and saute for 2-3 minutes more. Cool and take in a blender.
Add the roasted peanuts and blend to a smooth paste with addition of about 1/4 cup of water. Set aside.
In a wide mouthed pan add the rest of the oil and when hot add the seasonings.
Add in the onions and saute till they are translucent. Now add the roasted peppers, saute for a minute.
Add the blended paste and a 1/4 cup of water if it is too thick. Let it come to a boil.
Now add the tamarind pulp and salt and let cook on medium low heat for about 5 minutes or more.
Check for heat and add chili powder if it is bland or you think the gravy needs a bit more heat.
The curry get thicker as it cools so make sure you add enough water to keep it in the correct consistency.

Goes well with naan or even rice.

Like what you are reading? Subscribe!