Ask any South Indian and you will be hard pressed to find anyone who does not like dosai. The best thing about dosai is, it is versatile, lends itself to creativity in terms of what is added to it and on top of it and moreover it is crispy and tasty. Who does not like a deep fried like food but which is actually a perfect meal combined in one.
The thing is dosai does not have a good equivalent word in English. It is neither a crepe nor a pancake but the concept is the
same so I end up calling them crepe or pancake!
Dosai the
classic one made with rice and lentils
is I have to agree time consuming and requires fermentation. The same batter that is used for making idli is also used for making dosai in case you had any doubt.
Well the hard made batters comes to an end eventually but your tongue craves for some dosai with chutney what is one supposed to do? If you have millet flours like chestnut flour (singhara flour), bajra flour or ragi flour on hand dosai making is not that far behind. You can use any combination of these flours but since they do not have much gluten in them when you are cooking the dosai be patient and don't flip it before it is fully cooked on one side else it will fall apart. Besides that this is a piece of cake, yes!
Moreover when you had odds and ends of vegetables, any vegetable that can be shredded or grated is good for this recipe. I had an overgrown zucchini which had to be used and it was absolutely perfect here.
Add shredded zucchini to the flour along with chilies and salt adding water to make a pourable batter.
Heat the dosai pan or a griddle and pour a laddle of batter and using a circular motion spread the batter to form a circle. Drizzle oil along the edges, let cook on one side, flip and cook on the other side.
The dosai will start to turn a nice golden brown in certain spots when it is cooked.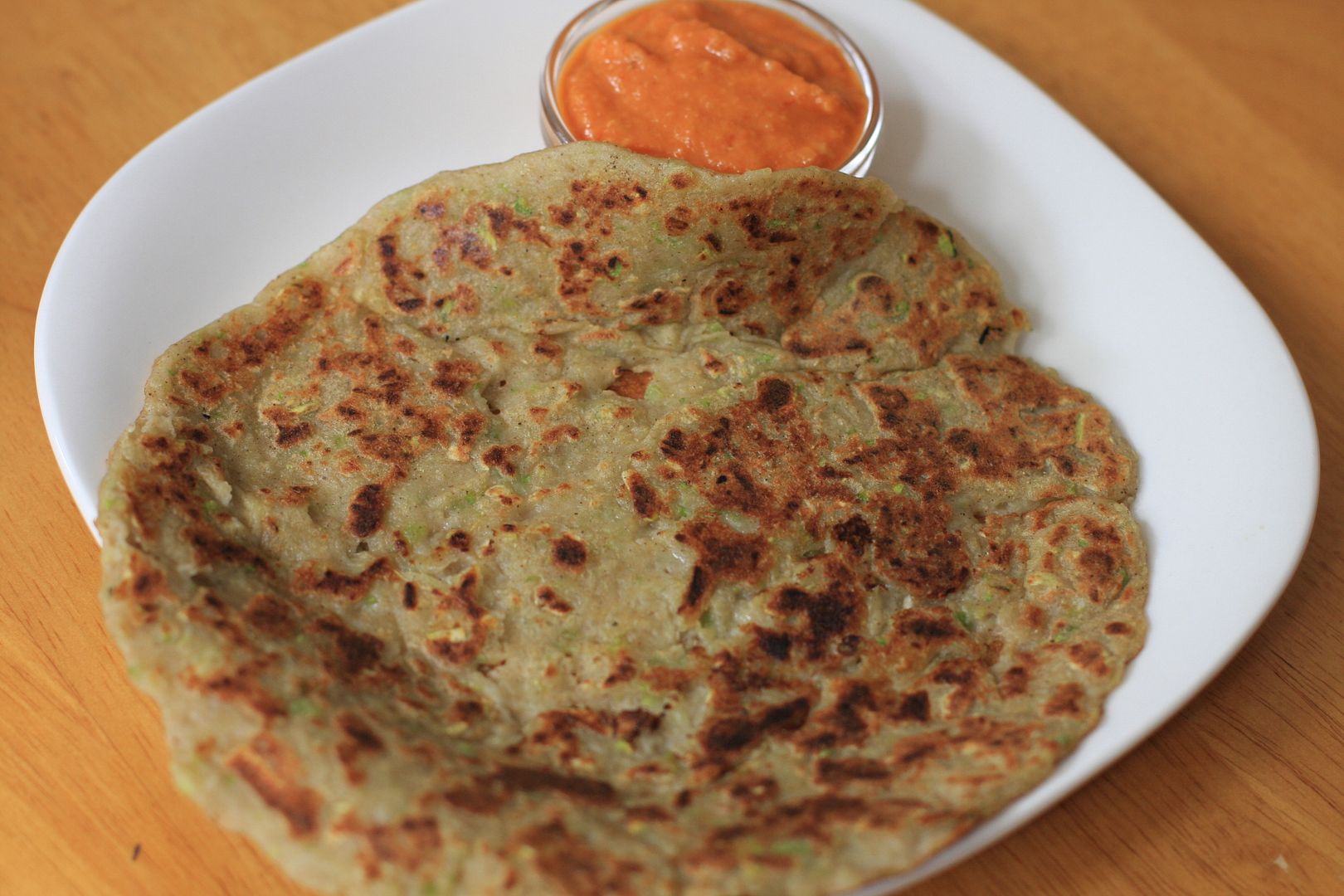 Water Chestnut and Millet Flour Vegetable Dosai
Preparation Time:15 minutes
Ingredients


1 cup of singhara flour (water chestnut flour) substitute with ragi flour
1 cup bajra flour (kumbu maavu)
1 cup of grated/shredded zucchini
1 tsp of grated ginger
salt to taste
1 tsp of red chili powder or crushed/grated green chilies
oil to make the dosai


Method


Mix together the flours, vegetables, salt and chilies, whisk together while adding water to make a pourable batter. Let sit for 10-15 minutes.
Now heat a dosai pan or griddle, use an oiled cloth or paper towel to wipe the pan. Pour a laddle of batter on to the griddle and spread it in a circular motion to make a fairly round shape.
Drizzle oil around the edges. Let cook completely on one side and flip and let cook on the other side till it starts to turn brown. (do not be in a rush, it will fall apart while flipping if not completely cooked on one side)
Serve with a spicy chutney of choice.



Like what you are reading? Subscribe!