Louts Seeds or Phool Makhana as they are commonly called, are exactly what they sound like - exotic! I have never tasted them before, have just heard of them. This has been on my to try list for the longest time. When I finally made the purchase, it sat in my pantry for a good 3-4 months. During that time I came to understand that Phool Makhana though often referred to as lotus seeds are not exactly louts seeds but seeds of the
Makhana plant or Euryale ferox.
When they are roasted they become just like popcorn. While curries, kheers and several other recipes can be made with them, I want to try roasting them first. They are nuts after all ;) Sorry guys! That was a bad joke!!
Keeping this recipe that is used for making
kara pori
I decided to use the fox nuts a try.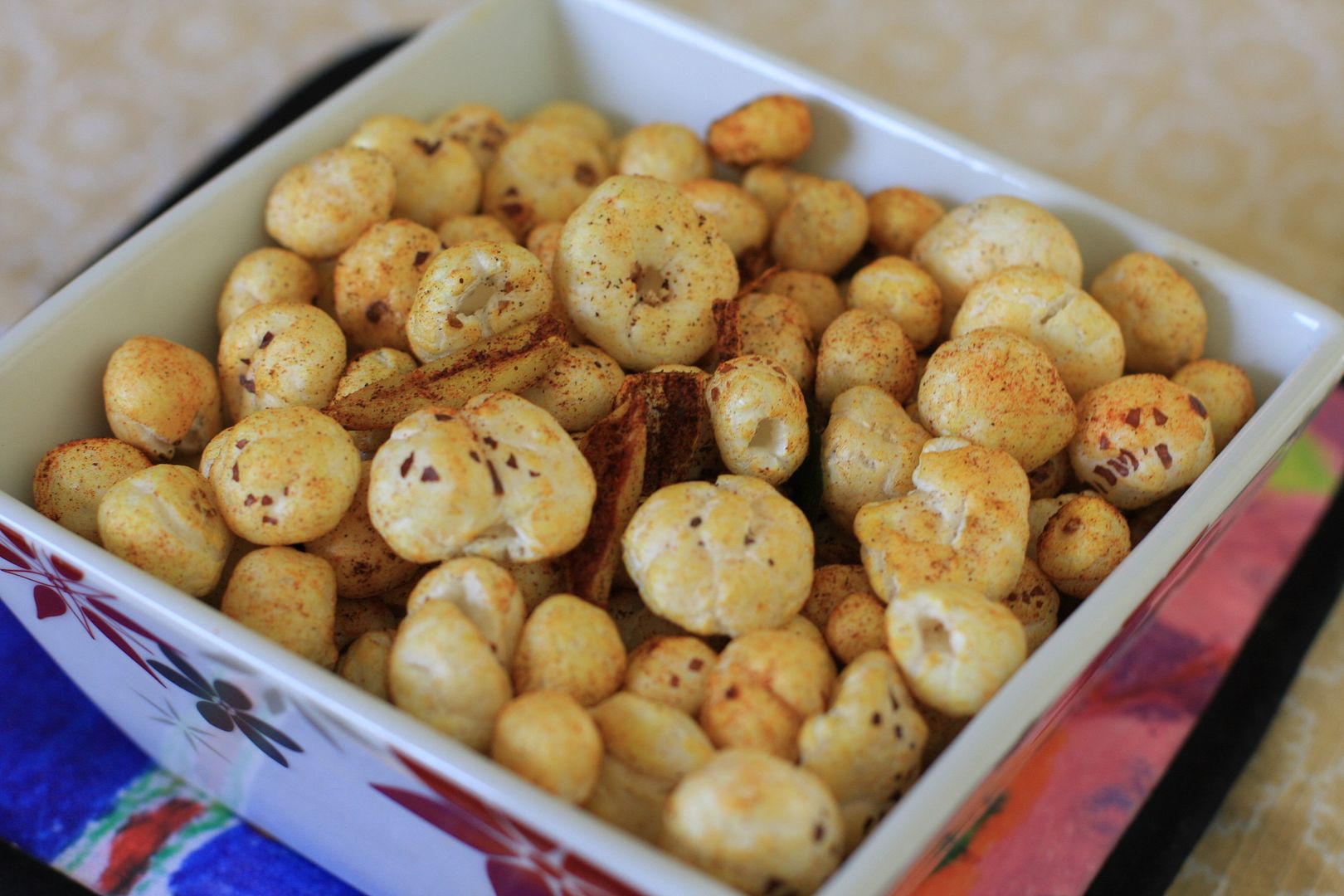 Garlic and Curry leaves flavored Roasted Lotus Seeds (Phool Makhana)
Preparation Time:5 minutes
Cooking Time:15 minutes
Ingredients


a pack of phool makhana
6 garlic cloves thin slices
curry leaves 2 sprigs
1 -2 tsp of chili powder
1/2 tsp of turmeric powder
salt to taste
1 tsp ghee or any oil (for a vegan version)


Method


Heat the ghee or oil in a wide mouthed pan or kadai.
When hot add the garlic and saute for a minute, don't let it get burnt. Add in the curry leaves.
Now add the salt, chili powder and turmeric powder, saute for a few seconds and add in the lotus seeds.
Saute for about 5-8 minutes stirring continuously till the spice powders are well coated.
These are perfect for a snack any time of the day.
Like what you are reading? Subscribe!