I never seem to get enough of Tacos, fish tacos in particular and they are perhaps the only kind I eat. I order them whenever I see them on a menu. If you avoid the sauces and stuff that they give, they can be considered quite healthy. The other best thing is to make them at home. Cooking the fish is the only work there is in the whole thing and assembling the rest is fun part.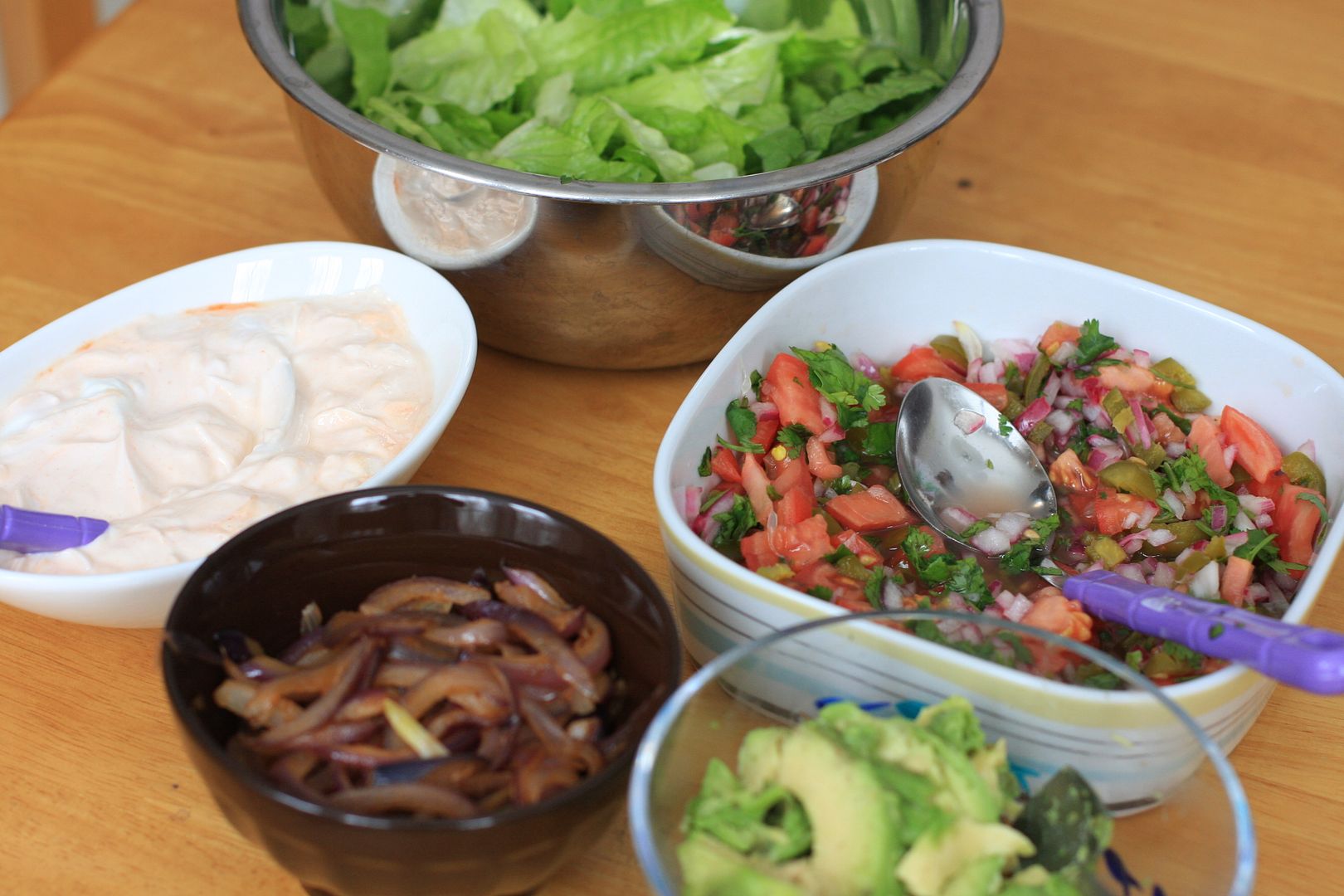 The fish can be cooked with a very simple seasoning,just salt and pepper or in my case chili powder and can be deep fried or pan fried. Store bought tortillas are good but try making corn tortillas at home and you will know right away what you have been missing. Make the
corn tortillas
fresh and warm and they taste so very good with the fish.
Apply the red chili,salt mixed with oil on the fish fillet.
Shallow fry the fish. Get the Greek yogurt whisked with the chili sauce.
Get the corn tortilla. Place the fish and the sauteed vegetables.
Add the onion tomato salsa and then the avocado on top.
Add the lettuce on top followed by the spiced Greek yogurt.
I usually are not an enthusiastic buyer of lettuce except for fish tacos, in the tacos they make a good addition. While sour cream might be considered a must have, Greek Yogurt with seasonings added works just as well. Sauteed vegetables like onions and bell peppers, fresh onion and tomato salsa and sliced Avocado are the other good toppings. I usually like to make fish tacos over the weekend so I marinate the fish a couple of hours before lunch time. For a week day marinate it in the morning. I can hear the snickering already. Yes! Mornings are busy and if you are not thinking about marinating fish at that time it is quite understandable. Even 20 or 30 minutes of marinating should be sufficient, so do it in the evening when getting dinner ready.
Spicy Fish Tacos
Preparation Time:20 minutes + 2 hours Marinating Time
Cooking Time:20 minutes
Ingredients


For the Fish
6-8 fillets of fish (any firm white fish) - I used frozen Flounder Fillets
1 tbsp chili powder
salt to taste
1 tbsp of oil + 1 tbsp of oil for shallow frying
For the Tomato Salsa
1 red onion finely chopped
1 tomato finely chopped
2 tbsp chopped coriander leaves
3 tbsp pickled jalapeno chopped
1 lime or lemon about 4 tbsp of juice
For the Salad
Lettuce (I used Romaine) washed and chopped or shredded cabbage
Avocado sliced
For Sauteed Vegetables
1 cup sliced onion
1 cup of sliced bell peppers (optional)
1 tsp of oil
salt to taste
1 tsp red chili powder
For Dressing
1 Cup of Plain Greek Yogurt
1/2 tbsp of chili lime sauce


Method


Mix together salt and chili powder with the olive oil and apply on both sides of the fish filet and let it sit for about 2-3 hours as possible. I left it in the sun near the window. I marinating longer cover with cling wrap and put it in the fridge.
Mix the chopped onions, tomatoes, coriander leaves, chopped jalapeno and squeeze in the lemon juice. Sprinkle a bit of salt if required. Let sit for about 20-30 minutes.
Whisk together the Greek Yogurt and chili sauce.
Heat oil in a saute pan and saute the onions, season with salt and red chili powder. Set aside.
Heat a cast iron pan or frying pan, add oil and when hot place the fish filets in a single layer. Let cook on one side, about 3-4 minutes. Once the fish is cooked it should be easy to flip. Flip and cook the other side for another 3-4 minutes. Drain on paper towels.
Cook the corn tortillas as per the recipe and keep it wrapped in a kitchen towel to let stay warm.
Assembling the Fish Taco
Place a piece of cooked fish on the corn tortilla. Add sauteed vegetables on top. Add the salsa, sliced avocado and chopped lettuce.
Drizzle the yogurt on top.
Like what you are reading? Subscribe!