What do you do when you have over ripe bananas? I prefer bananas that are just starting to turn ripe. The slightly more ripe ones make their way into a smoothie but ones that have gone completely black on the outside is certainly not my thing. Don't get me wrong they are edible, sweet and good. So I save them in the fridge till they can be put to good use like this awesome banana bread.
I have another recipe
here for banana bread using oil
which is good in its own right but I also like this one I am going to present today. I am not going to be flip about using too much butter, but butter in baking does have its own taste and texture and nothing quite replaces it. 6 tbsp of butter for 2 cups of flour does not seem much IMO. Whatever rocks your boat go for it.
There are people who do not eat breakfast. I simply cannot go without because my stomach makes loud unpleasant noises so loud that I feel people in the next office/cubicle might be able to hear it. Though I do not like eating super sweet stuff like store bought muffins which taste more sweet than cupcakes, dough nuts or sugary cereals. I like all of these as during the day or evening snacks. Anyway but around here these are good things to have on hand for a quick breakfast because love them and they are easy on the go stuff to eat. Primarily to take control of the sugar, I started baking muffins and breads using whole wheat flour and with less sugar.
This Apple Banana bread is just one of those things, with nuts, fruits, flour and just enough sugar that it falls into a perfect breakfast category.
Other recipes for Banana Bread on the blog,
Mash the bananas, measure and set aside. Whisk together the flour, baking powder and soda and nuts.
Whisk/Beat the eggs till nice and fluffy. Add the sugar.
Add butter and milk and beat a bit more to incorporate into the eggs.
Add the mashed bananas and the egg mixture to the flour.
Using a spatula mix together the wet and dry so all the flour is moistened. Do not overmix.
Bake in a 350 F preheated oven for 55 minutes till a skewer inserted comes out clean. Cool and slice.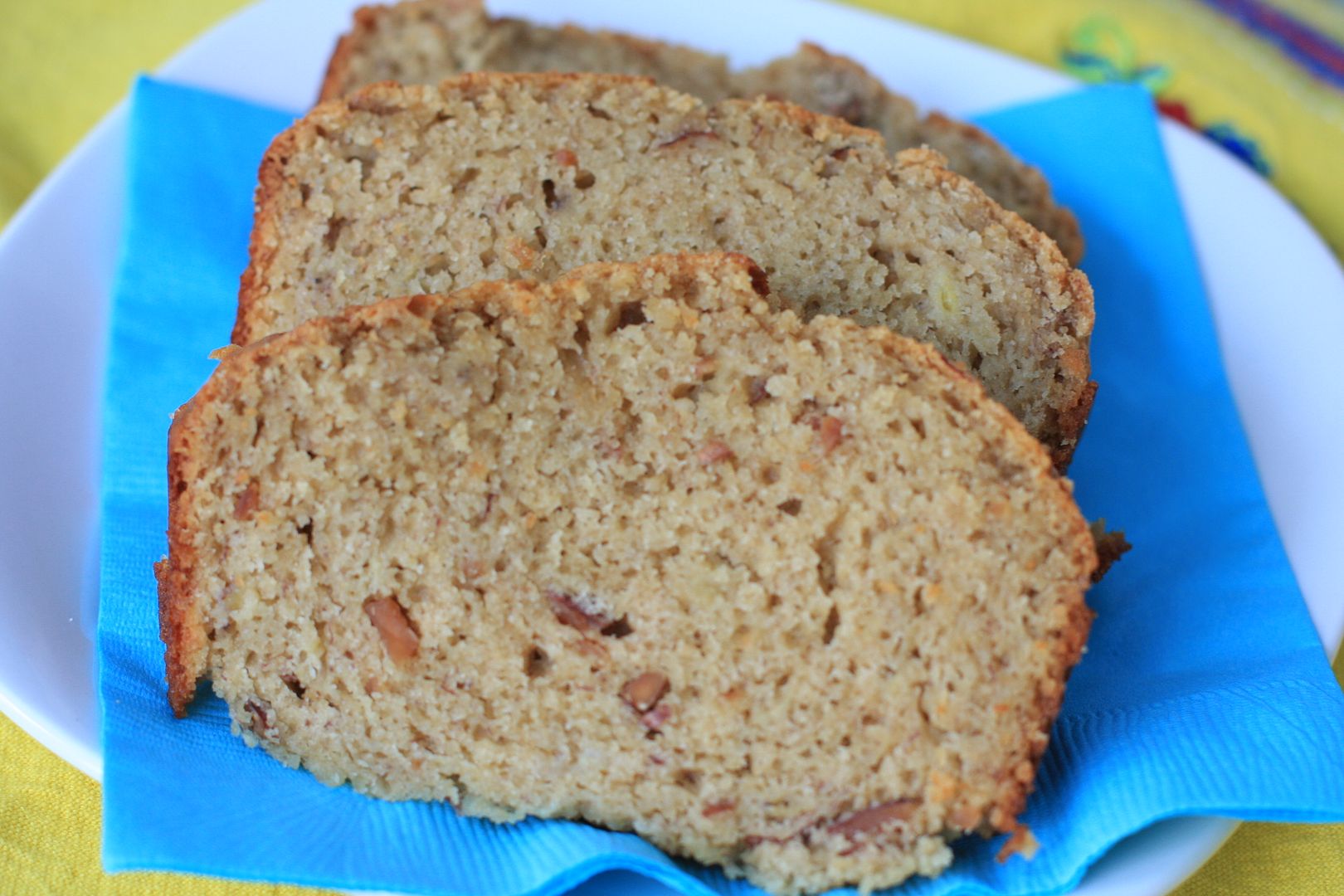 Recipe Source: Williams-Sonoma Baking Essentials - (with some modifications)
Apple Banana Bread with almonds
Preparation Time:20 minutes
Baking Time:55 minutes
Ingredients


2 cups of unbleached white whole wheat flour
2 bananas mashed - about 3/4 cups
1/4 + 1/3 cups unsweetened apple sauce (skip apple sauce and use 1 1/3 cups of mashed bananas) - (see **)
2 tsp baking powder
1/2 tsp baking soda
couple of pinches of nutmeg
1 tbsp grated orange jest (skipped this)
2 eggs
1/4 cups of coarsely chopped roasted unsalted almonds
a little less than 3/4 cups of raw sugar or 3/4 packed brown sugar
6 tbsp of unsalted butter (bring to room temperature)
1/2 cup whole milk (use just enough to moisten the batter)


Method


Preheat oven to 350F.
** Mash the bananas, measure and set aside. I got 3/4 cups of bananas. For the rest I added Apple sauce. Gave the bread a soft and moist texture. So use all bananas or a combination based on preference.
Whisk together the flour, baking powder, baking soda, nutmeg, crushed almonds and orange jest if using in a mixing bowl.
Using a egg beater or hand whisk, whisk the egg till it is nice and fluffy.
Add butter, sugar and run the beater a bit longer so they mix well.
Get a 9 x 5 inch rectangular loaf pan ready by greasing the pan with butter and dust with flour if needed (I did not).
Add the whisked ingredients, mashed bananas and apple sauce in batches to the flour and with a spatula make sure the mix is moistened. Add as much milk to moisten the batter. Use only as much as needed. Do not over mix.
Pour the batter into the loaf pan and smooth the top.
Bake for 55 minutes till a skewer or tooth pick inserted comes out clean. Cool on a rack before slicing.
Like what you are reading? Subscribe!