I miss not having my mother around. One of the greatest misfortunes of not living close to home. Those of you who live close to your folks, you are indeed fortunate.
She thinks of things to do that I normally don't. When we had all that Kale growing in the Fall and more than we could handle she hit upon this idea of washing and chopping and then freezing make them ready for use. I would have just washed them and frozen them if I was left to do it. Now since it is already chopped it is that much more easier to just open the ziplock bag and transfer the contents to the cooking pot.
Winter is not my favorite time of the year when the sun takes a vacation almost every day of the week. So sunshine in the form of food is what we have control over and it was this kale stir fry that did it for me. I tell you the addition of coconut elevates this simple stir fry to special and the reason it deserved it own post.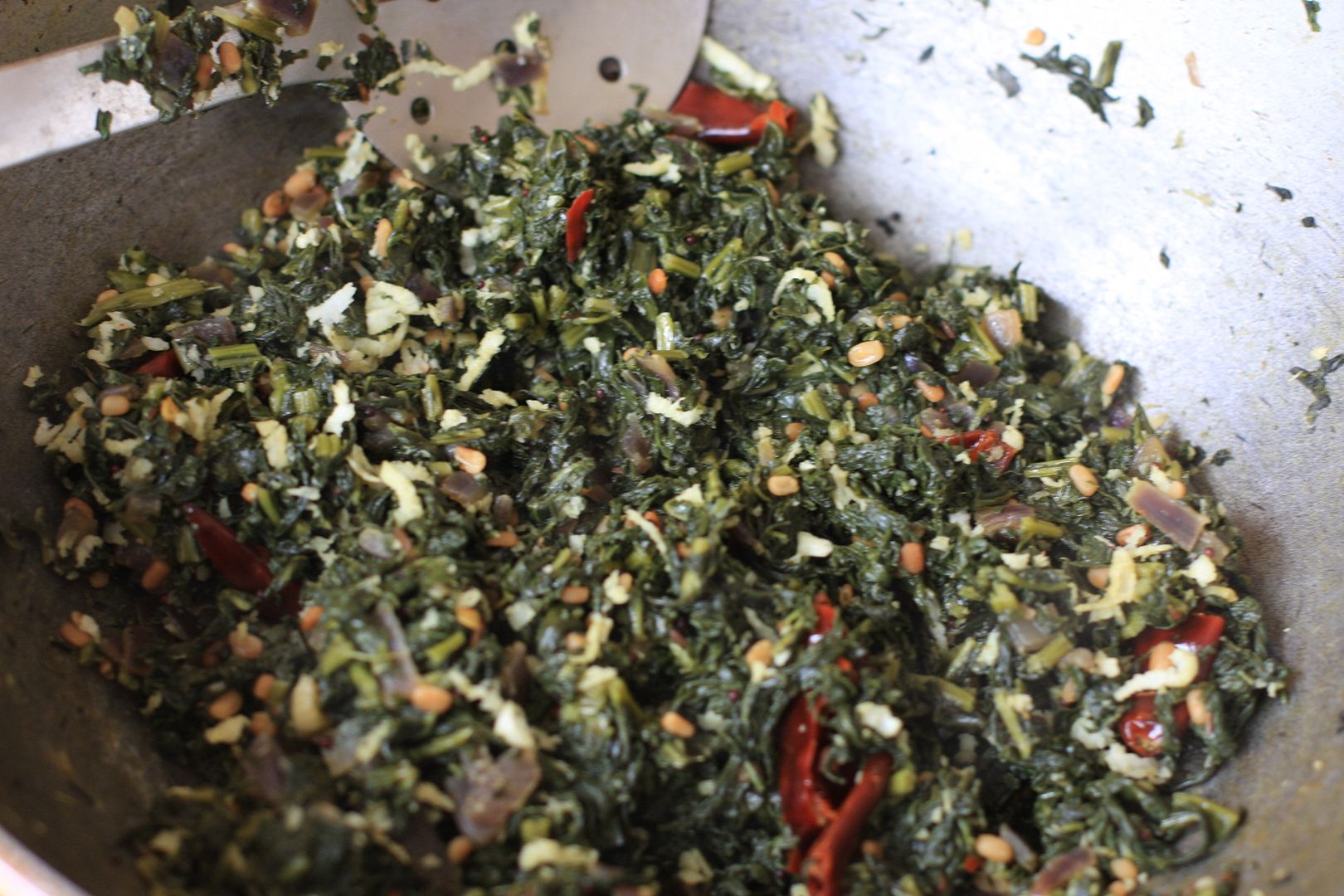 I think you all know that raw kale is not all that good and especially for those with thyroid problems. It could prevent the absorption of iodine by the thyroid and that messes up the function of the thyroid which is not a very good thing. And too much raw kale causes problems with kidney stones. I am not an expert on these things and I am just writing what I have read. If you are into eating them raw do your research, don't take my word for it.
I prefer kale cooked the Indian way with spices, cooked being the operative word here. I do not like raw leaves smoothies or eating the leaves raw so cooking this way is what is tasty for us.
Kale Stir Fry with Coconut
Preparation Time:10 minutes
Cooking Time:20 minutes
Ingredients


About 4 cups of frozen Kale
1/4 cup onions (shallots make it even more tastier)
6-8 red chilies split in half and seeds taken out
2-3 tbsp or more of fresh or grated coconut
seasonings: split urad dal (1 tbsp), cumin seeds and mustard seeds
1 tsp oil

Method


Heat a wide mouthed pan or a saute pan and heat the oil. Add the seasonings, first the urad dal and then when it starts to brown add the cumin seeds and mustard seeds.
When the mustard seeds starts to pop add the red chilies followed by the onions and saute till the onions turn translucent.
Add in the kale leaves and cook till the leaves are fully cooked and the moisture is completely evaporated. Add salt in between.
Add the coconut to the cooked leaves and mix them well.

Serve as a side for rice or can eaten by itself.

Like what you are reading? Subscribe!