DD2 loves mushrooms and when my mother was here visiting she made a mushroom masala which seems to have become her favorite preparation. She called my mom got the recipe and decided to cook it herself and it did come out well.
The part that you have to be watchful about when making a dry masala dish with mushrooms is the moisture it releases once it starts to cook. You can add the masala after the water from the mushrooms has completely evaporated or add the masala in the beginning and then cook till most of the moisture is evaporated.
Wash and dry the mushrooms and cut into quarters.
Get the ingredients for the masala ready.
In a saute pan heat oil and saute the spices and when they start to turn color transfer to a blender.
In the same add more oil if required and saute the onions,garlic and ginger, transfer to the blender and blend to a fairly smooth paste.
In a wide mouthed pan heat oil add the seasonings and when the mustard starts to pop add the mushroo, and saute.
Add the blended masala and continue to cook till the water is evaporated and the masala is well coated .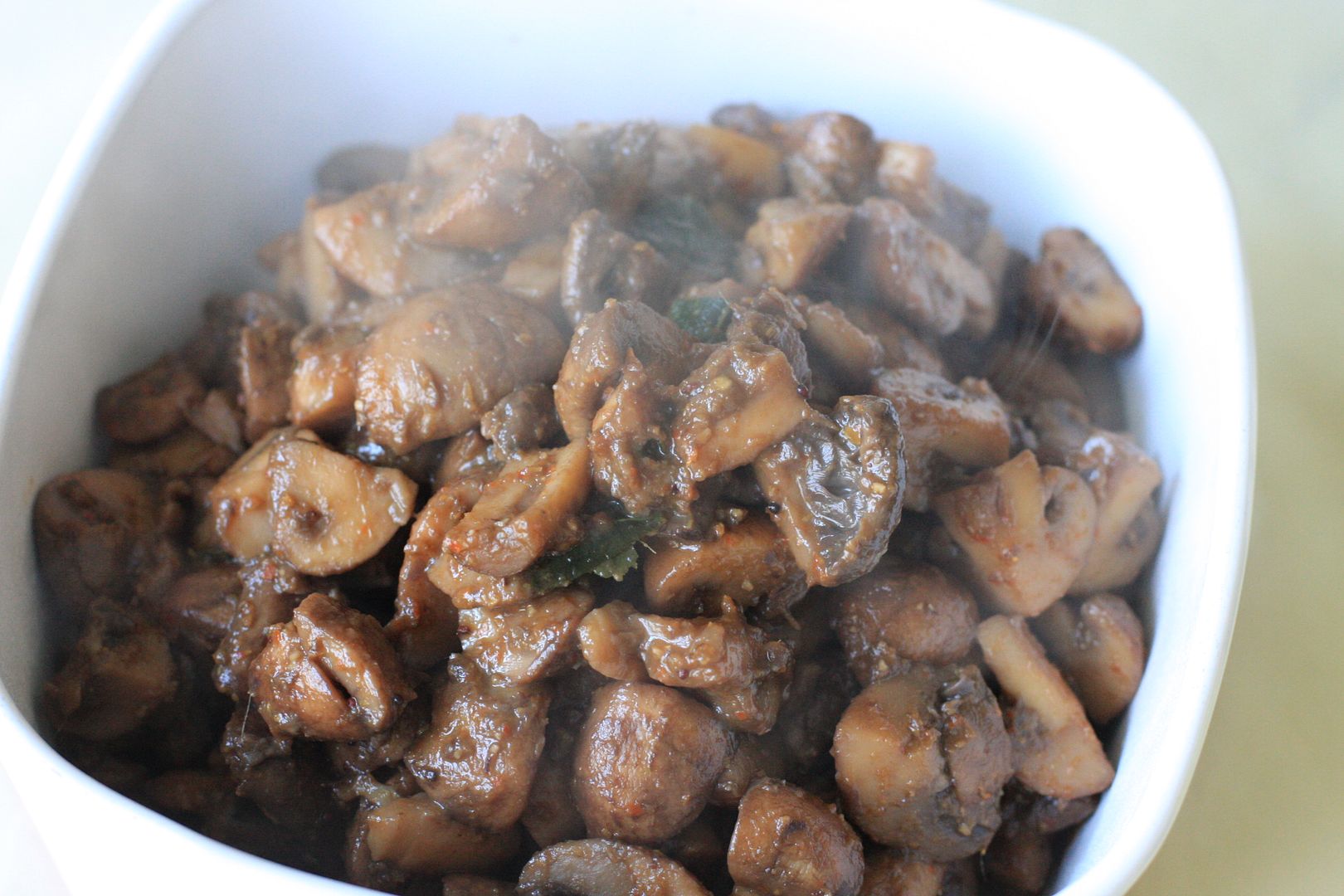 Dry Mushroom Masala
Preparation Time:10 minutes
Cooking Time:25 minutes
Ingredients


2 lbs of mushrooms washed and cut 4s
seasoning: mustard seeds and curry leaves
salt to taste
1-2 tsp of oil
For the masala
a little less than 1/4 cup of onions chopped (use more if you want more masala)
2 cloves of garlic
1 inch of fresh ginger
1/2 tbsp of coriander seeds
1 tsp of cumin seeds
5-6 red chilies
small piece of cinnamon stick
few cloves



Method


In wide mouthed pan heat oil, add the mustard seeds and curry leaves. Add in the cut mushrooms and let it cook. While the mushrooms are cooking get te masala paste ready.
In a saute pan, heat oil and saute the coriander, cumin, cinnamon, cloves and red chilies till they start to turn color and give a good aroma.
Transfer to a blender and in the same pan saute the onions, garlic and ginger till the onions become translucent and start to turn brown on the edges. Transfer to the blender and let cool and blend the onions along with the spices to a fairly smooth paste.
AS the mushroom cooks it will release a lot of water. Let it cook for about 5-10 minutes and add in the masala paste and salt. Continue to cook till all the water is absorbed and the mushrooms are coated with the masala.


Serve with steamed rice or as a side.

Like what you are reading? Subscribe!