A couple of DDs friends had come home. I was thinking of making some Kung Pao Shrimp but wanted to start Kung Pao with chicken and also did not want give up the chance of trying it out on some unsuspecting youngsters. Just kidding... I checked with her friends both Chinese if they can tolerate heat. They were ok with that but both of them were not sure if they had tasted Kung Pao chicken. That is because,
Kung Pao chicken is not something you'd find in China but here in the US it is not something you can escape from in Chinese restaurants. It is usually my order when we visit Chinese restaurants because it has heat, it has vegetables and crunch from the peanuts and what more does one want in Chinese food? I consulted a
recipe on Rasa Malaysia
. As with most things I cook I find it extremely hard to stick to a recipe and make modifications along the way. So far this tendency to improvise has not caused problem in cooking but it is another matter altogether while baking.
As for DDs friends they enjoyed Kung Pao Chicken a lot though it was a tad too spicy for one of them.
Marinate the chicken in corn starch, soy sauce and rice vinegar for 30 minutes.
Dice the bell pepper and the scallions.
In a wok add oil and add in the marinated chicken and let it cook on high heat. While the chicken is cooking heat another wok, add in 2 tsp of oil and add the chilies.
Add the scallions, ginger and garlic and let saute till the scallions are wilted. Add the bell pepper and let it saute for 6-8 minutes till the bell pepper is cooked but still crunchy. Add the peanuts and give a quick stir.
Add the cooked chicken to the bell pepper. If the chicken has liquid let it reduce.
Add the sweet chili sauce and the reduced liquid from the chicken and stir fry the chicken on high heat till there is no liquid left in the pan .
I used skinless, boneless chicken thighs but chicken breasts can used as well.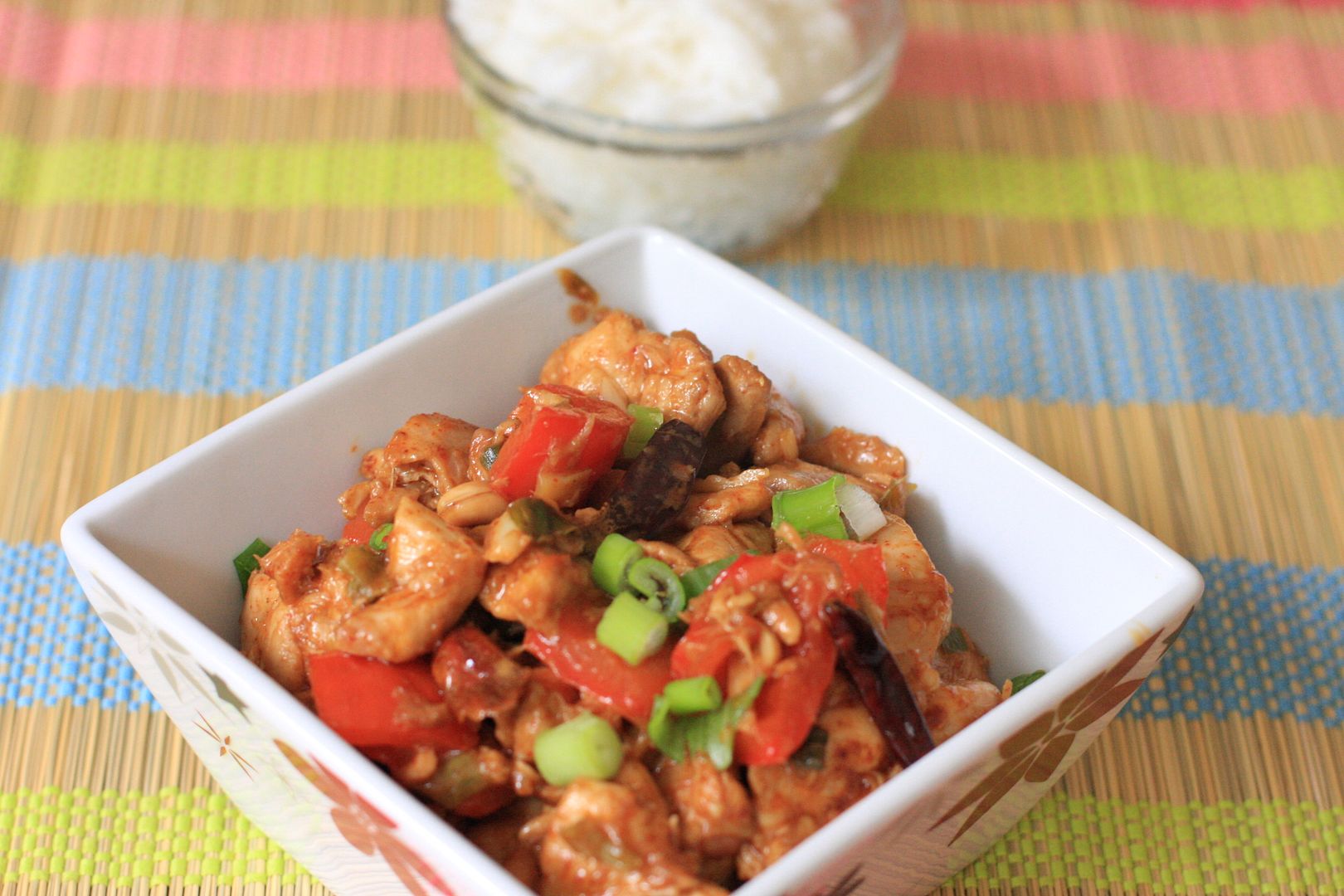 Kung Pao Chicken
Preparation Time: 30 minutes marination time
Cooking Time:25 minutes
Ingredients


1 lbs of chicken diced small
2 Red Bell peppers seeds and ribs removed and diced (the same size as the chicken)
1 scallion white and green parts diced (save some for garnish)
8-10 red chilies seeds removed
2-3 tsp of chili powder (optional, depending on the heat and number of red chilies used)
1/4 - 1/2 cup peanuts
2 tsp of sweet chili sauce or sugar
2-3 tsp of soy sauce
1 tbsp of corn starch
2 tsp rice vinegar
3-4 cloves of garlic sliced thin
1 tbsp grated ginger
salt to taste
1/2 -1 tbsp of oil


Method


Pat dry the chicken completely so there is no moisture left on the chicken (see Note:) and marinate the chicken with the corn starch, soy sauce and rice wine vinegar. Set aside for about 1/2 hour or so.
Heat 1/2 tbsp of oil in a wok or a wide mouthed pan and add the marinating chicken and let it cook on high flame. If the chicken does not release any water set aside and in the same pan continue cooking the vegetables. If the chicken releases water let it cook in one pan while you use another pan to cook the vegetables. Strain the chicken pieces out and let the liquid reduce so it is nice and thick
Heat about 2 tsp of oil in a wok and let it get hot. Add in the red chilies and saute for a minutes. Add in the scallions and saute for 2-4 minutes. Add in the garlic and ginger and saute for a minute more.
Add in the diced bell pepper and let it saute for about 6-8 minutes till the peppers are cooked but still crunchy. Add in the peanuts and stir to mix.
Add the cooked chicken to the bell pepper and let it cook on high heat for about 4-5 minutes.
Now add the sweet chili sauce or sugar, chili powder if needed and the reduced sauce from the chicken (or a tsp more of soy sauce) and cook for another 3-4 minutes.
Serve with steamed Jasmine rice.


Like what you are reading? Subscribe!