I have not met anybody yest who does not like deep fried goodies. Deep frying is a pain yes but in the end the deliciousness is hard to beat. Now that mom is here we have been trying a bunch of fried stuff with some twists. Deep frying is always easy when you have a partner.
The recipe for making keerai masala vadai is same as regular masala vadai. Make sure the vadai batter is thick so it does not absorb too much water. I have a version of keerai vadai with spinach
here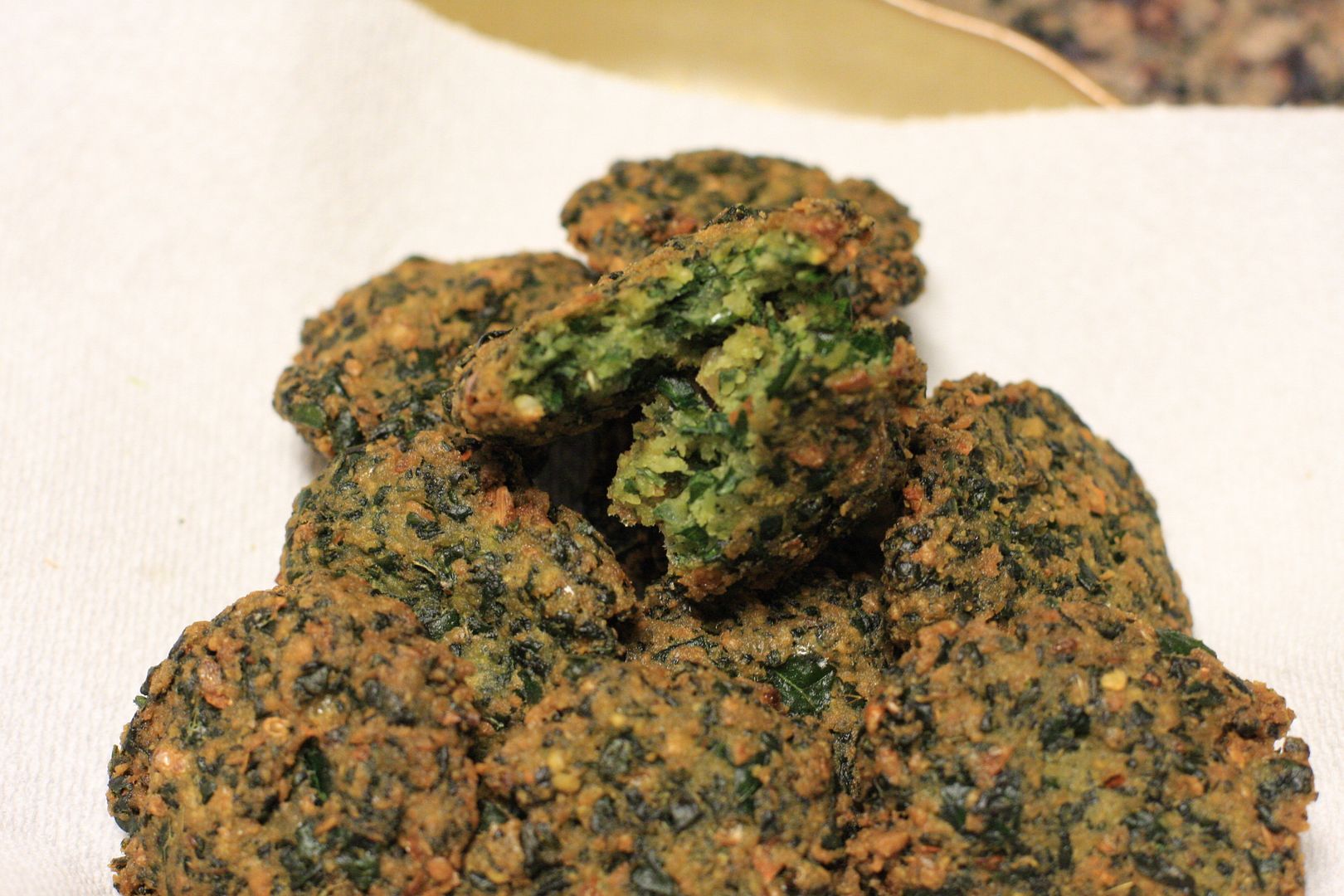 Kale Vadai - Keerai Masala Vadai - Lentil fritters with Kale
Preparation Time:15 minutes
Cooking Time:20 minutes
Ingredients


3 cups of split peas (I used a the yellow kind)
6-8 red chilies
1 tsp of cumin seeds
a small piece of asfoetida
a big bunch of kale, shredded to make about 4 cups
1/2 cup of finely chopped onions
3-4 green chilies chopped
salt to taste
Oil for deep frying.


Method

Wash and soak the split peas for about 3-4 hours.
In another smaller cup soak the red chilies, cumin seeds and asfoetida in about 1 tbsp of water.
Drain the split peas completely and take it in a blender. Add to it the red chilies, cumin and afoetida and blend to a coarse batter without addition of water. Refrigerate if not ready to use immediately.
Add the chopped onions, shredded kale, chilies and salt just before making the vadai.
In a deep frying pan or kadai heat oil and when it gets got, take a small lemon size batter, and flatten it in the palm of your hand and slide it into the oil. Add as many that will fit in the pan without touching each other.
Cook till it turns golden brown on one side about 1/2 - 1 minute. flip and cook on the other side till golden brown. Remove from the oil and drain on paper towels.
Like what you are reading? Subscribe!