One of the good things about living in the Nation's Capital - Washington D.C. is some of the things we get to participate in. Couple of days ago was the Library of Congress National Book Festival. Last year we visited the book festival on a whim and DD2 got signature from
Fred Hiatt
after we listened to him and Ti-Anna Wang on whom the book Nine Days is based on. I bought the book for DD who wanted to read it after she read the review in the Washington Post.
The excitement of waiting in line and meeting face to face with the author probably made a very big impression on DD2. So this year from the time she saw the newspaper supplement for the National Book Festival she has been behind us to go there. This year there were a couple of authors that she wanted to meet. Unlike last time these were authors whose books she had read.
Those of you who have school age kids, What is your opinion on Graphic novels?
Do you encourage your kids to read them?
DD and DD2 spend their early morning hours while eating breakfast reading the comic section in the daily newspaper. I had the opinion that, that was a lot comics for them and I'd rather they make an attempt to read the front page of the newspaper instead. As if that was not enough they also check out graphic novels from the library whenever they had a chance and that got be a bit upset. But reading graphic novels made them very happy and they hunted and read every single one of the Bones books. Consensus these day is that as long as kids read something and if graphic novels are what makes them read so be it. DD and DD2 read a lot of other books too so there was really nothing to worry about methinks. Slowly as I started to get to know graphic novels a lot better I realize there is really nothing wrong with them. They cover a lot of topics in a manner that is both appealing and interesting to children. So if you have a child who is a reluctant reader introduce them to this genre and you might have a reader on your hands pretty soon.
Jeff Smith the author and illustrator of the Bones books has become my favorite without reading a single one of his books. We waited in line for a while to get our turn but the wait was well worth it. He spent time illustrating characters on the books the kids showed him and gracefully took photos with them. It was fantastic to see book authors being treated like rock stars. I have nothing against movie stars but IMO the amount of adulation they get is undeserved. The other author DD2 wanted to get a signature was from Raina Telgemeier who penned Smile, Sisters and Drama who patiently signed autographs for hundreds of her fans. It was heartening to see that many kids all interested in seeing the author after having read her books.
We were just there to accompany the kids but got excited in the process as well. We could not spend the whole day there but wished we could.
Now on to the recipe,
I got
whole teff grains
with the express purpose of making injera bread but it has taken me quite a while. Soaking and filtering teff grains without losing all of them along the way is not an easy task. You need to have a proper strainer. The ones I brought from India the soft plastic mesh ones work nicely. I like the texture of injera bread but I am not really fond of the sour taste that permeated through it. Only way I can get it to the taste I like is to give them a try by myself and I am so glad I did as they were as the softest and tastiest bread (or more aptly dosai because they are made and look like dosai) I have eaten.
Wash and strain the soaked teff grains.
Blend the soaked grains to a smooth batter using a blender. Ferment overnight adding a souring agent like fermented idli batter or yeast.
On a heated griddle pour a laddle of the batter and spread it into a thin circle. Cook on one side for a minute. Flip and cook on the other side. Add a bit of oil on the edges if required.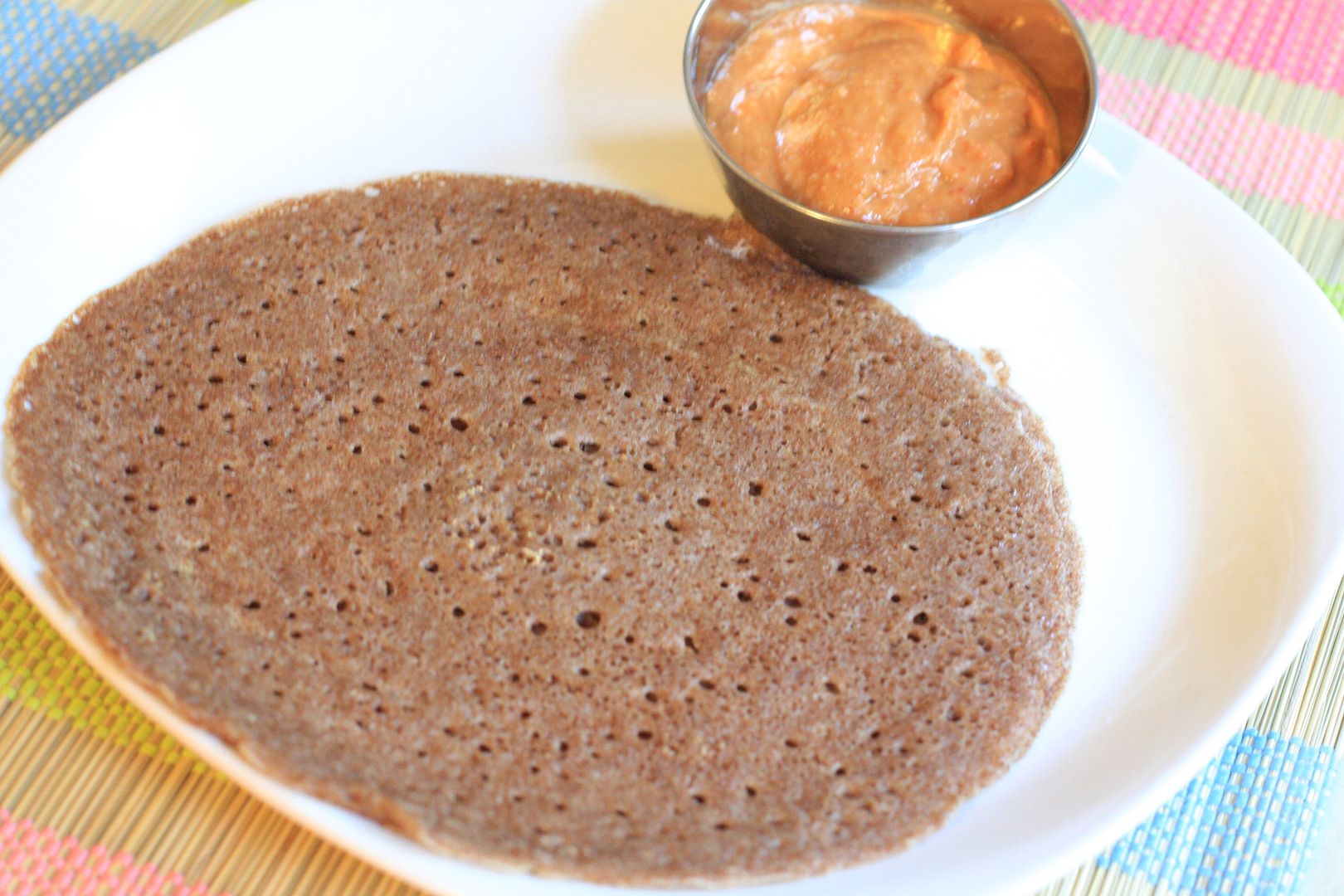 Whole grain Teff Injera Bread - Teff Dosai
Preparation Time:overnight soaking + overnight fermenting
Cooking Time: 20 minutes
Ingredients


For the batter
2 cups of whole teff grain
1/4 cup of fermented idli batter or 2 tsp yeast
Soak the whole teff grain in plenty of water overnight.
Rinse the teff grains carefully straining them using a fine mesh strainer till the water runs clear.
Using a blender, blend with enough water in batches to a smooth batter.
Mix in the old batter or yeast and salt and let it ferment overnight.
Note: Most recipes ask to ferment for 2-3 days for the sour taste. If you want to avoid the sour taste you can cook after fermenting for a day.

Method

After the batter has been fermenting, mix it well when ready to use.



Heat the dosai pan or a griddle. Take a laddle of batter and spread it to circle. Let cook on one side for a minute or so. Do not try to flip before it is cooked fully on one side, else it will fall apart. Flip and cook on the other side. Add some oil around the edges if required.


Serve with any side dish. We had them with spicy tomato chutney.

Like what you are reading? Subscribe!