July, August and September are the months when there are plenty of fresh tomatoes around especially if you grow them in your garden or have access to a good farmers market. The kind of tomatoes I have this season are the small ones - slightly bigger than salad tomatoes but smaller than the cooking tomatoes. The first thing I attempted with the bounty was this
tomato pickle
. Ever since I figured the easy way of making it, I have made it 3 times already.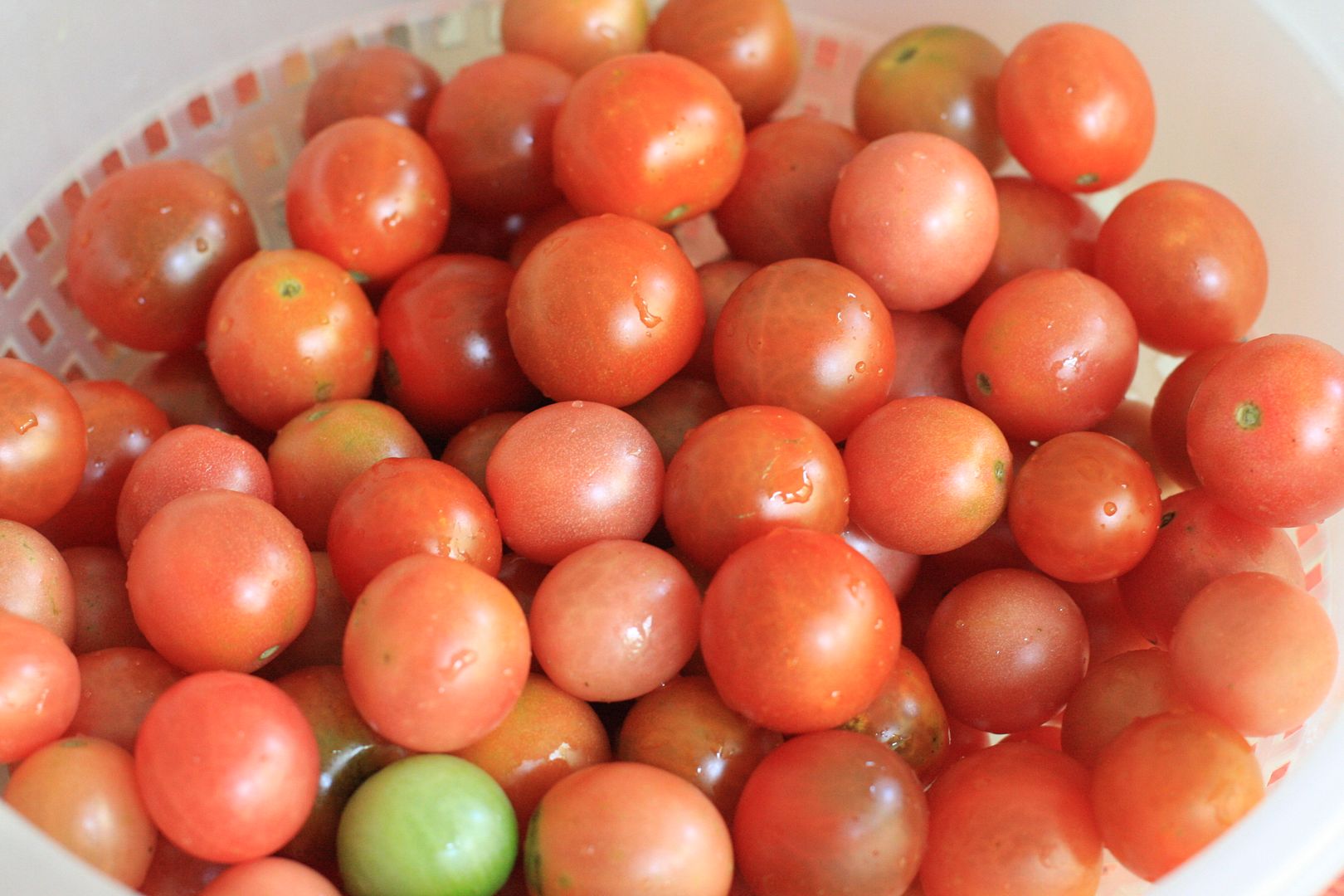 I still had plenty of tomatoes. I remembered the tomato juice we used to have back home and thought I'd give that a try. While this really does not require a recipe it is here anyway.
When DD2 came with me to the grocery store one day she stopped by the rice chips tasting table which also had some fresh salsa. At her insistence I bought the chips, compared to potato or corn these are really good. I did not want to carry home a bottle of salsa when I had a lot of tomatoes sitting ready to be used. I promised her we'd make some at home.
Tomato Juice
Makes about 4 glasses
Preparation Time:10 minutes
Cooking Time:5 minutes
Ingredients


3-4 cups of tomatoes
3-4 tbsp of sugar (more or less as required)
a small pinch of salt

Method


Make a simple syrup or you can simply add the sugar directly.
Take a 1/2 cup of water in a saucepan and add sugar and let it come to a boil. Turn off the heat and cool the simple syrup.
Blend the tomatoes and pass it through the sieve to remove the seeds and skin.
Add sugar syrup and serve once chilled.



Tomato Salsa
Preparation Time:15 minutes + 20 minutes for soaking the onions
Ingredients


15 small tomatoes or 2 if plum tomato sized
1/4 cup of finely chopped red onions or shallots
juice from 1 lime/lemon
few pickled jalapeno or banana peppers diced into small pieces
salt to taste
a dash of sriracha (optional)
1 tbsp of chopped coriander leaves (I did not add any)

Method


In a non-reactive bowl add the onions and squeeze the lemon/lime juice and let it sit for 20 minutes at least but a couple of hours will make sure the onions lose their pungency.
chop the tomatoes into small pieces, I get the seeds out usually if there are too many.
Mix in the chopped peppers. Sprinkle salt, coriander leaves and the hot sauce. Mix well.
Salsa can be served with chips or better yet eaten just like that



Like what you are reading? Subscribe!