Ever since I bought this
Sweet Brown rice
this
sweet Pongal recipe
has been going over in my head. Unlike my parents house where sweet Pongal is made only once a year during Pongal festival my MIL and SIL cook this sometimes for breakfast. As for the kids this is one of their favorite breakfast items and it considered a treat whenever I make it because I do not make it too often.
So there was no dearth of incentives to cook this over the weekend. One other good thing is it is very easy to make. Usually Pongal is made with raw rice and the texture expected of the rice is mushy or it tends to get mushy when cooked with the lentils and also the mushiness keeps the Pongal itself from getting too hard. There are a few in my house who do not like the rice to be very mushy and like the rice to have some bite to it.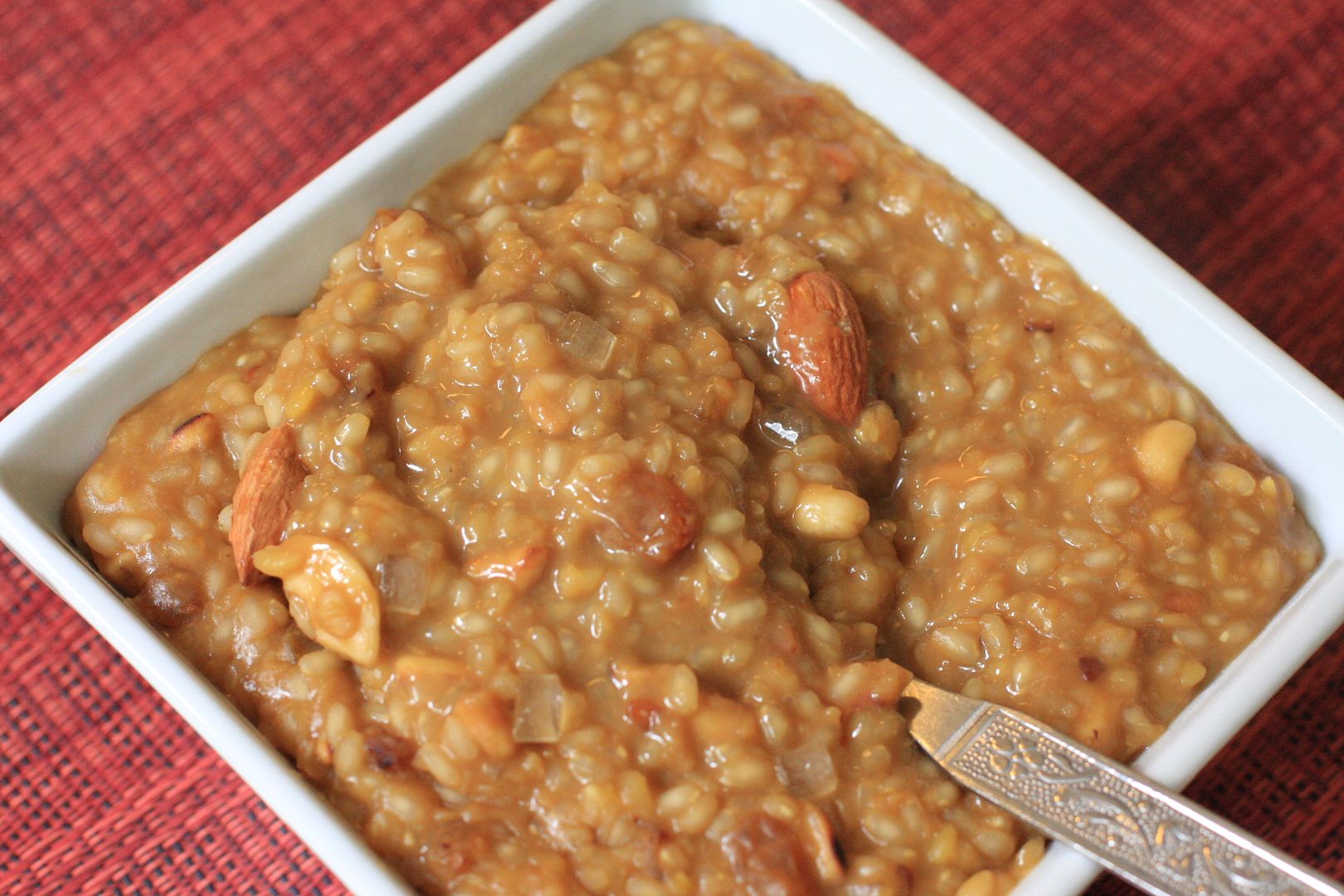 So this sweet brown rice is exactly what is needed. Unlike the regular brown rice this rice maintains a shiny and smooth exterior even after it is cooked and has a slight crunchiness when eaten. The recipe is very simple and very adaptable so add and subtract as per your taste.
Take sweet brown rice and roasted moong dal in a pressure cooker.
Add water and milk and cook for 3 whistles.
Prepare the sugar syrup by adding about 1/2 cup of water. Roast the nuts and raisins in a tsp of ghee.
Add the sugar syrup straining as you are adding. Add the 1/4 cup of milk.
Stir in the cardamom powder. Add in the nuts and raisins and mix it in. Rice is ready to be served.
Sweet Pongal with Sweet Brown Rice - Sweet Brown Rice Pudding with jaggery, dried fruits and nuts
Preparation Time:15 minutes
Cooking Time:20 minutes
Ingredients


1 1/2 cups of Sweet Brown Rice
3/4 cup split yellow moong dal (paasi paruppu) roasted
1 1/2 cups of milk + 1 1/2 cups of water + 1/4 cup of milk to add after cooking the rice
1/4 - 1/2 cup of jaggery ( adjust according to desired sweetness - I used 1/2 jaggery and 1/2 powdered brown cane sugar
1/4 - 1/2 cups of dried nut (I used cashews) and raisins
1/4 cup sugar
2 pods of cardamom powdered
1 tbsp ghee


Method


Wash the rice and dal and put in a pressure along with the milk and water. Let cook for 3 whistles. Let cool.
Prepare the syrup, take the sugar in a pan and add 1/2 cup of water. Bring to a boil and turn off the heat.
In a tsp of ghee roast the cashews first till it starts getting a bit brown, then add the raisins and let them plump a bit. Set aside.
Now open the pressure cooker and turn the heat to low and add the 1/4 cups of milk. Mix. Now add the sugar syrup, straining through the strainer to remove impurities. Add a bit more milk if still too thick.
Stir in the cardamom powder. Add the nuts and raisins and the remainder of the ghee. Mix and remove from the stove.
Like what you are reading? Subscribe!