I am sure everyone has a few food memories associated with their time in college - maybe some good some not so good. I have spent time in a few different hostels and a boarding school and sure have a lot of memories! The boarding school food was hands down the worst of them all. My aversion to tea (yes the beverage) started at that boarding school. Dinner once or was it twice a week I don't remember, had bread not toasted just plain bread, a potato curry and tea which everyone was forced to finish. It took me some time to wise up to the fact that I could say no to the tea. But sadly by then the damage was done and I have not had a sip of tea ever since. Sad I know.
Anyway bad memories aside my college hostel food was not bad at all by most boarding school and hostel food standards. It was mostly edible. But my pleasant food memory is not associated with that but with a restaurant that we used to frequent. There were not many restaurants those days and even among them there was one that a lot of college students frequented. Those of you who have spent any time in
Coimbatore
know that I am talking about
Annapoorna Gowrishankar
.
We would shop in Lakshmi Complex which was fairly new at that time and eat at the Annapoorna in the ground floor (it is still there today). If we did not reach there by a certain time the two dosai items that we coveted- Peas Masala roast and Cauliflower Roast would be over. One other interesting fact about this restaurant chain is that the food was prepared in a central kitchen so the taste in almost all their branches was pretty much the same. While the idli, dosai and perhaps the pooris were made on site the side dishes and the curries were made in the central kitchen. That explains why they ran out of both the cauliflower and peas roast, and for them to frequently run out, those 2 items should have been popular.
Though I do not remember the exact taste the food memory is alive and well. With that in mind I set out to replicate it. Not too hard. The name roast implies that the dosai drips with oil but that is purely optional. The dosai can be made with the minimum amount of oil.
Cut the cauliflower into small florets. Season oil with cumin seeds and add the florets along with salt and turmeric powder. Saute for a few minutes and then cover and cook for 6-8 minutes till soft
Add the chili powder and then saute for 3-4 minutes.
Make the dosai and then spread the cauliflower masala on the cooked dosai. Fold the dosai over.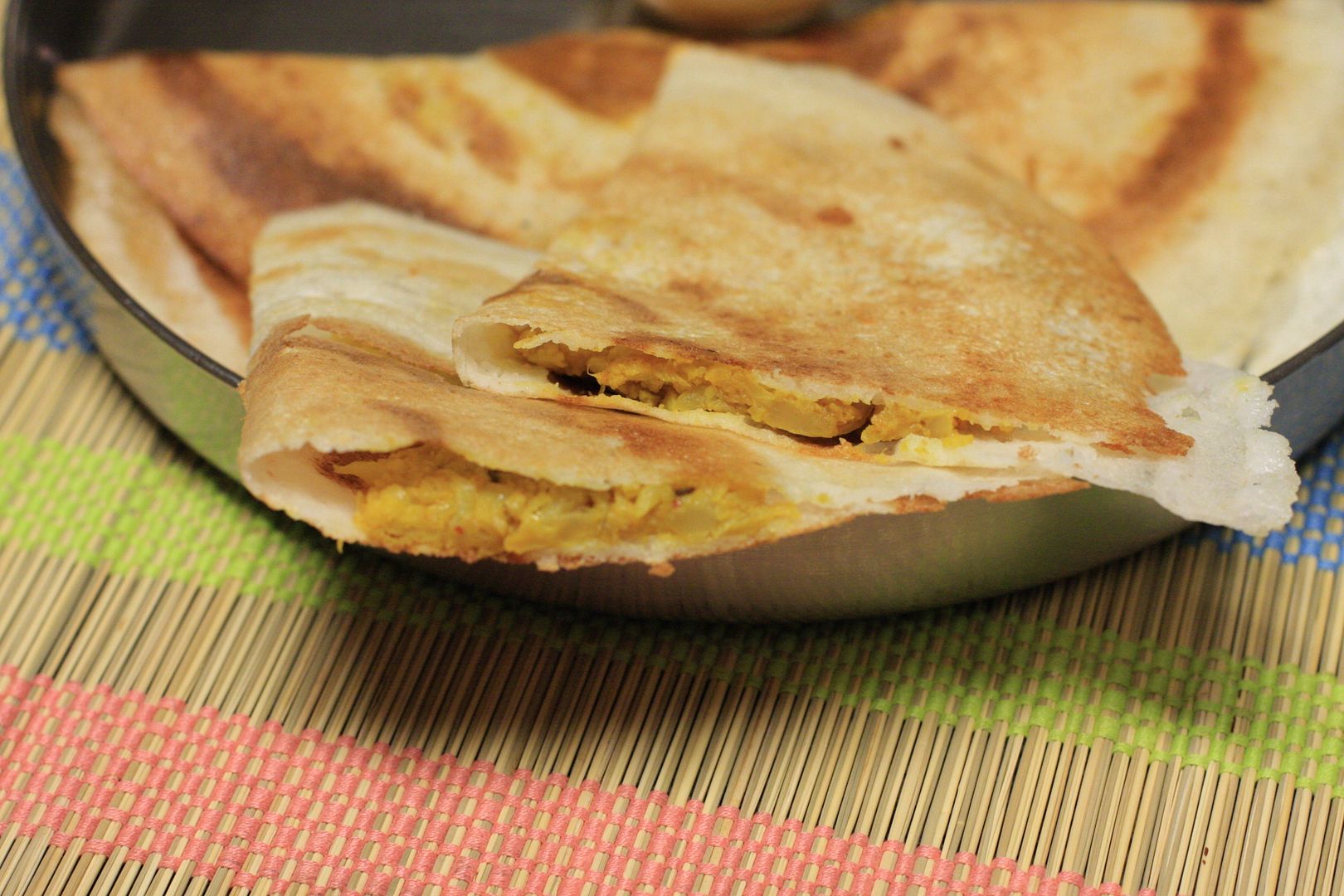 Cauliflower Dosai (Cauliflower Roast)
Preparation Time:15 minutes
Cooking Time:25 minutes
Serves: 2-4
Ingredients


1 head of cauliflower cleaned - the hard stems removed and cut into small florets.
1/4 tsp cumin seeds
2 tsp turmeric powder
1/2 tbsp red chili powder or any masala powder of choice
salt to taste
2 tsp of oil
5 cups of idli batter - click here for idli batter recipe

Method


In an saute pan heat the oil and add the cumin seeds.
Add in the cauliflower florets. Sprinkle turmeric powder and salt, and mix it into the florets and let it cook for 4-5 minutes.
Close the lid and let the florets become soft (about 6-8 minutes).
Open the lid and add the chili powder and cook till all moisture is completely evaporated (3-4 minutes). Set aside.
To make the Dosai
Heat the dosai pan and add a laddle of batter. Cook the dosai on one side flip to cook on other side.
Add a couple of tbsp of masala on to the cooked side. Spread it and close the dosai in half.
Serve with chutney of choice. We had them with tomato chutney with coconut.
Like what you are reading? Subscribe!