Mangoes do not grow in our neck of the woods but they seem to be available almost throughout the year. These raw mangoes mostly come from Mexico I think. Unlike in India where April-June are the peak months for mangoes here it is is become a year round affair. These raw mangoes are slightly sweet and do not have any of the coveted sour taste. The sour taste is what makes raw mangoes perfect in pickles and condiments.
Anyway got to adapt to what we have on hand don't you think? I saw this recipe for
green mangoes on kichu kohnn
and decided it was time to use the mangoes for something other than sambhar.
My grandmother user to make this
green mango pachadi
but there was no water added. Also though in the linked recipe I have added red chili, traditionally green chilies are used. This recipe from
Sharmila
is a bit different with water added and with a watery consistency. I made a tiny few modifications. Ginger and mango is a terrific combo which I realized when I added the mangoes to the ginger and the delicious aroma that wafted.
Heat oil, add the mustard seeds, curry leaves, green chilies followed by the ginger. Saute and then add the chopped green mangoes
Add the turmeric powder and chili powder. Mix and add 2 cups of water and let it come to a boil.
Get the sugar ready. I used palm jaggery.
When the mango has become soft and desired consistency is almost reached. Add the sugar and simmer till done.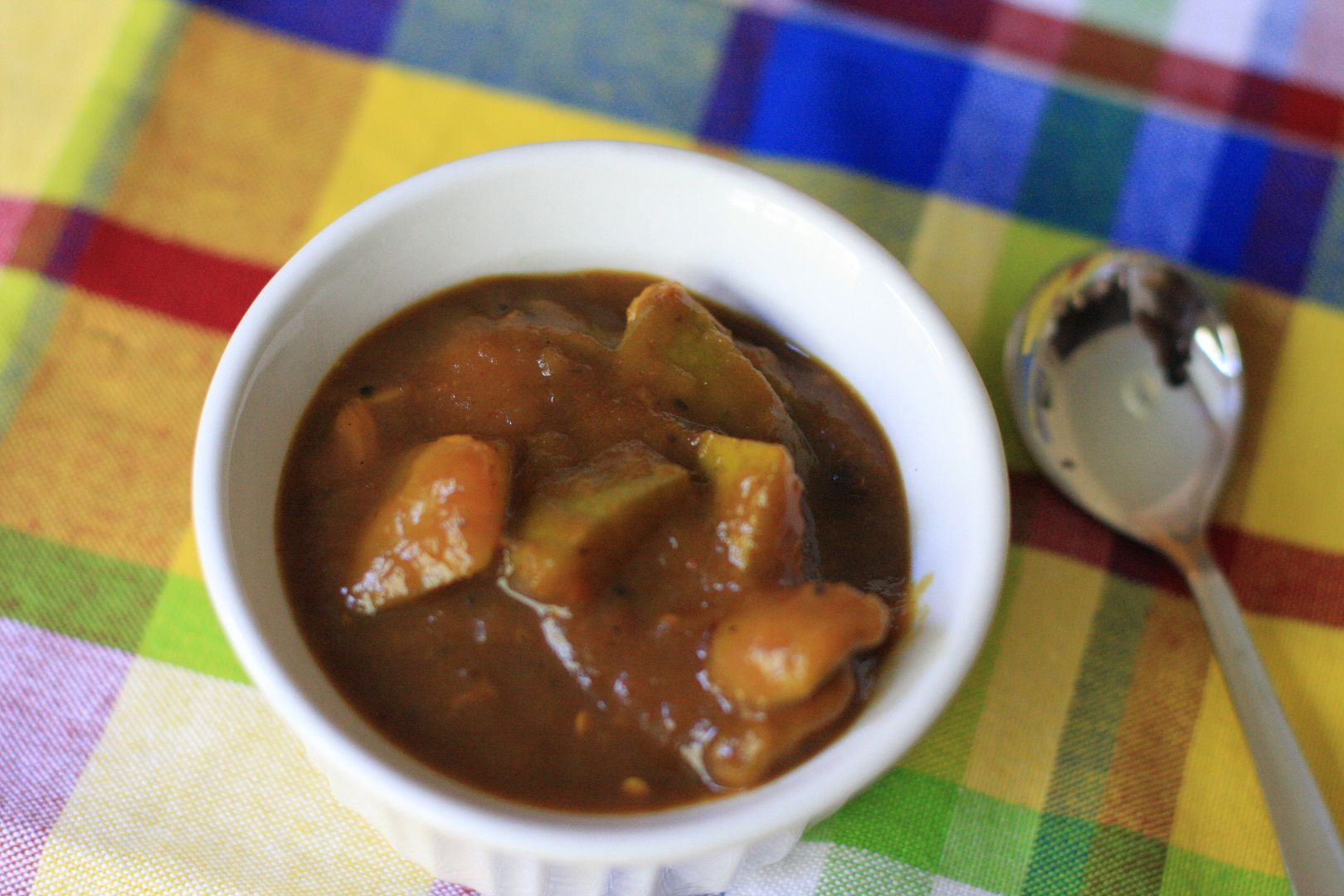 Mango Relish Bengali Style - Maanga Pachadi
Preparation Time:10 minutes
Cooking Time:20 minutes
Ingredients


1-2 raw mangoes washed and cut into bite sized pieces
5-6 green chilies
3-4 tbsp of palm sugar (I used panam karupatti)
2 tsp of turmeric powder
1-2 tsp of red chili powder (adjust as per the heat of the green chilies
1 tbsp of grated ginger
seasonings: curry leaves, mustard seeds, asfoetida a tiny bit
salt to taste
1 tsp of oil


Method


In a wide mouthed pan, add oil and when hot add the asfoetida followed by the mustard seeds and when they pop add the curry leaves.
Add in the green chilies and saute for a minute. Now add the ginger and saute for a minute more. Add the chopped mango pieces and let it cook for about 3-4 minutes.
Add the turmeric and chili powder, give a good mix and add 2 cups of water. Let it come to a boil and cover and cook for about 6-8 minutes or so.
Add the palm sugar or any sugar you are using when the mangoes are soft and desired consistency is almost there, cook covered for 5 more minutes. Add salt and turn off the heat.
Goes well as a side for dosai or mixed in with rice.
Like what you are reading? Subscribe!