Do you eat food just to satisfy your hunger or do you eat thinking what you eat might also affect how happy or sad you'd get? Whatever your answer paying attention to what you eat is better in the long run. More importantly what we teach our kids to eat and enjoy will help them be happy throughout their lives. I didn't have to read this article
Can what you eat affect your mental health? New research links diet and the mind
to know the link between diet and mind but it confirmed what I had known all along.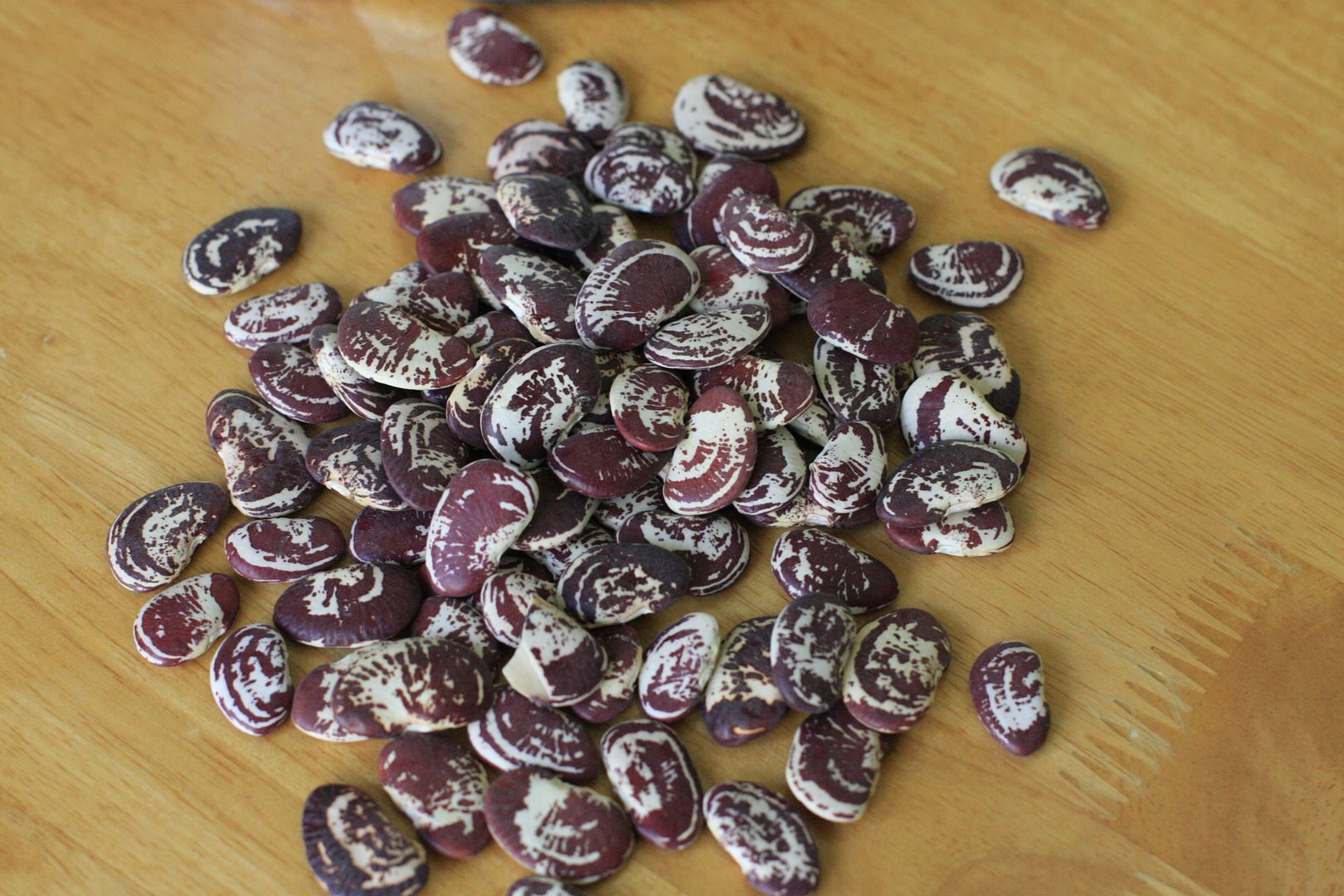 Christmas Lima Beans
Even cooking what I like and enjoy is different from cooking something to get the job done. While I get enormous please in eating a big packet of French Fries while eating it the feeling afterwards is not so pleasant. That clearly tells me that whatever my tongue tells me is not necessarily good for my body or mind.
Also even after a long day at work while I mentally make up the dinner menu on my drive back, I can't wait to get home and cook if it is something that I going to enjoy doing. Prepared foods have chemicals added to them to keep them fresh/appealing and most of the times they affect our moods in some way or the other.
Cooking good tasting food does not necessarily have to be complicated or time consuming. Most people unfamiliar with Indian cooking but enjoy eating Indian food are always apprehensive of the amount of blending and grinding that is required to make the curries and gravies. But mostly it is sauteed onions, garlic and ginger. If all the grinding bothers you chop them nice and fine and leave them be. I like my curries to be a bit smooth so I usually blend them but it is totally up to your taste and convenience.
Soaked and cooked beans.
Saute the onions, ginger and green chilies followed by the coconut and transfer it to the blender. Let cool and blend.
Set aside the blended paste. Add oil to a a saute pan(I used a pressure cooker) and add the seasonings.
When the onions are sauteed, add pureed tomatoes and let it cook completely.
Add the blended onion-coconut paste and 1 cup of water if required and let it cook for 10 minutes. Add in the beans and cook for another 5-10 minutes till the desired consistency is reached.
I have this affinity for beans that I can never explain. So if I see something new I will buy it and give it a try. These Christmas Lima Beans are the same. I saw them and I had to buy them and I was not disappointed. With beans it is important to soak them ahead of time preferably the previous night. Once cooked these beans become buttery and very tasty. Perfect in curries and even pulaos or biryanis.
Christmas Lima Beans
Butter Beans Masala Kuzhambu
Preparation Time:20 minutes + overnight soaking of the beans
Cooking Time:30 minutes
Ingredients


2 cups of Christmas Lima Beans (any beans will work for this recipe)
1/2 cup of onions (I used shallots) roughly chopped + 1/4 cup onions finely chopped
5 cloves of garlic whole or cut in half
3 red tomatoes
2 inch piece of ginger chopped
6 green chilies
1/2 tbsp coriander powder or any masala powder
1 tsp cumin powder
2 tsp red chili powder (if required)
3 tbsp of coconut fresh or frozen
seasonings: mustard seeds and curry leaves
salt to taste
2 tsp jaggery
2 tsp lemon juice
2 tsp of oil


Method


Cook the beans on the stove till they are about half cooked. Lima beans get cooked quickly so I generally do not cook it in the pressure cooker.
In a saute pan heat a tsp of oil and saute the onions and ginger and when they are half way through add in the green chilies and saute for a couple of minutes more. Remove to the blender. Let cool.
Add the grated coconut saute for 2-3 minutes on low heat and transfer it also to the blender. Let cool and blend while adding 2-3 tbsp of water to a smooth or slightly coarse paste.
Puree the tomatoes in a blender.
In a flat bottomed pan heat another tsp of oil, add the seasonings and add the mustard seeds and when they pop add the curry leaves. Add the finely chopped 1/4 cup of onions and saute till they are transparent. Add in the garlic and saute for a minute more.
Add the blended tomatoes and let them cook till the tomatoes are completely cooked. (About 6-8 minutes).

Now add the blended paste and 1 cup of water and let it come to a boil.


Add in the beans and let it cook for about 10-15 minutes or till the required consistency is reached. Add salt.


Add in the jaggery and lemon juice if required.



Serve with rice or chapathis. Tastes even better the next day.
Like what you are reading? Subscribe!