I like bitter gourd and so does DH. Whenever I see some fresh ones at the Indian store I can't resist buying them. The kids not so much but they usually eat it if the bitterness is not so obvious. Few weeks ago I bought a few bitter gourds and instead of a roast I wanted to make a tamarind based hot and sour curry. Normally I saute the bitter gourds before I add the tomatoes and tamarind. This particular time I added the tomatoes first and then the bitter gourd. Bad idea, the bitterness never left and how much ever sour and sweet (jaggery) went in the bitterness just would not go away. Lesson learned. Short cuts need to be avoided when cooking this vegetable. It has to be roasted for at least a few minutes in oil for the bitterness to go away. Just a few minutes generally does the trick.
I again bought bitter gourd last week but this time I was going to cook it in such a way that the rest of the family does not run away from it. So I followed a trick that a lot of people do to get the bitterness out. First slit the bitter gourd into 2 halves, sliced them into thin moons and sprinkled some salt and let it sit for about 1/2 hour. Squeezed the moisture out and then roasted it. This helps remove some of the bitterness.
Roasted bitter gourd is usually not as bitter and though DD2 complained finished what was on her plate. DD actually likes this.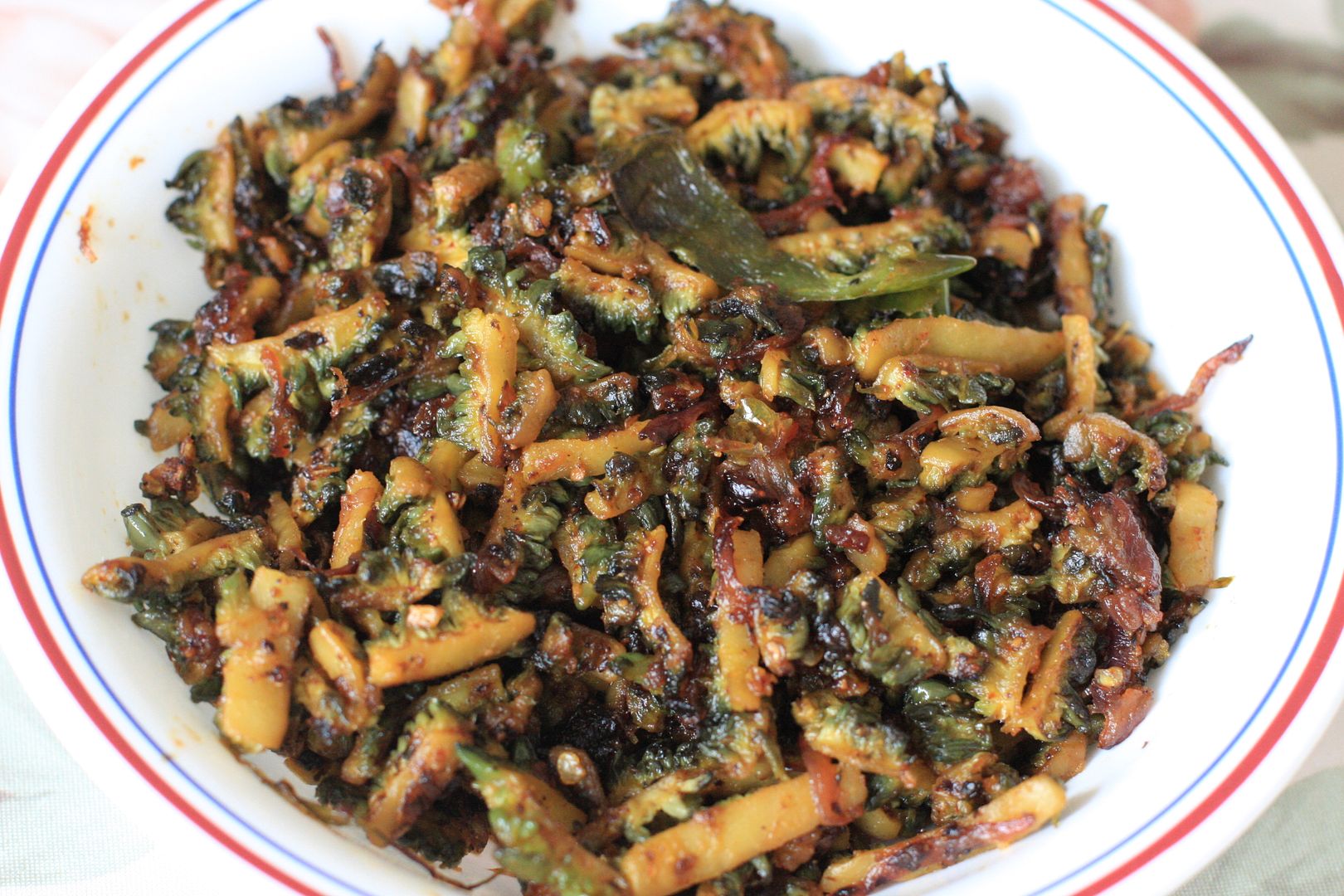 Bitter Gourd Poriyal (roasted)
Preparation Time:30 minutes
Cooking Time:25 - 30 minutes
Ingredients


6 bitter gourds, seeds removed, split in half and cut into thin moons
1/2 red onion sliced thin
6-8 green chilies
2 tbsp thick tamarind pulp (1/4 tsp if using tamarind paste)
1 tsp chili powder if needed (I did not use)
1/2 tbsp jaggery
seasonings: mustard seeds, cumin seeds and curry leaves
1 tbsp oil
salt to taste + salt for the bitter gourd soaking


Method


Add salt to the chopped bitter gourd and let it sit for 1/2 hour or so. Then placing a few bitter gourds at a time in the palm of your hand squeeze as much water as possible from it. Set aside.
In a wide mouthed heavy bottomed pan (kadai) heat half the oil and when hot add the seasonings, when the mustard starts to pop add the green chilies and onions.
Saute the onions till it becomes translucent. Add in the bitter gourd pieces and saute till they start to turn brown on the edges (about 20 minutes). After about 10 minutes add the salt. Add more oil if sticking to the pan.
Turn the heat to high and add the tamarind pulp and jaggery. Saute for another 5 minutes.
Note:Longer the bitter gourd is sauteed, the crispier it gets.

Goes well as a side with any rice dishes.

Like what you are reading? Subscribe!