As the weather system that dumped much needed rain in California but caused flooding and damage - hopefully helped eased the drought conditions there, is barreling towards the east coast and ready to dump some
unneeded
10-12inches of snow here. Not looking forward to the cleanup but the kids are looking forward to the day off and I am looking forward to not driving and working from home.
Also ready to watch the Oscars without worry of having to get to work on time the next day. For me, it is not usually the worry about having to get up early but falling sleeping asleep while watching it.
As for this recipe, Normally after a working week of eating waffles, oatmeal, muffins and cereal I look forward to eating an Indian style breakfast on the weekend. While idli, dosai or pooris are eaten without any complaints, upma brings a groan. So last weekend with no idli batter or cream of wheat I wanted to give this besan chilla a try. I had made it once before -
Spicy Besan Pancake with chard leaves
but had used cream of wheat and rice flour to the batter. This time it was made just with besan and used harissa to spice it up. Harissa is a North African spicy chilly paste. I used harissa for toasts, sandwich spreads and roasting vegetables.
Shred the vegetables and keep them ready.
Whisk together the vegetables and besan with just enough water to make a pourable batter.
I was not sure if this besan pancake will be liked but when I called it but it's other name - Vegetarian omelet there was more interest and it flew off the pan and I had to remix the batter one more time to satisfy everybody. While cabbage is not a favorite vegetable for a lot of people. Disguised like this it is not noticeable. I have this nifty attachment which comes with my hand blender that makes the job of mincing vegetables really easy and quick. Chopping into very small pieces is fine too.
Best of all there is no sitting time or fermentation required.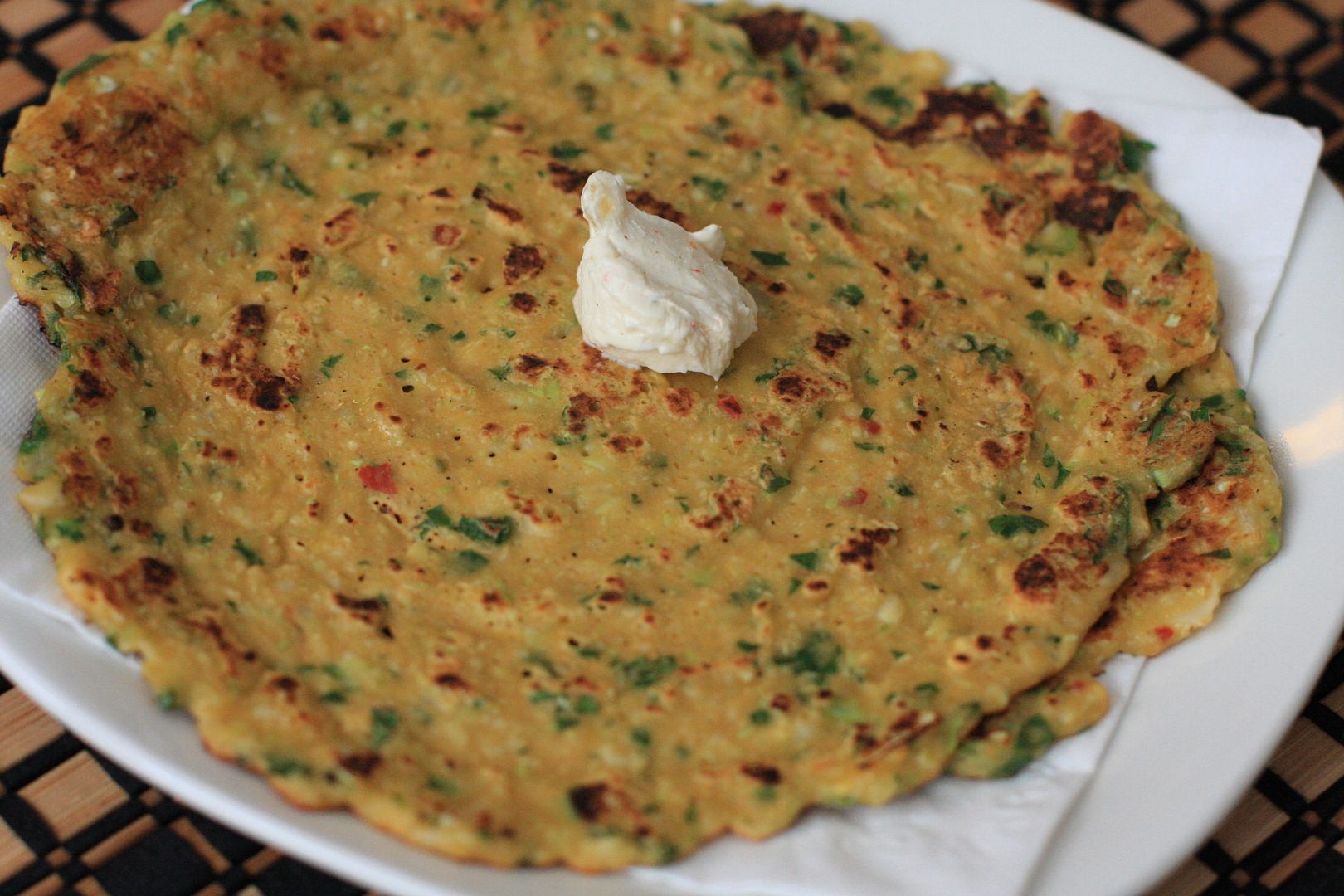 Besan Chilla with Swiss Chard, Cabbage and Harissa
Preparation Time:10 minutes
Cooking Time:20 minutes
Ingredients


2 cups of besan (kadalai maavu) or chickpea flour
1 cup of finely minced cabbage
4 Thai green chilies
1 cup of Swiss Chard (use the thick stems as well)
1/2 tbsp Harissa paste (or use red chili powder)
1 tsp cumin seeds
salt to taste
2 cups of water
oil to make the chilla


Method


Add the besan flour to the minced vegetables and green chilies. Add in the salt and harissa paste and water.
Whisk together into a smooth batter without any lumps. Should be slightly loose than pancake batter.
Heat a dosai pan or a griddle. Add a laddle full of batter and spread it around to a thin circle.
Apply oil around the edges and when cooked on one side, flip and cook on the other side.
Serve hot with cream cheese or ketchup on the side.
Like what you are reading? Subscribe!