I am really really late to the party - Downton Abbey party that is. With no cable and only PBS to tide us over most evenings it is a surprise that we did not get hooked on to it earlier. We decided to give it a go because talk of Downton Abbey is everywhere even in business journals. Anyway it wasn't me who started watching but DH. We watched Episode 1 of Season 1. I remember having seen it before probably when it was first telecast but did not care for it much. The second time I watched it the feeling was no different. So while DH watched the second episode I slept.
As luck would have it the next day was a weekend and it was snowing. No where much to go but be cooped inside. What is better than watching Downton? Anyway now I am hooked and I caught the first live episode on Superbowl Sunday when everyone else was watching the game. They quickly joined me because the game I hear was lopsided enough to be boring.
While Season 1 was the best so far, it is still fun to watch the trials and tribulations of the Crawley family and those connected with them. Lady Grantham (the old Lady Grantham that is) played by Maggie Smith is by far my most favorite. But British high society sets my teeth on edge though with their silly rules,mannerisms and division of the classes.
Do you watch Downton? Are there any other shows that are worth watching?
Now on to the recipe,
I am glad I embarked on this
'Grain of the Week'
project because it is an excuse and an opportunity to try grains that I would never try otherwise. Black Rice is definitely in that category. I have walked past the black rice bin countless times but never found the need to get some and try until now.
Cooked black rice simmering in the blended almond paste and milk.
I am so very glad I did. It is a marvel when it is cooked and is stunningly colorful. Once cooked the rice turns purple. I also read that it has as much antioxidants as blueberries. You will be fooled into thinking that blueberries have been added to the mix when you watch it cooking which is what DD2 thought when she saw the pudding being made.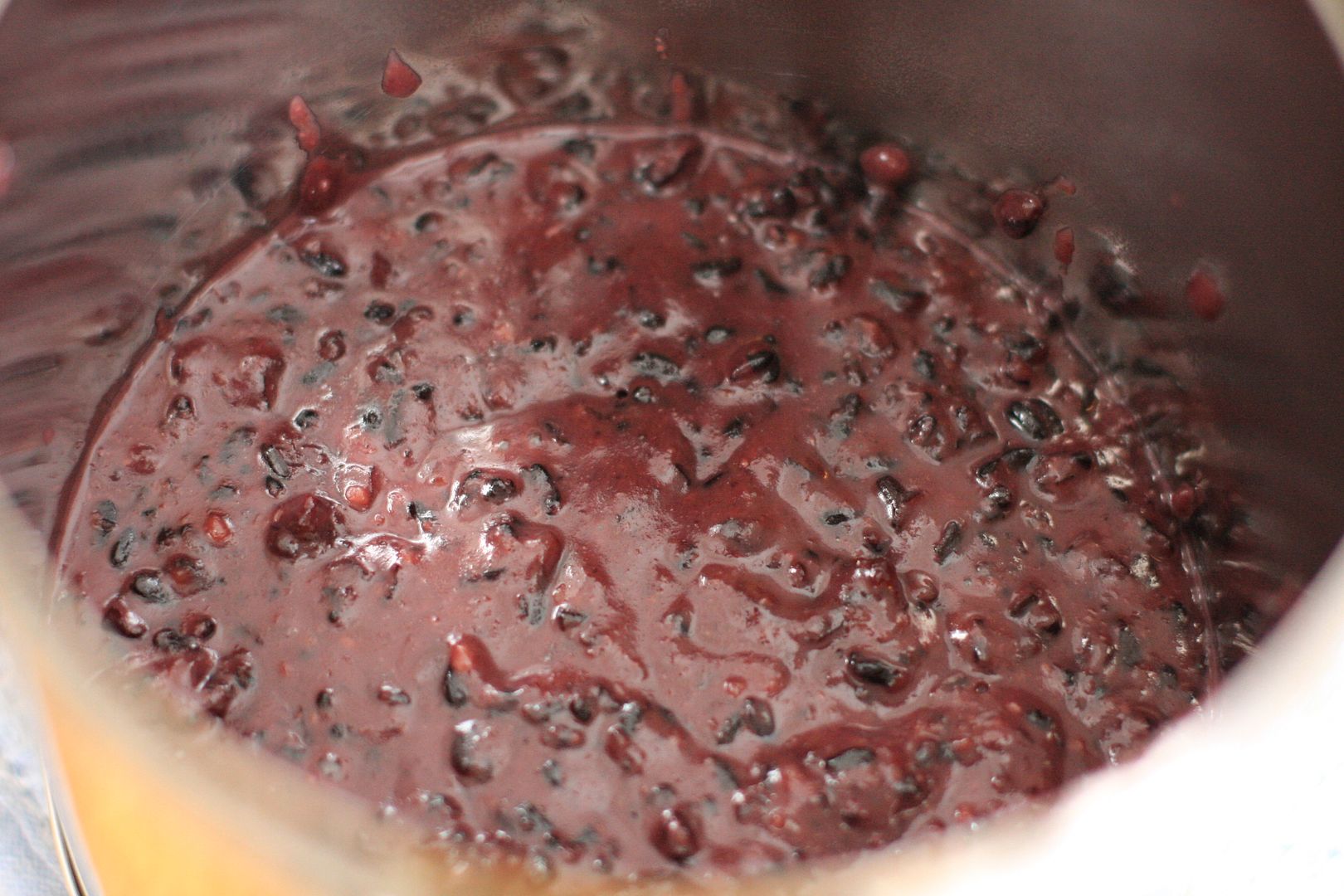 I wanted to try making a rice pudding with it first, though the texture would lend itself nicely in a salad bowl, stir fried rice, flavored rice or even a rice casserole. I did not want overpower the pudding with any strong flavors to let the taste of the rice to come through.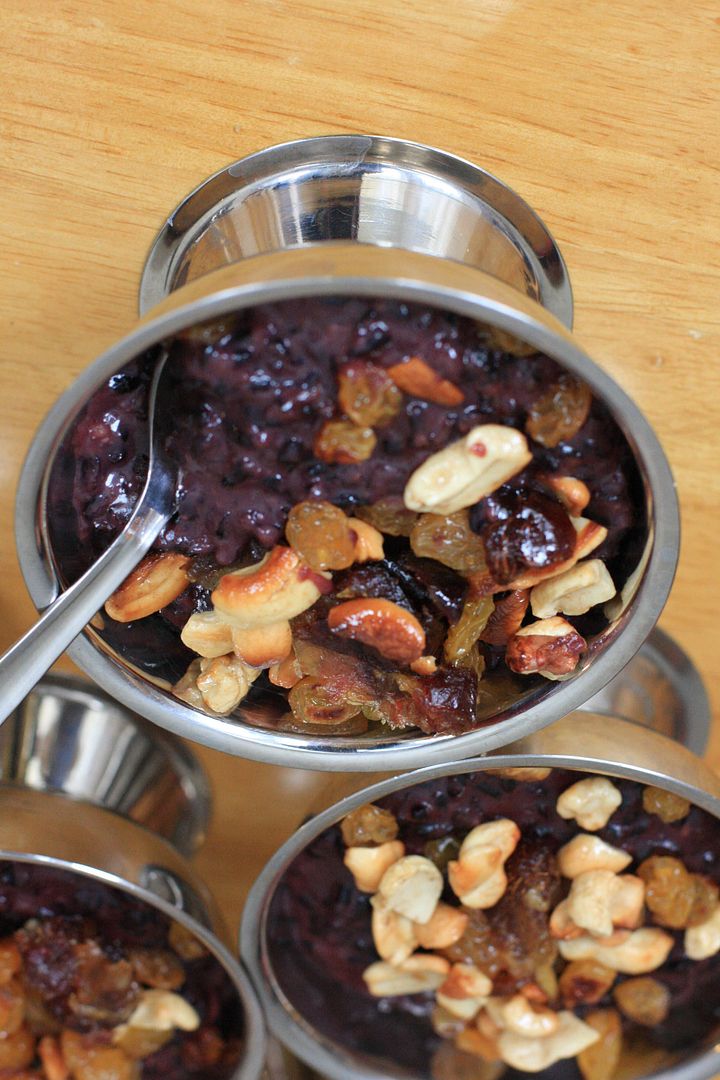 Black Rice Pudding
Preparation Time:5 minutes + (20 minutes for soaking rice)
Cooking Time:30 minutes
Ingredients


1 cup of black rice (1 3/4 cups of water)
a handful of blanched peeled almonds soaked in about 1/4 cup of milk
1 1/2 cups of milk (for vegan version use coconut milk)
2 tbsp of chopped nuts(I used cashews - almonds, pistachios and pecans are all good choices or a combination)
1 tbsp golden raisins + 1 tbsp chopped dates
1/2 - 3/4 cup raw sugar
2 tsp of ghee

Method


Wash and soak the rice for about 20 minutes. Though soaking is optional I feel the rice cooks much better after soaking. Cook the rice with the required amount of water.
Blend the almonds to a fairly smooth paste with the milk.
Heat the ghee in a small pan and roast the nuts and dried fruits. Set aside.
Once the rice is cooked, add in the blended almond paste and the rest of the milk and in low medium heat simmer till the milk thickens and the rice reaches pudding consistency. In between add the sugar. This process took about 20 -25 minutes. Turn off heat.
Sprinkle the roasted dried fruits and nuts before serving. Serve warm or even chilled tastes good the next day.
Like what you are reading? Subscribe!