Antibiotics saves lives. Overuse of antibiotics also kills lives. So finally FDA is working on a plan to phase out antibiotic use in farms. Overuse of antibiotics in farms is leading cause of highly resistant bacteria and super bugs that is very bad for all of us. So this ruling by the FDA is a good one but it is a voluntary action on behalf of the farm owners. Have to wait and see how that one goes.
You must have also heard of the recent news regarding antibacterial soap. Apparently the chemicals that are used to kill bacteria can cause hormone disruptions. Usually these soaps do not do much more than what plain soap and water can do. Companies that manufacture these antibacterial soaps have a higher burden of proof now and now have to actually prove these soaps help in preventing common ailments. For us as consumers it is time put away the antibacterial wipes, soaps and sanitizers for good. A few years ago when I went looking for antibacterial hand wash they were very hard to come by. I found Method which was the only one that had hand washing liquid soap that was not antibacterial.
Kids who grow up in farms and with animals have higher immunity than those in sterile suburban homes. Let the kids play in the dirt, touch animals without being swabbed with antibacterial rinse right after. Washing with soap and water should be sufficient.
Now on to the recipe,
Having Puliodharai mix at home ready to be used is always a good thing. It is quite simple to make. While there are plenty of choices for ready made mixes, making them at home is a pleasure in itself.
Roast the spices (to powder) and powder them using a coffee grinder or the smallest jar in the blender.
Heat oil in a flat heavy bottomed vessel and saute the seasonings and red chilies in oil. Add the extracted pulp and let it come to a boil in medium heat.
Let the sauce thicken a bit and add the powdered spices and turn off the heat.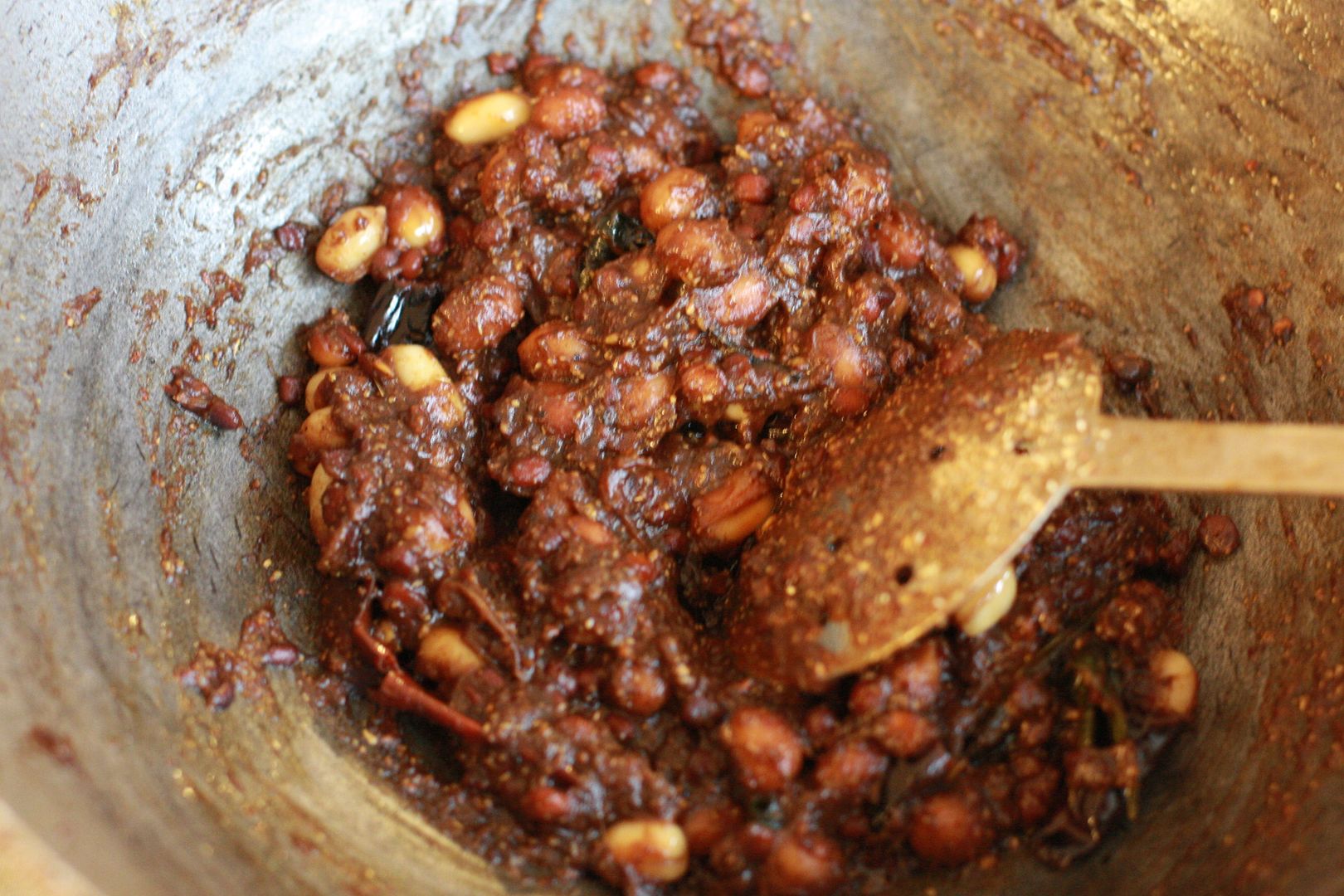 Sauce ready to be mixed
Puliodharai mix - Spicy tamarind Mix
Preparation Time:10 minutes
Cooking Time:25 minutes
Ingredients


1 cup of thick tamarind pulp - from a small size ball of tamarind (soak in just enough water)
1/4 cup of roasted or raw peanuts
6-8 red chilies split in half
curry leaves
2 tbsp sesame oil
salt to taste
2 tsp of turmeric powder
1/2 tbsp jaggery or brown sugar
Seasonings - 1/2 tbsp channa dal, 2 tsp split urad dal, few fenugreek seeds, mustard seeds and curry leaves
For the Powder
1/2 tbsp channa dal (kadalai paruppu)
1/3 tbsp of coriander seeds
1 tsp pepper corns
1/4 tsp fenugreek seeds (vendhayam)
1/4 tsp of cumin seeds
a pinch or two of asfoetida (perungayam
1 red chili


Method


Roast the ingredients one by one under the 'For the Powder' category till they are nice and brown. Set aside. The dal for instance has a different roasting time compared to coriander seeds. If you are indeed roasting them all at the same time take care not to burn.
Powder the roasted ingredients into a fairly smooth powder. I used the coffee grinder to powder. Set aside.
In a heavy bottomed pan heat the oil, season with mustard seeds, fenugreek seeds and curry leaves.
Once the mustard starts to pop add the split urad dal, channa dal and let it saute till it starts to turn brown. If using raw peanuts add them along with the channa dal. When they are nice and brown add the red chilies and saute for a 1/2 minute more.
Add the extracted tamarind pulp and let it come to a boil and in medium heat let it simmer till the oil separates. Add salt.
Add the powder spices at this time and the jaggery and the roasted peanuts, give a good mix and turn off the heat. It should not be in the heat for too long after the spices are added.

Can be stored in air tight container for a week or in the fridge for up to a month.


Like what you are reading? Subscribe!