Tomorrow is Thanksgiving - the best day of the year for people who love good food. Weather folks say it is the coldest Thanksgiving in over 10 years around here. The best part is that it is a Holiday and people are all in good cheer. Blasting the oven to cook a turkey for 8 hours will actually be a good thing this year with the mercury barely budging from around 20-25F. This year is also special for another reason. Thanksgiving and Hanukkah fall on the same day and it has happened for the first time after 1888 and will happen again in 17043 years. Now I understand what ""Thanksgivukkah" is all about.
Happy Thanksgiving and Happy Hanukkah All!
The farmer who gave us the broccoli also gave me a few of the freshest leeks. I have cooked with leeks once before maybe and that is it. He also said he and his wife make Potato Leek soup and that is what I was going to make. I am so glad I tried it the same evening. It was delicious. If you are looking for a hearty soup on a cold winters night this will be absolutely perfect.
I have seen lot of recipes where this soup is loaded with cream or yogurt but I was not going there. Creamy soups are not my thing. I found one perfect for me on
David Lebovitz's
. He was even using chili powder to spice it up. I was not going to let that one pass. Also a minimalistic soup like this one is what I want when I want dinner quick.
Clean, Clean, Clean - Leeks
As far as leeks are concerned, cleaning them well is a must. They tend to have dirt lodged inside the leaves. The ones I got after I cut of the roots were nice and clean. Otherwise you slit them through the middle (but don't cut them in half) fan them out and rinse under cold water.
Saute the leeks in olive oil. When soft add the chili powder and potatoes.
Add in the liquid and let it come to a boil and then simmer till potatoes are nice and soft.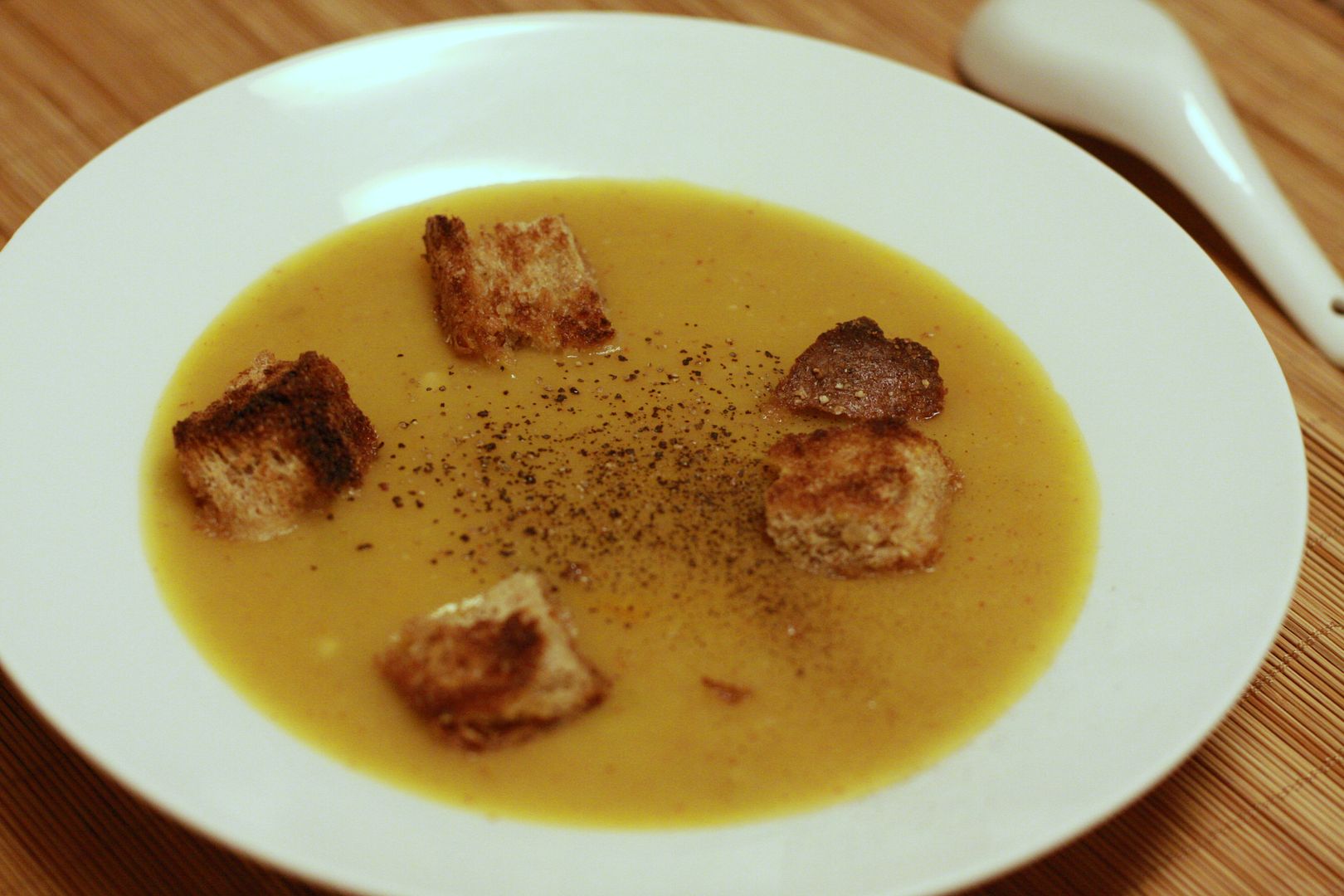 Potato Leek Soup
Preparation Time:10 minutes
Cooking Time:25 -30 minutes
Ingredients


4 Leeks cleaned and chopped - about 1 1/2 cups
4 big sized Potatoes peeled and cubed- about 3 cups
2 cloves of garlic pounded
1 tbsp chili powder (adjust as per taste)
2 tsp pepper powder (optional)
4 cups of water (I used 32 fl oz pack of low sodium chicken stock)
salt to taste
4 whole wheat bread sliced cubed
1/2 tbsp of olive oil(make it 1 tbsp if not using chicken stock) + 2 tsp


Method


In a Dutch Oven or a heavy bottomed pan heat the olive oil and when hot add in the leeks and garlic. Let them saute till they are soft and wilted about 4-5 minutes.
Add in the cubed potatoes and the chili powder and give a quick stir and saute for 3-4 minutes
Add the water or the chicken stock and let it come to a boil. Reduce the heat to medium, cover and cook for another 15 minutes. Check to see if the potatoes are soft and fully cooked. If not cook for another 5 -10 minutes. Depending on the potatoes this time will vary but make sure if you press them with the back of the spoon they should fall apart. By this stage there should be only about 1/2 - 1 cup of water left.
As the potatoes are cooking mix in the 2 tsp of olive oil with bread slices and toast them for about 5 -10 minutes till they are nice and crispy.
I wanted a chunkier soup so transferred about 3/4ths of the potatoes to another container and blended them using a hand blender (if using regular blender use caution, fill the blender jar only to half and hold on to the lid with a kitchen towel while blending).
If you want a creamy soup with no lumps, blend in the same pot using a hand blender or transfer all of the contents to a blender and blend.
Once blended transfer back to the pot, mix it in and let it simmer for another minute or 2, check for salt and spice and add more
if required

Serve sprinkled with a bit of pepper powder and croutons on top.

Like what you are reading? Subscribe!