I germinated some purple basil seeds and transplanted them to pots before leaving on our month long trip. When we came back there were a lot of basil to be used. Some basil pesto perhaps? Nothing else came to mind. I was thinking more Italian than Thai at that point. Lucky for me
Vani on her facebook page
had something about basil fried rice. Bulbs went on in my head and that was exactly what I wanted. I always appreciate the taste of basil in most Thai dishes like the drunken noodles I had for lunch this afternoon at a Thai restaurant. Sad when it mattered it never even occurred to me.
Purple Basil Leaves
Fried rice and basil might have been the best match that was not made in heaven but in a kitchen wok. I found
this recipe on Williams Sonoma
for basil fried and suited me just fine.
Besides shrimp I also added some slender green beans and fresh baby corn. I misplaced the packet of brown rice that I wanted to use and ended up using some Jasmine rice which was not a bad choice. Brown rice is certainly not Jasmine rice! The absolute delicious smell of basil elevates this fried rice.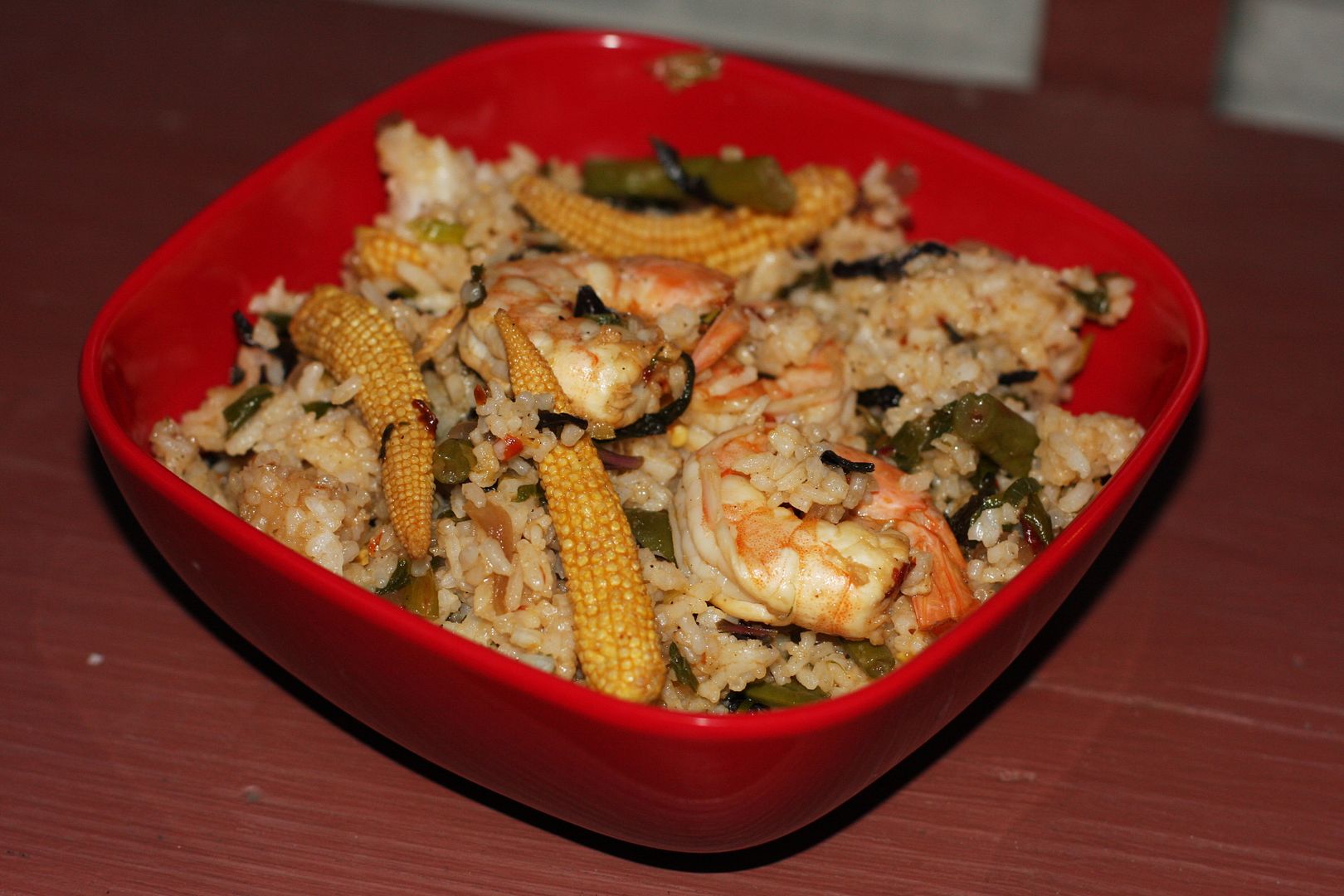 Thai Basil Fried Rice Preparation Time:15 minutes Cooking Time:25 minutes Ingredients

2 cups of Jasmine rice (cooked and cooled or day old rice)
10-12 shrimp
2 handfuls of fresh green beans
10-15 baby corn
2 bunches of green onions chopped - green and white parts
1 cup of red onion sliced
3-4 garlic cloves smashed
2 cup of packed basil leaves
1 tbsp of sambal olek (or as required
2-3 tsp of soy sauce
1/2 tsp of fish sauce
salt to taste
2 tsp oil

Method

Cook the rice and let it cool or get the old rice ready (about 4 cups of cooked rice)
Mix half the sambel olek into the shrimp and let it sit for about 10-15 minutes
In a wide mouthed pan heat oil and add the onions
In a pan heat oil and saute the onions till they become translucent. Add the green onions and garlic and continue to saute till they wilt completely.
Now add the green beans and cook for about 3-4 minutes and then add the baby corn along with the rest of the sambal olek, salt and let them cook for another 4 minutes.
Add in the shrimp and let them cook for a minute till they start to turn pink about a minute. Fish them out and keep them aside. (See Note:)
Now add in the basil leaves and saute for half a minute. Add in the rice now and mix it in well.
Add the fish sauce, soy sauce and let it cook for another 5 minutes or so. Add the shrimp in and if required salt and turn the heat off in another minute or so.

Note:
do not overcook the shrimp. Once they are cooked remove them and add them when the dish is almost done.