On my occasional visits to the Srilankan store I stock my pantry with dried and fried fish products that serve as a nice crunchy addition to some of the stir fries and roasted vegetables. I decided at the last minute to add them to the bitter gourd roast and it turned out to be a good one. The fried fish cut out some of the bitterness actually most of the bitterness and I did not need to add any jaggery which is what I usually do.
The Pique provided me with some much needed souring agent. Don't have pique? Use
this recipe
and make some else use regular distilled white vinegar or lemon/lime juice.
The funny thing was once the fried fish was added the kids ate them without any complaints which is usually common whenever this vegetable is cooked. The recipe does not call for much other than some sambhar powder for the heat or just plain red chilli powder should work too.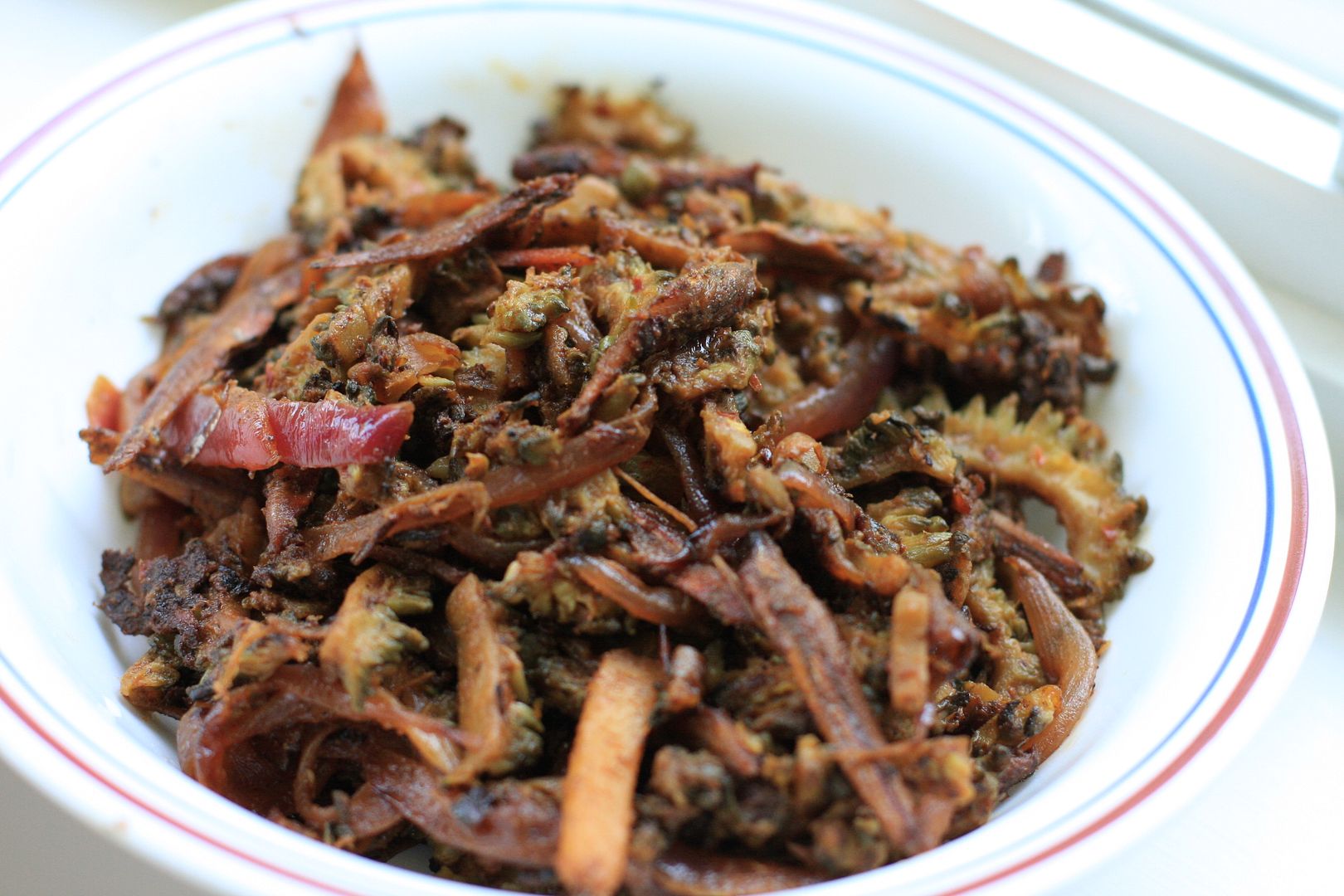 Roasted bitter Gourd with chili fried fish - nethili meen pavarkai varuval Preparation Time:10 minutes Cooking Time:35-40 minutes Ingredients

3-4 bitter gourds - cut in half scoop the seeds out with a spoon and slice into thin rounds
1 big onion sliced lengthwise into thin pieces
3-4 slit green chillies
garlic cloves sliced thin (optional)
fried chili fish as desired I added maybe 4 tbsp
2 tbsp sambhar powder or 3/4 tbsp red chilli powder
salt to taste
2 tbsp pique vinegar or distilled white vinegar or lime/lemon juice
2-3 tsp oil

Method

In a wide mouthed pan heat the oil and when hot add the sliced bitter gourd. Let it saute for about 8-10 minutes.
Add in the sliced onions and continue to saute together with the bitter gourd till the bitter gourd started to get browned - another 10 minutes or so.
Add the sambhar powder or chilli powder and mix well and now add the vinegar and continue to saute for another 5 minutes or so till the bitter gourd is completely cooked.
Add salt and the fried chilli fish and saute for a couple of minutes more and turn off the heat.

Note:Substitute fried fish with fried/dried shrimp for a slightly different taste. Serve with rice and dal.