Occasionally I get the urge to eat some fancy food. Not the restaurant kind but home made and done quickly. At these times a pulao or a biryani fits the bill perfectly. It is my go to fancy meal. I always have mint in stock, either growing everywhere in the summer or frozen mint other times. Now is the time to preserve mint if you have them growing, wait a month more they will start to flower and the leaves become smaller. If you have mint handy the rest of the ingredients that go into a biryani are usually pantry staples. Don't despair if you do not have mint just leave it out.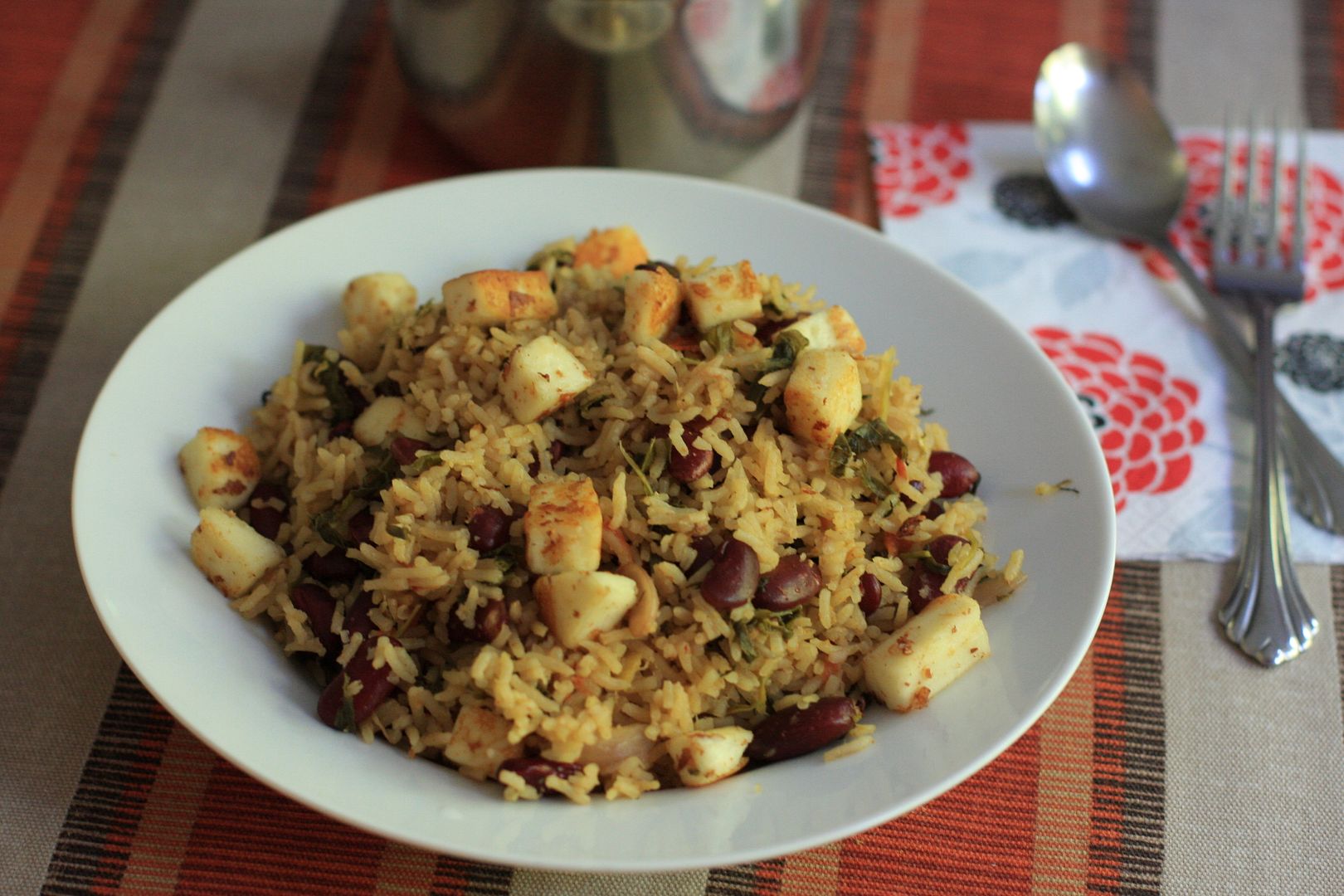 I had soaked red kidney beans overnight and also had a block of paneer(Indian Cheese, very similar to Cottage cheese but with the whey removed) ready to be used which is what lead to this Rajama Paneer Biryani. This fancy meal can be a quick weeknight meal and they are great lunch box fare the next day. The problem with beans for a lot of people is the flatulence that seems to go with the territory. This can be avoided with a few very simple steps. Soak the beans overnight and then wash the beans in several changes of water just before using them. Also add some pounded ginger while cooking the beans and discard the cooking water. Usually I cook the beans part way and they finish cooking them in the rice or curry. This way they maintain their shape and the gassy problems vanish as well. This also goes to
My Legume Love Affair (MLLA)
the 60th edition and hosted over at
One Hot Stove
.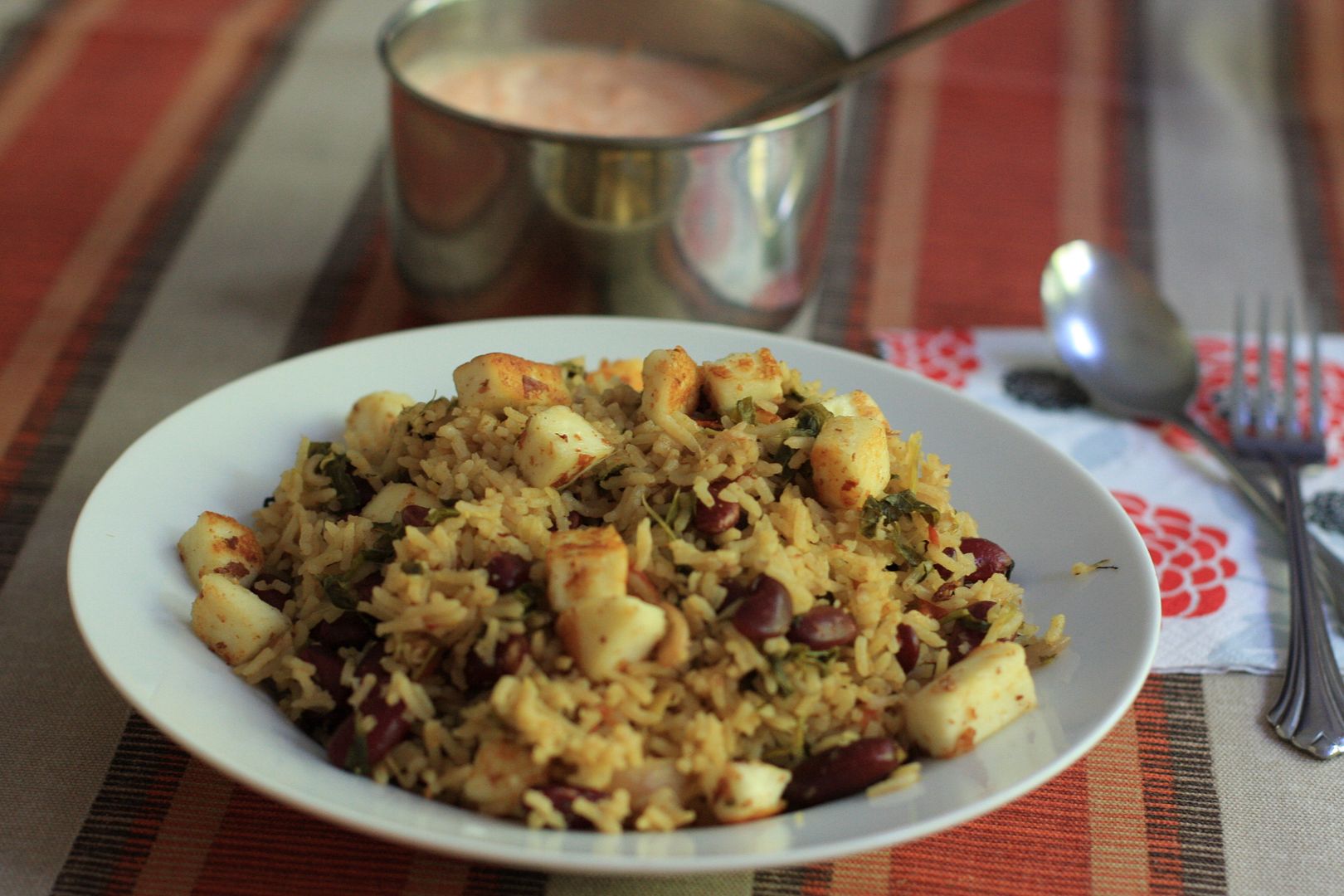 Red Kidney Beans with Paneer flavored rice - Rajma Paneer Biryani Preparation Time:15 minutes with overnight soaking time Cooking Time:20-25 minutes Ingredients

1 1/2 - 2 cups of red kidney beans - Rajma soaked overnight
2 cups of Basmati rice or any rice you prefer - adjust water accordingly
1 1/2 cup of sliced onions
4 garlic cloves minced
2 tbsp grated ginger
1/2 cup of finely cut tomatoes
2 cups of loosely packed mint leaves chopped or as much as you would like
half a bunch of coriander leaves chopped
1 tsp of masala powder (skip if you don't need it)
3/4 - 1 tbsp red chili powder
3 slit green chilies
salt to taste
half a block of paneer about 1/2 cup cubed, (for a vegan version use cubed bread instead)
2 tsp of oil
1 tsp of ghee
seasonings: 4 cloves, 1/2 inch cinnamon piece, small piece of star anise broken, a few curry leaves

Method

Wash the soaked kidney in 2-3 changes of water and cook them in a sauce till they are about half way cooked. Drain and set aside.
In a pressure cooker heat oil and add the whole spices in the seasonings followed by the curry leaves.
Add the sliced onions and sliced green chilies and let them saute till the onions start to get translucent. Add in the garlic and saute for a couple of minutes and then add the ginger and saute for a minutes.
Add in the mint leaves and coriander leaves and saute till the leaves are completely wilted. Add in the masala powder and chilli powder and mix it in followed by the chopped tomatoes and saute till they are mushy about 4 minutes or so.
Add in the rice and salt and saute for a couple of minutes. Add the required amount of water (for Basmati the ratio is for 1 cup of rice 1 1/2 cup of water). Let it come to a boil. At this point add in the red kidney beans and mix.
Once the water starts boiling, check for salt, reduce the heat to medium and let it simmer till most of the water has evaporated and the rice is almost cooked.
Close the lid, place the weight, reduce the heat to slightly below medium and cook for 7-8 minutes.
While the rice is cooking, in a saute pan heat the ghee and brown the paneer on all sides. If using bread do the same thing, or crisp them in the oven and then saute in olive oil.
Once the cooker is cool enough to open, mix in the paneer gently into the rice and close the lid and let sit for another 10 minutes or so before serving.

Accompany with some carrot raita, mix grated carrot into salted whisked yogurt. Note:Follow this method of cooking rice in a cooker and you are guaranteed separate fluffy grains of rice.