Mathy meen kuzhambu is a specialty of Kerala that has become a much loved by everyone in the house. Sadly I have never tasted it till a few years ago. The curry was talked of highly by DH's SIL tasted in Kerala on her numerous visits there. The very first time we tasted nor surprise there we were hooked too. The problem is we cannot visit Kerala every time we want to taste this curry so I had to get down to business and learn to make the curry myself. The curry itself is not hard provided the right ingredients are on hand. I found Gambooge or Goraka as it is called in Srilanka on my last visit to the Srilankan grocery store which is an important ingredient for this Kerala style fish curry. Unlike in TamilNadu where we use tamarind pulp for fish kuzhambu, in Kerala Kodumpuli or Gambooge is what is used for the sourness. Smoky with a subtle sourness it indeed is perfect for fish curry. The toughest part is finding fresh sardines. I found a packet of frozen sardines in the Indian grocery store. Sardines in general are very smelly fish. I did not realize the frozen fish were not cleaned. If I had known I would have never picked them up. Glad I did not know and this is how the fish curry came to be. As for the smell in the kitchen sink a combination of besan flour (kadalamavu), distilled white vinegar and baking soda took care of it. Sprinkle each of them i nthe sink and wash off after about 1/2 hour or so.
Anyway once thawed for the cleaning part, the fish scales had to be removed and then a cut is made from the tail along the abdomen all the way to the head. Do NOT cut all the way thorough as to split the fish in half , just enough to get the innards and then the gills out. I left the head in but it is ok to chop it off too. Once cleaned rinse them clean, add a tbsp of turmeric powder and mix it into them and let them be till you get the other ingredients ready.
Shallots are a must for this curry. The other onions will work too but shallots are the best for this. If you do not have Gambooge tamarind will work in a pinch but make the pulp as thick as possible or use tamarind paste. I had
Bharathy of Spicy Chilly's recipe
to guide me in the process.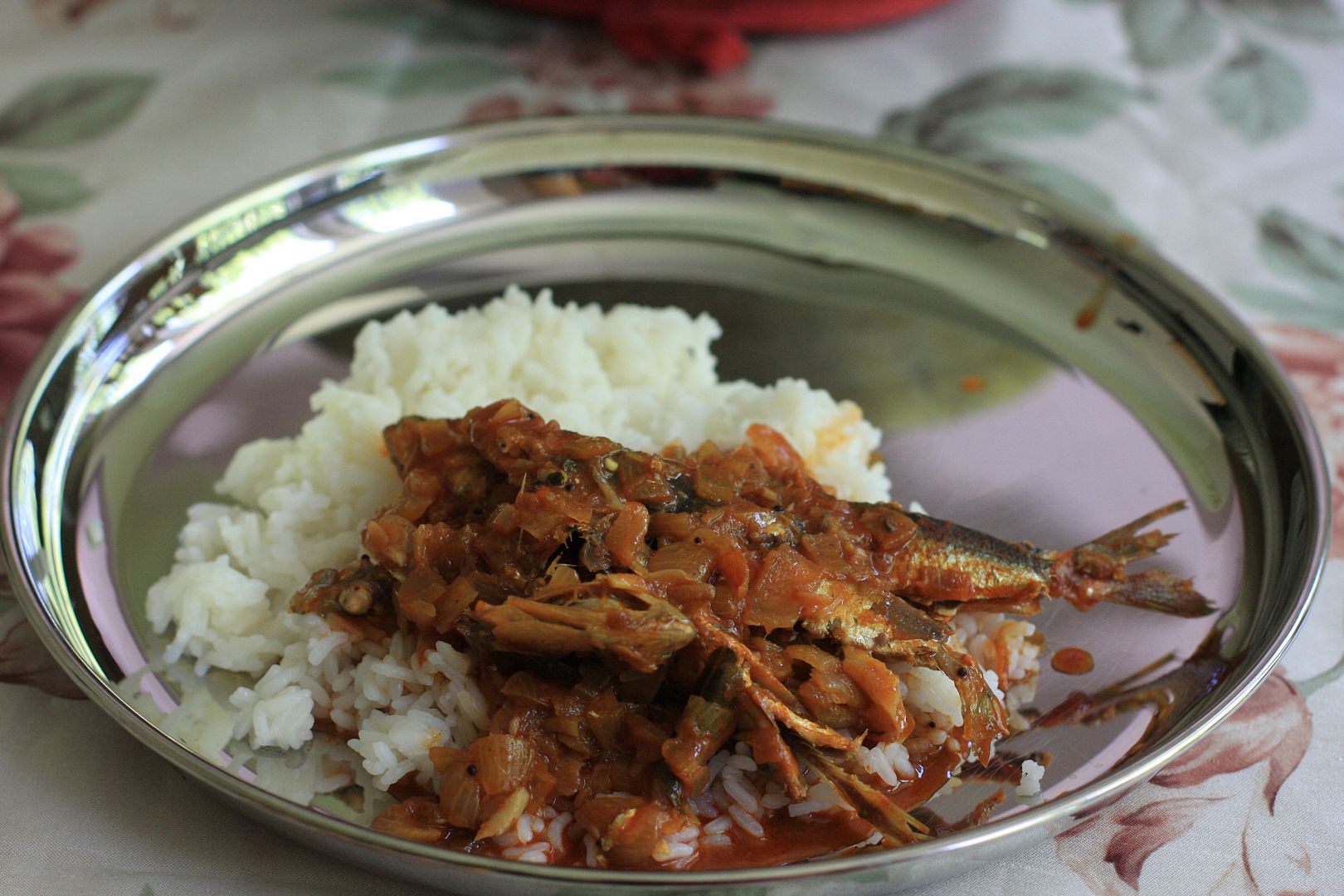 Mathy Meen Kuzhambu - - Spicy and Sour Sardines curry with Gambooge Preparation Time:20-30 minutes Cooking Time:45 minutes Ingredients

12-16 cleaned sardines
4-5 pieces of gambogee washed and soaked in 1/2 cup of water
10 shallotes (about 1 - 1 1/2 cups) chopped
4 green chilies slit
1 tbsp Kashmiri chili powder if using regular red chili powder about 3/4 tbsp or to taste
1/2 tbsp coriander powder or sambhar powder
2 tsp of regular chili powder only if using Kashmiri chili powder
5 garlic cloves sliced
1 1/2 tbsp of grated ginger
1/2 tsp of roasted and powdered methi/fenugreek seeds
salt to taste
2-3 tsp of turmeric powder
seasonings: curry leaves 2 sprigs, mustard seeds, cumin seeds and methi seeds all about a pinch

Method

Wash and clean the fish, rub it with turmeric and set aside.
In a wide mouthed pan heat oil and when hot add the seasonings, cumin,methi and mustard, let the mustard seeds pop and then add the curry leaves.
Add the green chilies and onions and let it saute till they become translucent, now add in the garlic and ginger and saute till the onions start to turn brown.
Add the chili powders, sambhar powder/coriander powder and salt, mix it in well and add about 3 cups of water (the water should be enough to submerge the fish you have on hand after the gravy thickens a bit).
Let it come to a boil and let simmer takes about 6-8 minutes. Now add in the gambogee water and all. You do not have to squeeze like you would regular tamarind. Let boil for another 8-10 minutes.
Add in the fish gently and let them all be immersed in the curry. Cook for another 8-10 minutes. Sprinkle the fenugreek/methi powder. Turn off the heat. Let sit. The longer the curry sits the tastier it gets.
Note: 1. If you do not have sardines or do not want to use it other fish will work with this curry as well methinks. 2. Sardines have a lot of scales and bones so be careful while eating and watch for the bones.