DH says I am good at asking cross questions! Maybe I should have become a lawyer. Could it be because I have been interested in fictional court room drams like forever having started with Perry Mason (Erle Stanley Gardner) and continued with John Grisham and I read every author whose protagonist is a lawyer. When I first set foot in this country the biggest event on TV was the O.J Simpson trial and spent a quite a bit of time enthralled in that real life drama which was helpfully telecast live!. I have never set foot in a real court room till about a month ago when I visited one as a witness. I have not grown tired of my current profession yet but I am wondering if I have secretly harbored the wish of becoming a lawyer one day. Back then I had to make a choice of a profession when I was about 15 years old. The education minister of our state at that time decreed that kids had to decide in 10th grade if they want to choose the biological sciences path or Math(or Commerce or Arts). All I knew then was I wasn't interested in Biology because my parents were both doctors and I was not going to be one. So by default I fell into the Math path and lucky for me I actually liked Math. I got fairly good grades and ended up in an Engineering college. Not complaining about any of what happened just saying. The other influence perhaps was genetic. My maternal grandfather was a skilled criminal lawyer and apparently a very good one at that. I have heard of his fine oratorical practicing as he was in the 1950 and 1960s when most courtroom deliberations were conducted in English which obviously was not his mother tongue. We are talking of a time when English medium schools were not common and most learned English only when they hit college. Even well into his 80s he was immersed in those law books. I now live in a country where second, third and even fourth careers are fairly common and I have a lot of time to pick up a second career. Maybe I will become a lawyer one day.
Dear Readers how about you all? Are you happy in your current career? Are you secretly harboring a desire for a different career? It will be interesting to know. Share please!
Now to the recipe. Spring break time is when DD is free and I have a helper to do some frying. So craving for some crunchy stuff we decided on making some thatta vadai which I how we called it or thatta vadai like it is called every else. In Kongu Naadu murukku or thatta vadai is made by soaking rice blending it and mixing it with roasted channa dal and urad dal powder whereas every where else it is usually made with rice flour. I followed the Kongu way after a phone call to mom who checked with her friend a neighbor and confirmed the proportions.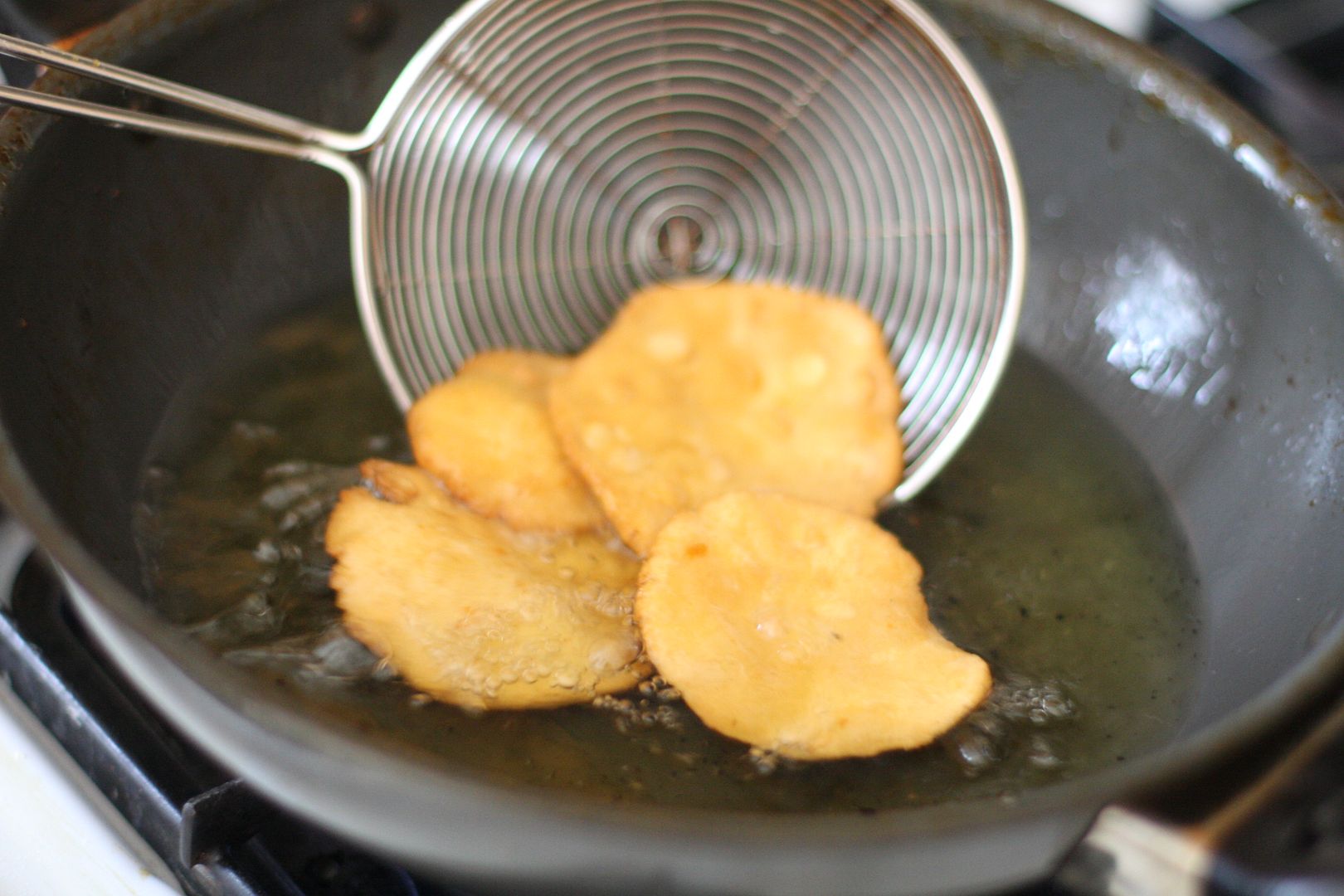 The trick to nice crispy thatta vadai is to pat them into even thin layers else they will turn soft (they still taste fine though). Some of them turned a little soft till I got the hang of patting them out. A rolling pin or the poori press would come in handy here.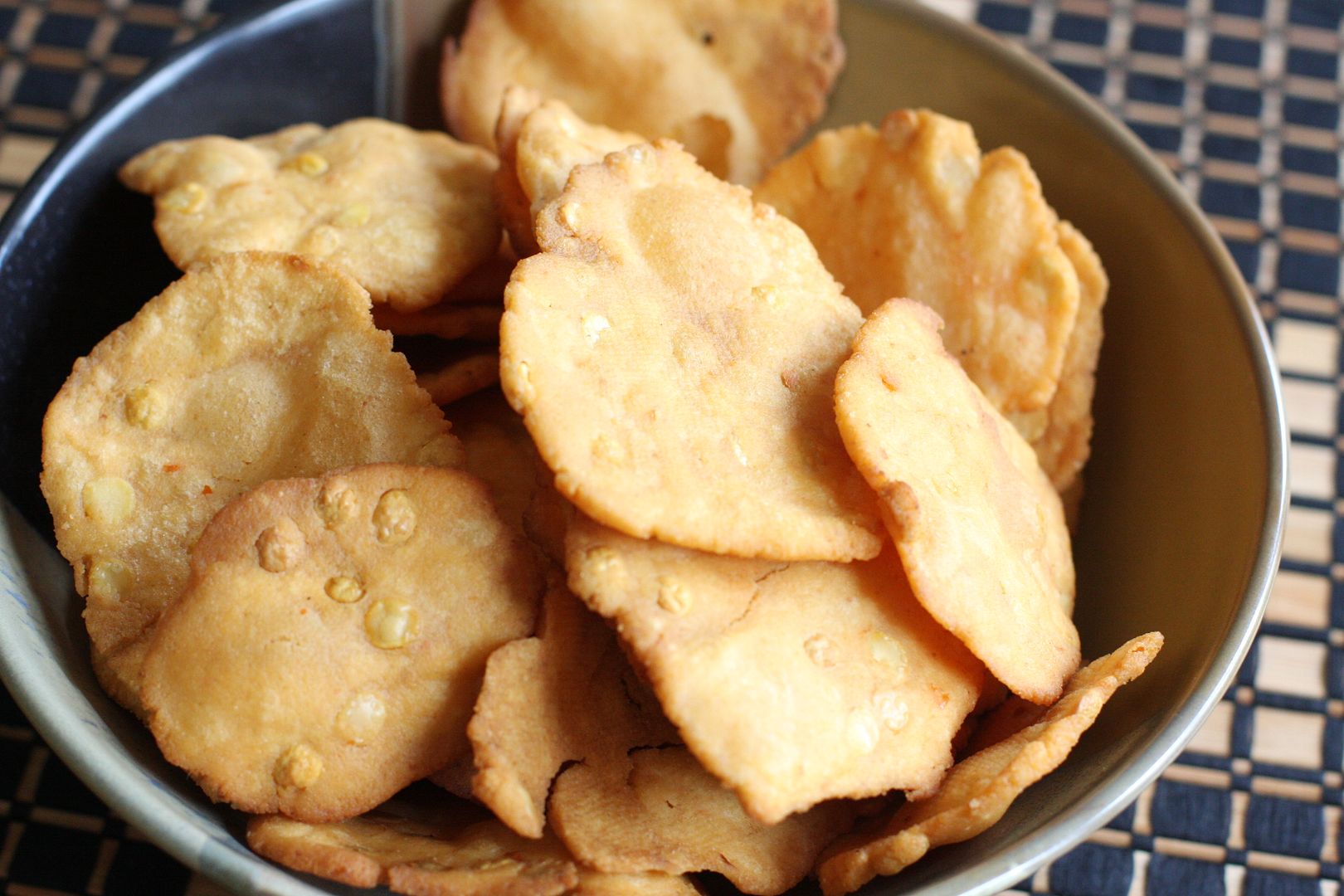 Thattu Vadi Kongu way Preparation Time: 3 1/2 hours Cooking Time: 1 hour Ingredients

2 cups of idli rice or ponni boiled rice
2 tbsp roasted urad dal powder
2 tbsp roasted channal dal (pottukadalai) powder
8 red chillies
a pinch of asfoetida
2 tbsp of butter
1/3 of channa dal soaked for a couple of hours
salt to taste
oil for deep frying

Method

Soak the rice and red chillies for about 2-3 hours and blend it to a smooth paste by adding as little water as possible. Important thing is the blended rice should not be loose. The batter should be tight enough to make a stiff dough when the urad dal powder and channa dal powder.
Add the dal powders and then add in the salt, asfoetida,butter and soaked and drained channa dal to make a stiff dough.
In a wide mouthed pan set heat the oil till hot.
Make a small lemon size ball of the dough and pat into on a clean white towel/cloth. Alternatively place a plastic sheet of paper on a poori press and apply some soil on it and place the ball of dough and press it down lightly so it is nice and thin.
Drop the pressed/patted dough in to the hot oil. The vadai is done when the bubbles subside and they are nice and golden on both sides.
Remove from oil and place on a paper towel. Continue with the rest of the dough.