Guilty about Quinoa!
I spent the early years of my life in the city of Madurai in southern Tamil Nadu about 80 miles from the coast. Its proximity to the coast meant fresh seafood. It was here I tasted the best fish, prawns, crab and many other delicacies. I don't exactly remember the taste but the memories of the taste is still fresh. I hear that my mother from a pure vegetarian family didn't exactly dish out the best tasting seafood but peiamma(that's how I called her) my beloved neighbor in whose house I learned to enjoy seafood and where a portion was always set aside for me. Thinking about it after all these years still makes me feel special. As my parents felt the need to move closer to their parents and family we moved north to our native place. I am not sure about seafood here was not that common but fish from the rivers were plentiful. Fast forward to about 15 years from that time. I heard people talk about how the seafood that they get was neither good nor of the best quality since most of the good ones like the plump prawns were all shipped overseas where they were willing to pay a much higher price. Unless you knew someone who was an exporter or someone who worked in the seafood business the chances of getting your hands on the very best is next to nil. The analogies of the local people missing out because the industrialized rich countries were willing and more capable of paying higher prices are everywhere. This applies to our new and popular super food namely - Quinoa. Our demand for quinoa apparently has made it dearer for the people of Bolivia and Peru who can least afford the higher prices. There was an
article on NPR
long time ago which had a positive spin for the farmers of Bolivia. Then there was this
article on the Guardian
which evolved into a shouting match between vegans and meat eaters. I do not necessarily agree with her dig on vegans but I do agree with the central theme that Western demand for quinoa has made it harder on those for whom quinoa is a staple and they are the least able to afford it. Does this mean I am going to stop eating quinoa? I buy about a couple of lbs every 3-4 months or so. Should I stop buying it altogether? Questions! Questions!
What is your stance on buying quinoa?
Mixed Vegetable Biryani
whose food we eat, their song we sing
is one of my favorite blogs and the series they are running now, interviews with great grannies and their recipes they share. It is on one of these interviews I saw this
Vegetable Biryani
. I will confess non-veg biryanis - chicken or goat is much easier than getting a vegetable biryani right. So I was only too eager to follow this recipe and have success with it. First time and a few times after that I have made perfect vegetable biryanis and then I tried the same with spinach and potatoes. I originally intended to use chickpeas but did not have any. Though potatoes were good chickpeas and spinach combination with rice would have been even better.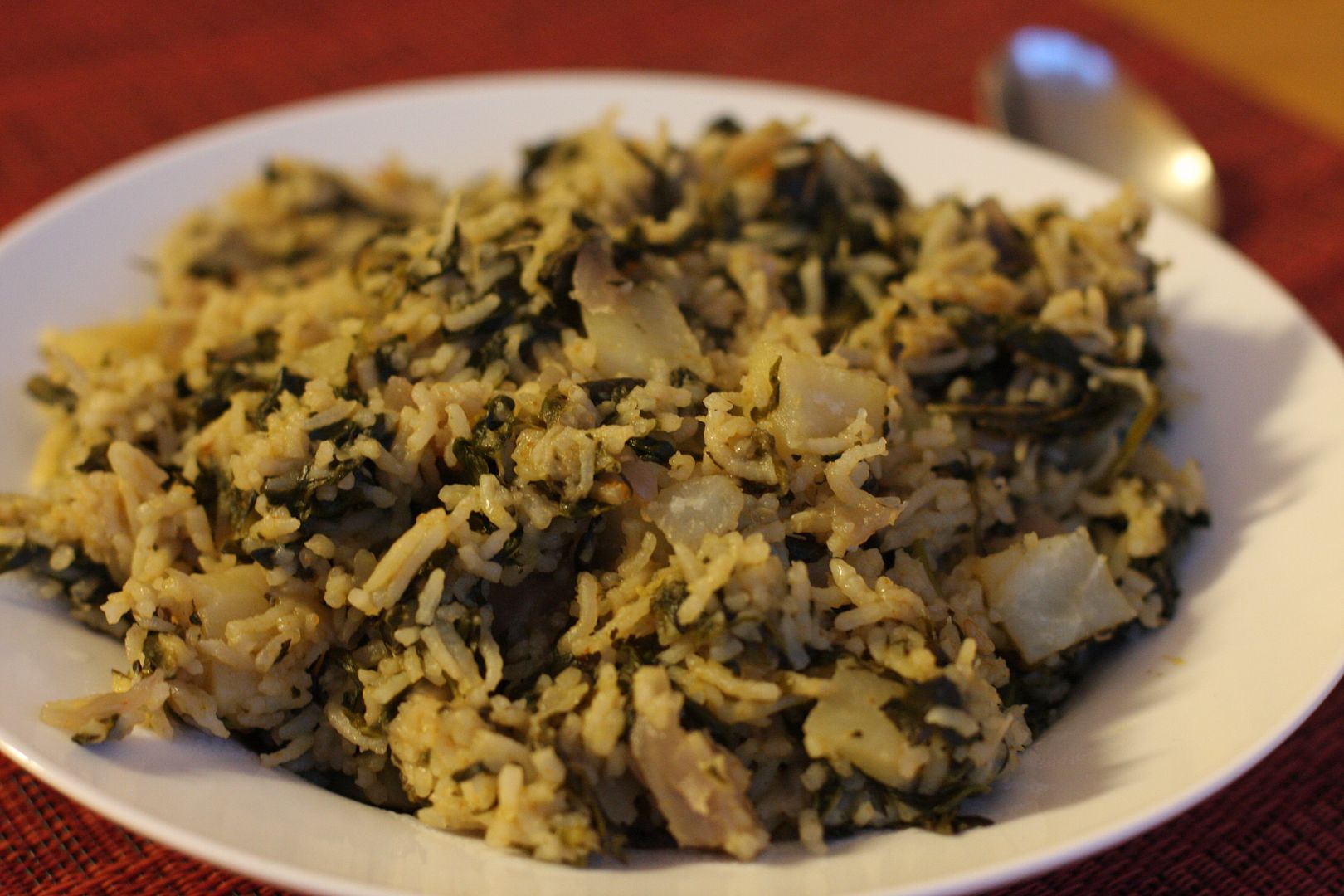 Recipe Source:
Vegetable Biryani
Spinach and Potatoes Biryani Ingredients

1 cup Basmati Rice
1 Russet Potato pealed and cubed or 1 cup chickpeas (if using chickpeas precook till half cooked)
4 cups of spinach leaves washed and patted dry
1 onion sliced thin
1 tomato chopped fine
4 green chilies sliced
5-6 garlic cloves minced
1 tbsp ginger grated
1/4 cup coriander leaves
1/2 cup of mint leaves (fresh or frozen)
2 tbsp of curd (yogurt) whisked
1/2 tbsp of red chili powder
Whole Spices - 1/4 inch piece of cinnamon, 2 cloves, 1 small piece of star anise powdered or leave whole
salt to taste
3 tsp of oil

Method

Wash and soak the rice for about 30 minutes.
Heat a pressure cooker with oil and add the oil when hot add the whole spices followed by the onions and green chillies and saute till the onions start to turn brown.
Add the garlic and ginger and saute for a couple more minutes.
Add the coriander leaves and mint leaves and saute till they are wilted.
Add the salt, chili powder and tomatoes and saute till the tomatoes are mushy.
Add in the chopped spinach and saute till the leaves are wilted.
Now add the potatoes and mix them in, followed by the rice and gently mix it in and saute for about 3-4 minutes.
Add in the water and let it come to a boil. Reduce to medium and let the rice cook till it is about half cooked. Now mix in the yogurt.
Place the lid of the cooker and the weight and in medium heat cook for about 7-8 minutes and turn off the heat. Let the cooker cool, open mix the rice gently, place the lid and let sit for about 20 minutes before serving.

Note: 1. The quantity of water to rice should be just right for separate kernels of rice. Spinach releases water when cooked. Take that into account. I did not and end result the rice got a bit soggy. 2. If you are using mixing vegetables instead add the vegetables in where the spinach is being added in the recipe.