You always need a fool proof recipe for a lazy Saturday or Sunday afternoon or brunch. I am sure a lot of you already have one if you don't I urge you to consider this one. These stir fried noodles or fried rice provide the medium to be as creative as you want.
The Chili Paste or Sauce
There is only one ingredient I think that is essential for any Asian style stir fried noodles. I call it Asian because it has elements from Chinese, Thai, Indonesian and Vietnamese stir fries. The essential ingredient is a good chili paste. I prefer the Thai style ones whose ingredients are chilies obviously, garlic, ginger in oil. Some are mind numbingly spicy and the others not so much. Of late I have also been trying chili pastes with dried or fried anchovies along with garlic, ginger and black beans. You can have your pick in any Asian grocery stores. As for me I have never come across a chili paste that I didn't like. These days even the regular grocery stores in my area have a good variety of chili pastes and sauces to choose from.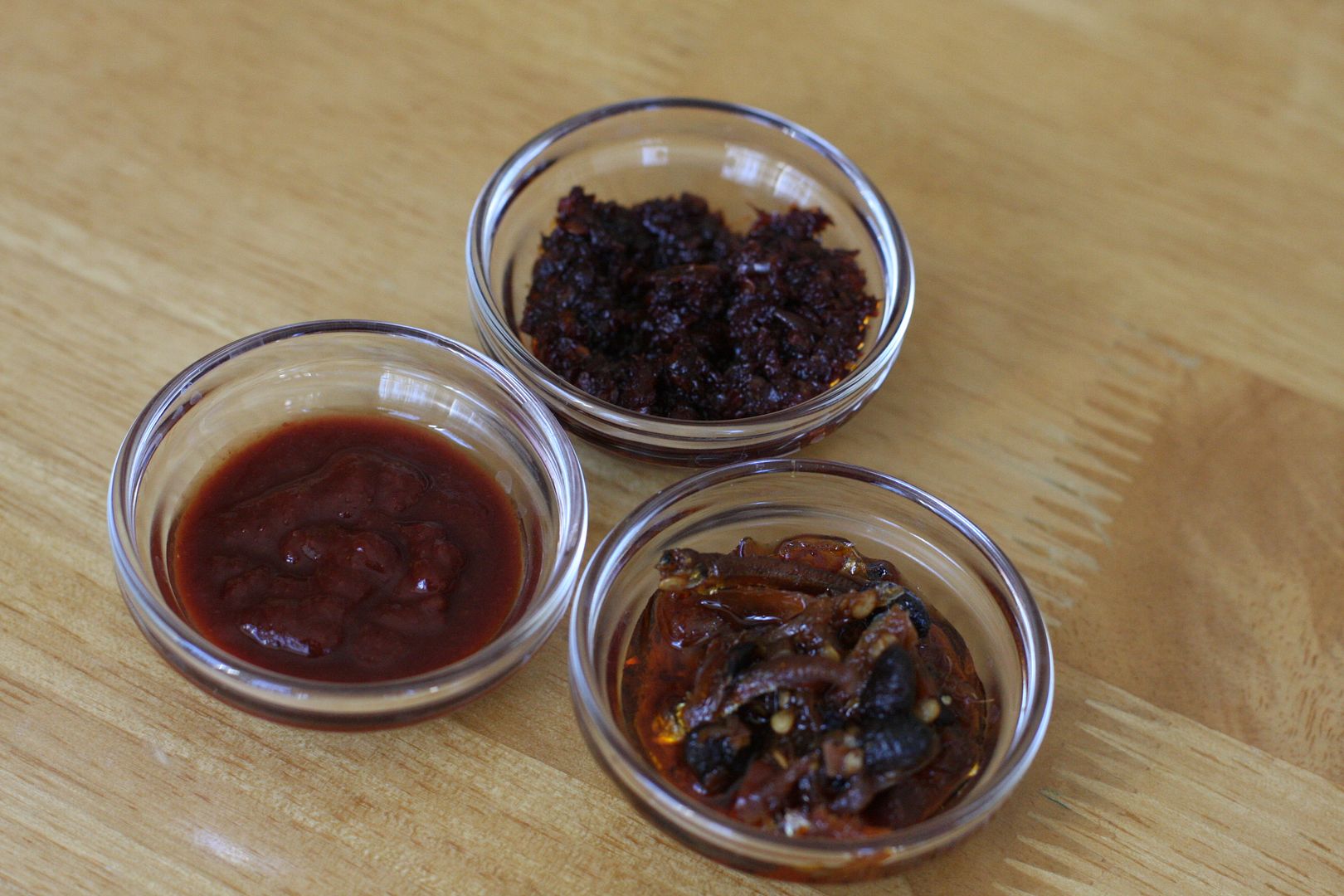 clockwise - sriracha sauce, fried chili paste, chili paste with anchovies
Before I forget Sriracha chili sauce is also a good thing to have on hand to spicy up soups, noodles and pretty much anything. But you know the best is perhaps home made and
Manisha, Indian Food Rocks
has a very good recipe which I got to try one of these days. Let me know if any of you try this recipe. Of all the chili pastes you can buy in the store I bet nothing beats home made. Next the noodles, I like this because this was the one recommended by a Burmese baby sitter that DD2 used to have. They are the chow mein stir fried noodles with a slightly yellow tinge. If you want to use the soba noodles go ahead and use those too I am sure they will taste fine.
I like to use as many vegetables as possible. My favorites in a stir fry are snow peas, carrots, broccoli, cabbage and baby corn. In a pinch green beans come in handy. I add shrimp because the kids like them. To go totally vegetarian skip all the fish related items in the recipe. One important thing to remember is to have all the ingredients handy so you do not let anything sit in the stove for too long. If they do they lose the crunch and become soggy.
Vegetables and Shrimp Asian Stir fried noodles Ingredients

6 oz pack of chowmein stir fry noodles or any noodles of choice
12-16 medium or small sized shrimp
3 eggs
2 carrots cuts into thin strips
1 1/2 cups of shredded cabbage a bit chunky
2 cups of snow peas
1 green onion ends cut and chopped
1 cup of sliced onions
3 garlic cloves crushed and chopped
1 tbsp of grated ginger
a few stalk of coriander leaves (optional)
2 tbsp of crushed peanuts (optional)
1 tbsp of chili paste (I used 2 kinds)
1/2 tbsp soy sauce
1 tsp fish sauce (purely optional)
2 tsp of Sriracha sauce
1 tsp pepper powder
a pinch of turmeric powder
salt to taste
1 tsp of oil

Method

Marinate the shrimp with the turmeric powder, a bit of the chili paste and salt for about 30 minutes.
Beat the eggs with salt and pepper powder and make thick omelet (in a separate pan) and cut into strips and set aside.
In a wok heat the oil and saute the onions, green onions, garlic and ginger.
Add in the shrimp and do a quick stir fry and fish out the shrimp and set them aside. Alternatively the shrimp can be fried separately.
Now to the onions add the carrots, snow peas and cabbage and stir fry on high heat for about 6-8 minutes. I like the vegetables to be cooked but still crunchy. Depending on how you like them reduce/increase cooking times.
While the vegetables are cooking get the noodles cooked and ready.
When the vegetables are almost done add in the coriander leaves, chili paste (not the sriracha), soy sauce and fish sauce and let it heat through for a couple of minutes.
Add in the noodles and toss them together. Check for salt and heat and add the sriracha paste only if you need more heat.
Finally add the cooked shrimp, omelet strips and toss together.

Serve with wedges of lime and crushed peanuts on top.