The election results besides revealing who will occupy the White House for the next 4 years also revealed that I have to work on my English language pronunciation skills. I have a problem with people not understanding when I say the word 'vote'. I say 'vote' most people think I am saying boat, work or whatever but not vote. Looks like I never learned to pronounce the letters 'v' or 'w' properly. I have always had problems ordering a Vanilla ice cream without the person taking the order saying huh? multiple times. Anyways with proper training and help I vow to be a perfect pronouncer by the time the next election cycle rolls around. The other thing I noticed the day after the election is the absolute silence on TV. The commercials which sell products are bad and loud enough but those selling a political candidate or message are thousand times more annoying. I am glad we will get a reprieve on that for now.
| | |
| --- | --- |
| | |
As promised here is the next recipe which uses the roasted pumpkin pulp. I had to improvise and use corn meal and bread crumbs while making the kofta you are free to use besan but the corn meal added a crunchy texture to the koftas. I had pumpkin pulp ready, the potatoes were cooked and found out I did not have enough besan. The kofta curries are usually creamy and rich. This one is lighter and does not feel as heavy. I use yogurt instead of the cream to give the texture and taste. Make it a point to make extra koftas to for a quick snack later. They freeze beautifully and with some ketchup or hot sauce they are a ready made evening snack.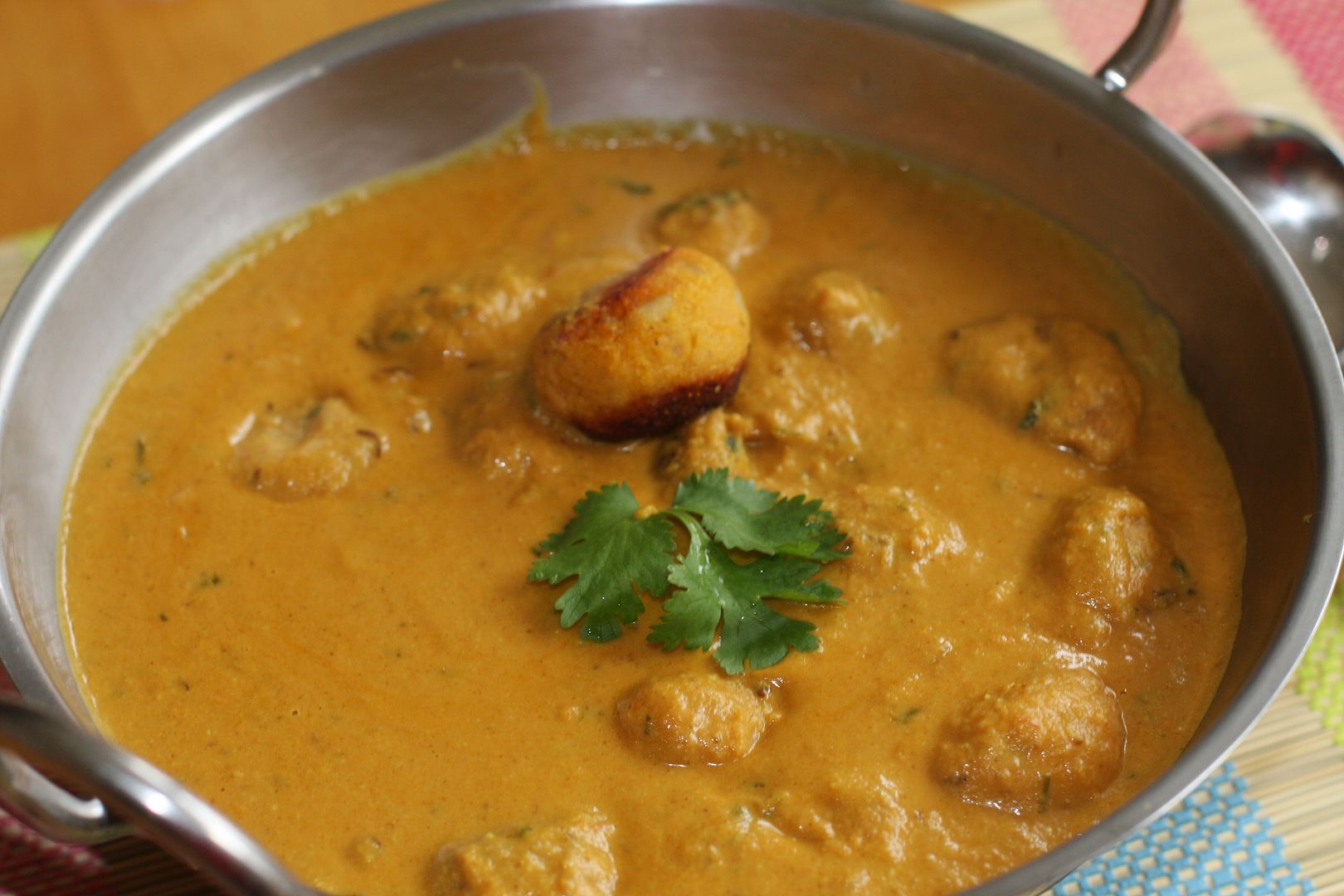 Pumpkin Kofta Curry Ingredients for kofta (makes about 30) (We will use about 15 koftas for the curry)

3 cups of pumpkin pulp>
2 potatoes cooked and mashed about 1 cup
1 tbsp grated ginger
1 tbsp of finely chopped coriander leaves
1/2 tbsp of red chili powder
2 tbsp besan (see note)
1/4 cup panko bread crumbs
1/4 cup of corn meal
2 tsp of salt
1/4 cup of oil for shallow frying

Method

In a mixing bowl add together all the ingredients and bring them together so they can hold together when made into small round balls.
Make balls with a diameter of about 1 1/2 inches.
Heat about 2 tbsp of oil in a saute pan and when the oil is hot place as many kofta balls as can fit with a bit of room to move around.
Let them cook till they turn brown on one side about 3-4 minutes, flip and let cook on the other side another 3-4 minutes. Remove and drain on power towels. Save the oil for using in the curry.

For the Curry Ingredients

1 cup of roughly chopped red onions about 3/4 of a medium sized red onion
5 garlic cloves cut in half
2 inch piece of garlic peeled and chopped roughly
1 1/2 roma tomatoes chopped roughly about 3/4 cup
1/2 tbsp of red chili powder (or as per taste)
2 tsp of turmeric powder
1 tsp of cumin powder
2 tsp of curry masala powder (any curry powder will do)
1/4 cup of yogurt(made with 1% milk) whisked (for a vegan version skip this and add a 1/4 cup of thick coconut milk)
1 tbsp of cashews soaked in about a tbsp of water, for nut free use same quantity of poppy seeds
salt to taste
2 tsp of oil
1 tbsp of chopped coriander leaves
1/4 tsp of cumin seeds
1 tbsp of finely chopped onions

Method

Heat a bit of oil in a saute pan and saute the onions, garlic and ginger and when the onion starts to turn brown add the tomatoes and when they turn soft. Turn off the heat, allow to cool and blend to a smooth paste.
Heat a wide mouthed pan and add about 2 tsp of oil. When hot add the cumin seeds followed by the onions and saute till they start to turn brown.
Add all the masala powders other than the curry powder and mix it into the onions.
Now add the blended masala with about 1/2 cup of water and let it cook on medium low heat.
Blend the cashews and add it in. Let it cook for about 5 minutes.
Bring the heat all the way to low and add the whisked yogurt and mix it in. (see note). Add salt. The consistency of the gravy depends on how watery or thick you want. When the yogurt if fully mixed in raise the heat back to medium low and let cook for about 5-8 minutes.
Add the chopped coriander leaves and the curry powder and cook for a couple of minutes more.
Gently put the koftas inside the gravy. I used about 15 koftas. Let it cook for another 5-6 minutes. Turn off the heat and let sit for another 15 minutes before serving.
Great with rice or any Indian bread.

Note: 1. Use about 3/4th cup of besan instead of panko bread crumbs and corn meal. 2. While adding yogurt if the heat is on high the yogurt will break. So bring the heat to low and then add the yogurt.