Looks like those carving pumpkin can be put to a lot of edible use! The kids and DH like roasted pumpkin seeds and he had asked me to save the seeds. I did. They are a great snack especially if you are watching a movie like the latest Bond movie for instance. This one has a few of my favorite actors the movie I mean like Judi Dench, Ralph Fiennes, Javier Bardem and of course Daniel Craig. All of us enjoyed the movie while DD2 took a nap in the theater! Javier Bardem gave her the creeps. The last movie I saw of Bardem was "No country for old men" where he was at his creepiest best. This bond movie just adds to that. But he is no doubt a fantastic actor. That was just a figure of speech, you can't take outside food inside the movie theater so you buy a big tub of popcorn and settle down to watch.
While we are on the topic of watching, do you watch 'The Good Wife'? That and 'Last Resort' are two of my favorite shows.
Any other interesting shows that any of you are watching?
Now for the recipe, this is how DH makes it.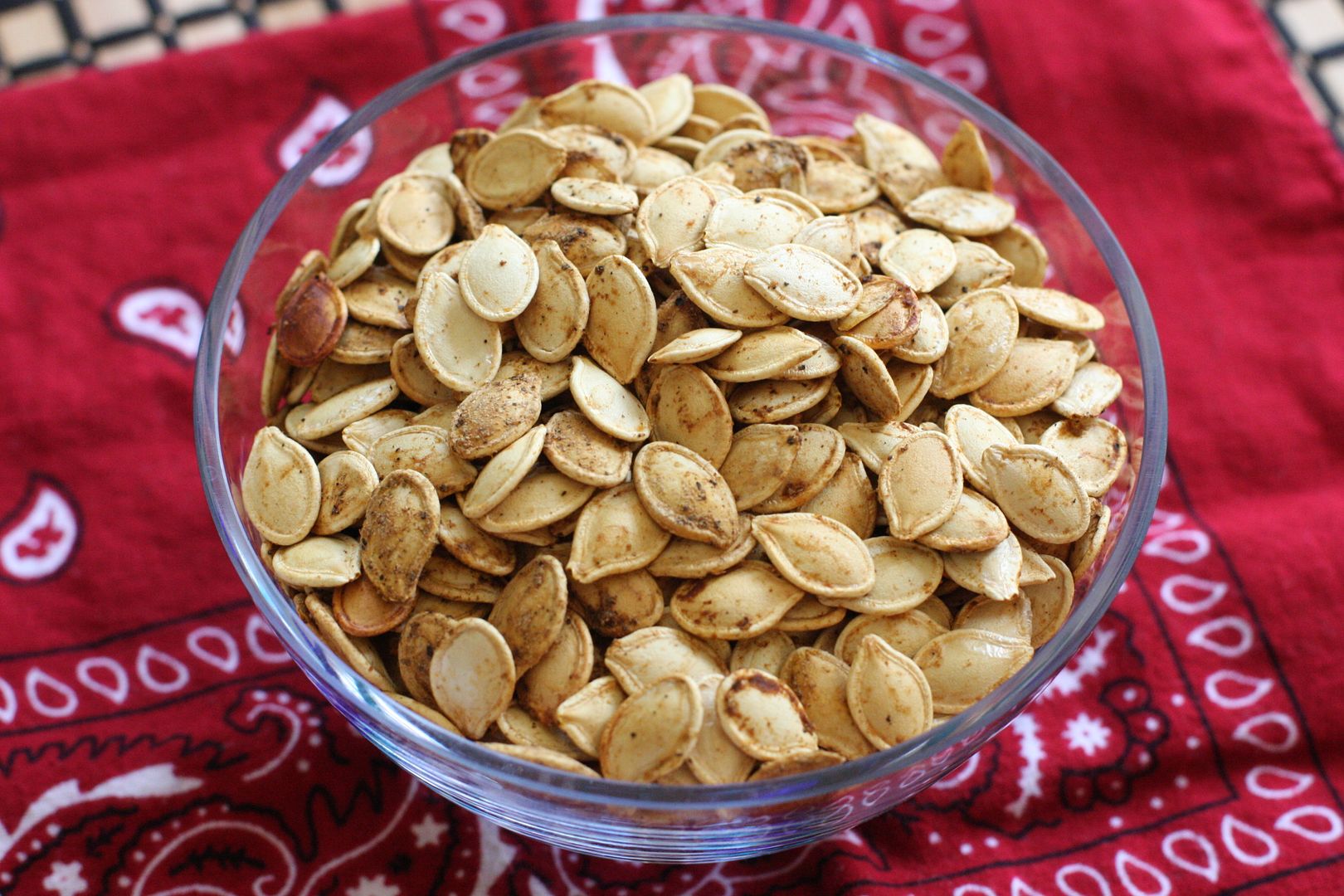 Curry flavored Roasted Pumpkin Seeds Cleaning the seeds Once the seeds are out of the pumpkin, run them under water in a colander and remove the pumpkin strings and pulp. Once clean spread them on a kitchen towel and let dry. Ingredients

1 cup of cleaned and dried pumpkin seeds
1/2 - 3/4 tsp of sambhar powder or any curry powder
salt to taste
a sprinkle of oil or cooking spray

Method

Preheat the oven to 400F. In the meantime mix together all of the ingredients so the oil and spices are coated on the seeds.
Prepare a baking sheets lined with aluminum foil. Spray with cooking spray.
Spread the seeds on the sheet so they are in single layer.
Bake for 10-12 minutes or till they start to acquire a slightly brown and toasted look. Let cool before transferring to a container.

Note: 1. If you are not using an oven use a skillet to toast the seeds. No oil is required, add the seeds when the skillet is hot and roast till the seeds start to turn color.