On the ballot this election besides voting for the President, Congressman, Senator and a bunch of local positions we also have questions or in other words referendums which require a Yes or No and we have 7 of them. By far the most popular and one which has had a lot of money and airtime spent on it is question 7. This is a question about allowing gambling in the state of Maryland. A record 50 million dollars have been spent on ads for and against the question. Every politician in the state has been on TV exhorting people to vote for it and how the tax dollars generated from gambling profits would go towards funding education. Politician never do what they say so if the money would surely go to education is itself a million dollar question. Besides being convoluted reasoning to support gambling it seems to me to be totally immoral(for lack of a better word) to use the money from gambling for education. I am against gambling for the simple reason it is an addiction just like smoking or drinking. It also disproportionately affects people with limited means. There are studies that show people very close to where the casinos are built are by far more likely to be affected by gambling (duh!). Why would politicians want people to gamble? Anyway I had made up my mind to vote No.
| | |
| --- | --- |
| | |
This was until I saw ads from casino operators from our neighboring state who also want the initiative to fail. Not because they are concerned about addiction and its ill effects on the citizens of Maryland but because they do not want competition taking away gamblers from their slot machines. They have been using all the right reasons to argue against voting Yes - how it will affect seniors, people of limited means, the ill effects of gambling etc., This is from the same people who are running casinos in the neighboring state. I am in a dilemma I do not want to be pushed around by the wrong people saying the right things. So should I vote my conscience or my brain? With that out of the way lets move on to the recipe for the day. Paneer is a popular item in our house. The kids love it and are ready eat it any form. The ready to eat meals that we store for a pinch are all one form of paneer or the other. It was not my favorite for a long time and now I have started to appreciate. It is full of fat and taste. What is to not like? Scrambled paneer is one of those quick to make recipes if you have store bought paneer on hand. When one of the DDs accompany me to the Indian grocery store, we always come back with a block. The recipe is adapted from
this recipe on you tube
. I did not have any bell pepper but a lot of green tomatoes so added those instead. I also added some frozen peas (fresh should work as well). I chopped the paneer into small pieces but usually paneer is grated for this recipe.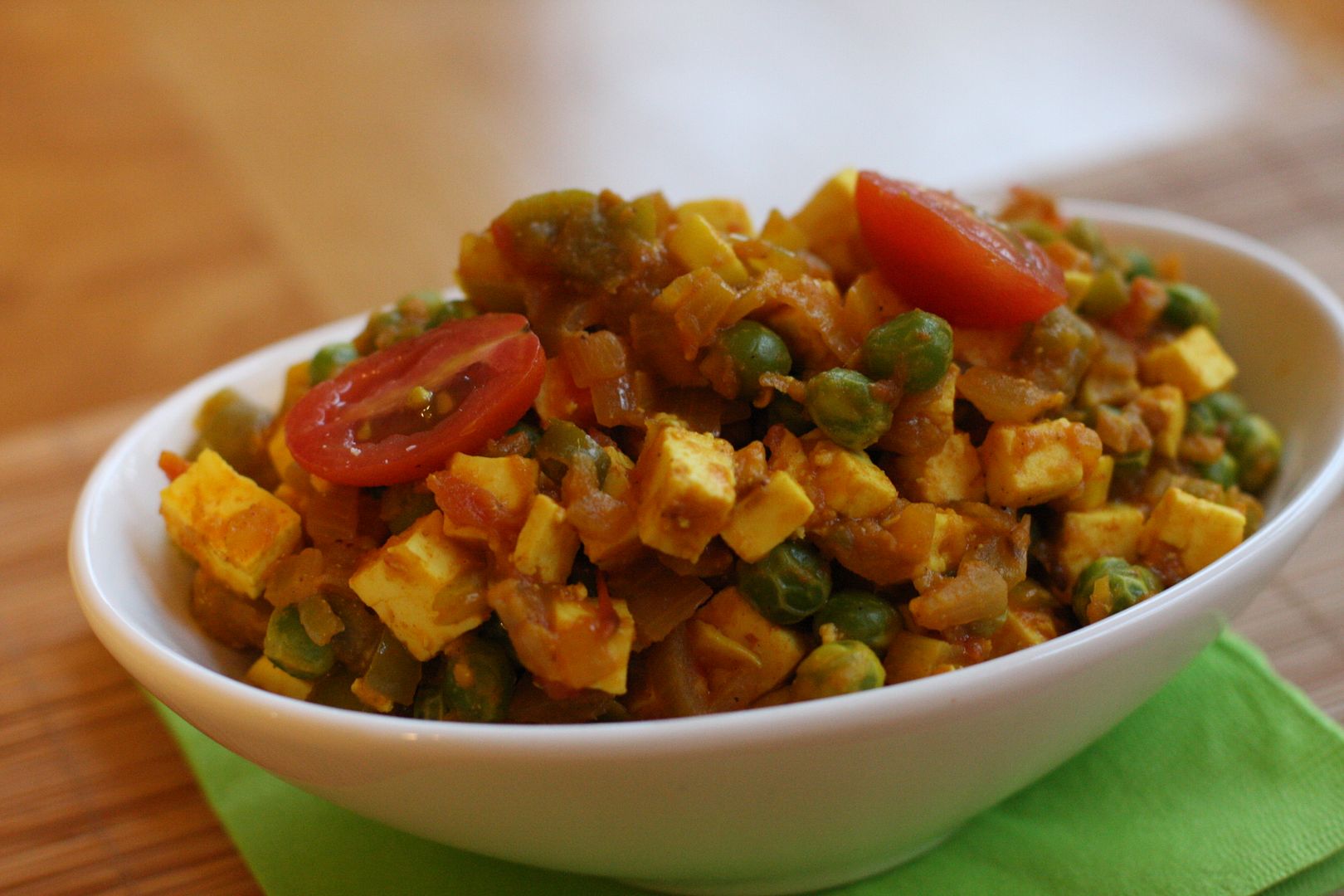 Masala Paneer Podimas(Bhurji) Ingredients

14 oz paneer grated or chopped into tiny cubes
1 cup of onion chopped fine
1/2 cup of green and red tomatoes chopped fine
6 garlic cloves chopped fine
1 tbsp ginger grated
1 cup of fresh or frozen green peas
2 tsp of turmeric powder
2 tsp of curry masala powder OR 1/2 tsp of garam masala powder + 1 tsp of cumin powder
5 Thai green chillies chopped into thin rounds
1 lemon
salt to taste
1-2 tsp of oil
seasonings - cumin seeds
2 tbsp of finely chopped coriander leaves and a bit of kasuri methi(I did not add)

Method

Heat oil in a kadai or a wide mouthed pan and when hot add the cumin seeds
Add the garlic and saute for a minuted. Add the onions and green chilies and saute till the onions are translucent.
Add the ginger and saute for another minute.
Add the turmeric powder,masala powder and mix it into the onions.
Now add the chopped tomatoes and salt and let it cook till the tomatoes are soft.
Add in the peas and let it cook for 3-4 minutes.
Add in the paneer and gently mix it in and cook for 3-4 minutes along with a squeeze of half a lemon.
Sprinkle coriander leaves and kasuri methi if using on top

Serve with chapathis or parathas.