If you are in Whole Foods during the evenings and on Friday evenings in particular you get to taste sample foods. Sometimes it is a recipe with the seafood they have on sale for the day. Other times it is a recipe with some new condiment they are promoting or some new cheese (or old) or a cake or a chip.
After dropping off kids at their class in the evening we spend our time browsing the shelves at the nearby Whole Foods usually with a hungry stomach. No wonder when we sample those foods they taste nothing short of delicious. The last time we were there we tasted this Zucchini Puttanesca and need I say it good? The lady in charge helpfully handed out printed recipes. Of course I got the recipe and tried it the very next day. It wasn't my rumbling tummy, it really did taste good.
If you have vine ripened tomatoes and fresh zucchini from your garden you got to try this. If aren't that lucky store bought would do and that is exactly what I did. I have to confess that eating salads (which includes everything that is not cooked) is not my cup of tea. Keeping that in mind when I say this tastes good you got to believe me and is also very easy and quick to put together.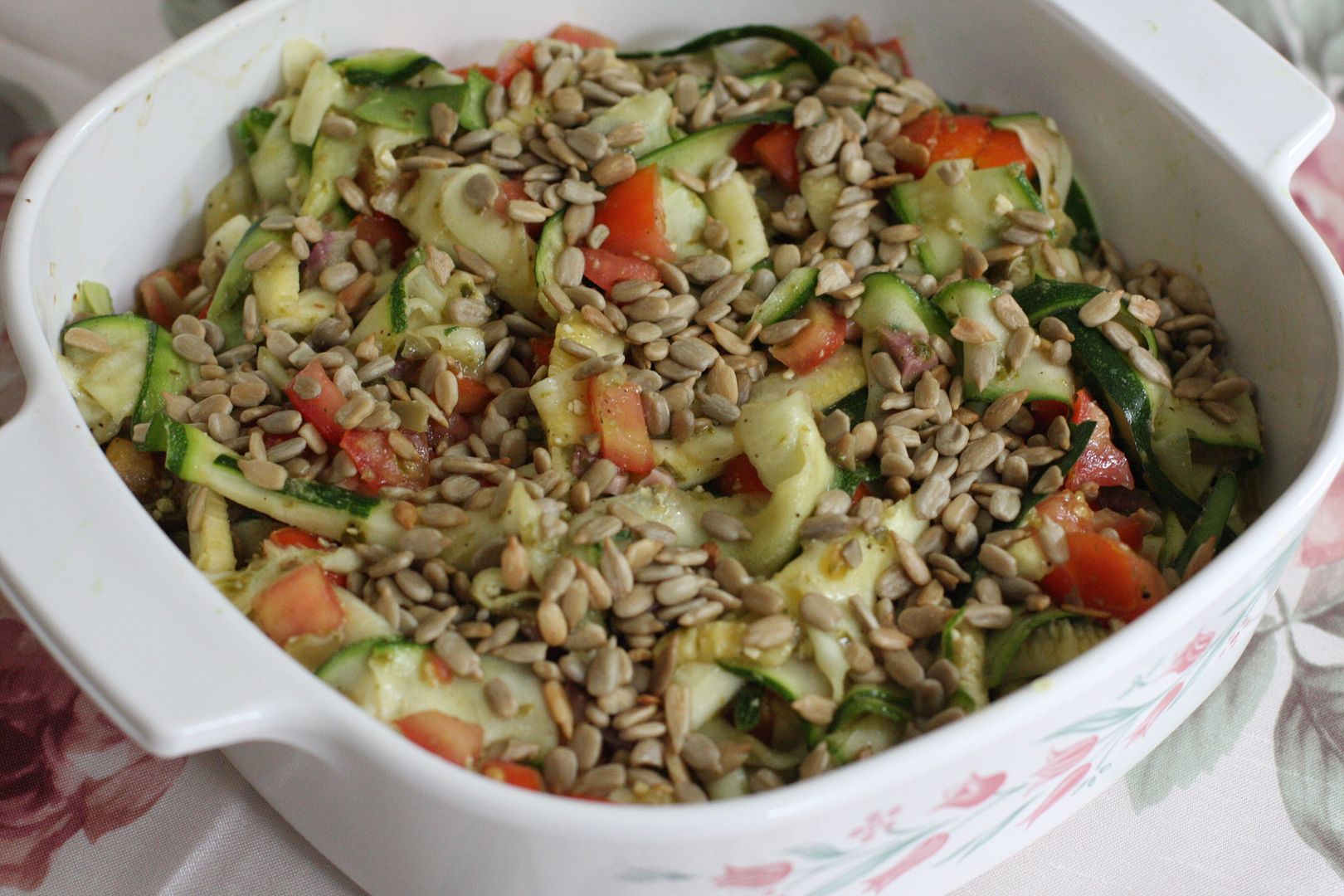 Recipe Source: Whole Foods
Zucchini Puttanesca
Ingredients
1. 2 Zucchini
2. Tomatoes (any kind you like - heirloom, cherry tomatoes) - I used some homegrown small round tomatoes - 3/4 cup
3. 3 tbsp of olives chopped into tiny pieces
4. 2-3 garlic cloves minced (I skipped this)
5. 1/2 tbsp of capers
6. 1-2 tsp of black pepper powder
7. 2-3 tbsp sunflower seeds
8. 2 tbsp of basil pesto

Method
1. Julienne the Zucchini or use the vegetable peeler to make ribbons (just cut the center rind into very thin slices once the outer flesh has been peeled.
2. Cut the tomatoes into small dice
3. Now toss the rest of ingredients other than the sunflower seeds together.
4. Sprinkle the sunflower seeds on top while serving.