What do you want for breakfast? My mom asks the DDs in the mornings when we are visiting in India. The response invariably is
pooris
, the puffy deep fried piece of wheat dough. When I was growing up pooris were far more common than chapathis ever were. Pooris were a favorite weekend breakfast item as it was too much work for a weekday rush and not enough time to experience the joy of eating those deep fried beauties. This is South India where rice is the staple and rolling out dough does not come as naturally as swirling out a dosai!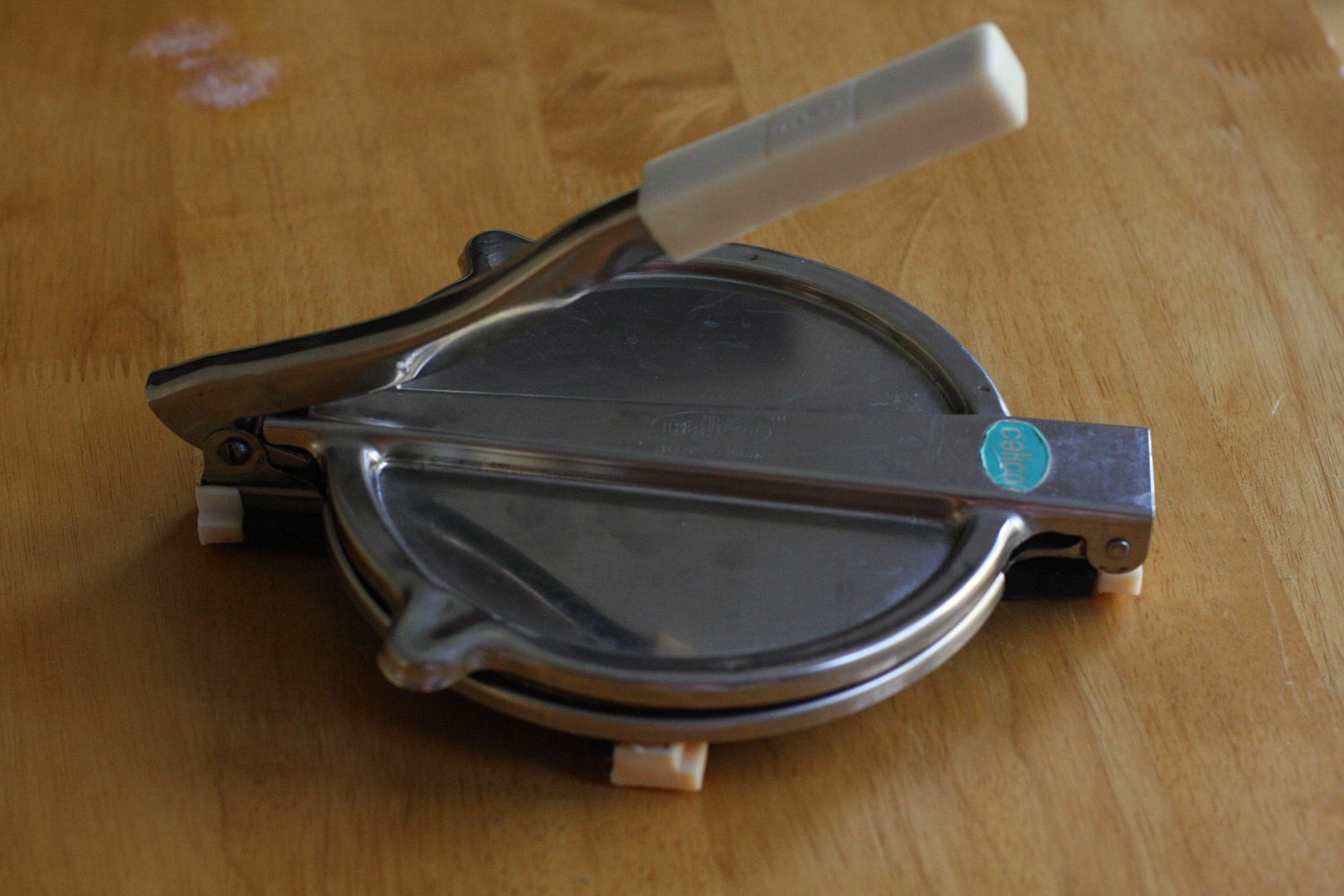 Rolling pin and board is used by some to roll out the pooris but that is somewhat of a time consuming task. I have seen most people using poori press to roll out the dough so the most of the energy can be spent in deep frying and that one person can easily do the cooking. Using the poori press is very simple. Roll out a small lemon size piece of dough. Oil both the plates of the press and place the dough ball between the two and press down on the handle. The pictures should give an idea of how it is done.
Once you have the poori press on hand the rest is simple. The dough is similar to the chapathi dough. Just be cautious while adding water, add just enough water for the dough to come together, sprinkle the water do not pour. If the dough is watery the pooris tend to absorb too much oil. Here in our house we move the deep frying to the backyard to avoid oil fumes inside the house and most times it becomes an impromptu backyard picnic.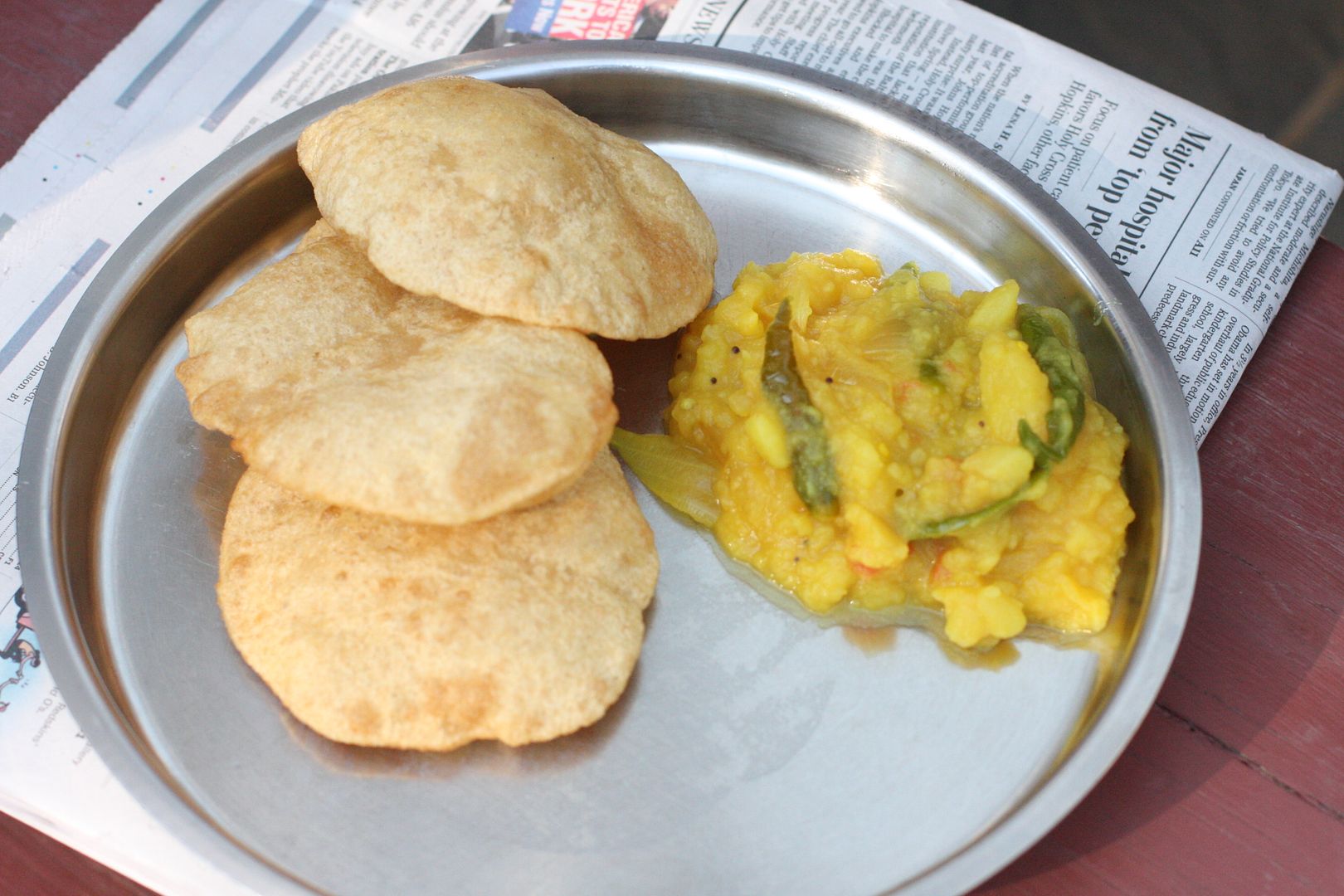 Poori Masala For the Poori Ingredients

3 cups of wheat flour (I used the Indian whole wheat kind *)
1/2 tsp salt
water as needed

Method 1. In a wide mouthed bowl (like a cake batter mixing bowl) take the wheat flour and salt and add about 2 tbsp of water. Incorporate the water into the flour, sprinkle more water 1/2 tbsp at a time till the dough comes together. Do not add any moisture than required. Cover and set aside. For the Potato Masala Ingredients

4 Medium size potatoes washed and cooked till soft. I use the pressure cooker
1 cup of onions sliced lengthwise
8-10 green chilies slit
2 tbsp of roughly chopped tomatoes (optional)
1 tbsp grated ginger
seasonings : mustard , curry leaves and a few methi seeds
2 tsp of turmeric powder
1 tsp of oil

Method

Peel the cooked potatoes and roughly chop them and set aside.
In a wide mouthed pan (wok) heat the oil and when hot add the seasonings
Add the green chilies and onions and saute till the onions become translucent.

Add in the ginger and saute for a few more minutes.


Add the turmeric powder and mix it.


Add the tomatoes and salt and let it cook till the tomatoes become mushy.


Add the potatoes and 1 1/2 cups of water and let it come to a boil. Turn off heat.



Note * use the regular aata for light colored poori but I prefer the whole wheat kind. Use a bit more water if you like the potato masala to be runny
Variations of the Potato Masala
Potato Masala with Peas
Potato Masala Delhi style - Delhi Aloo