A few days ago on the news I heard about the
recent opening
of 'Panera Cares' in Chicago. The concept is similar to Karma Kitchen in California which I thought was a neat idea.
Fresh Chard leaves from the garden
Panera Cares has no prices just suggested donations. This way people who cannot afford can still enjoy some good food by the extra donation from others or volunteer their time at the restaurant for vouchers which go towards purchase. This is great way to provide affordable food in a struggling community isn't?.
Dijon Mustard
This does not necessarily mean I am fond of Panera food or anything like that. I have had their soups and muffins and that was a while ago. One recent experience was at work. On our free bagel days at work they switched from the usual bagel place to Panera. Panera bagels tasted a lot different softer, less chewey, more buttery and a lot sweeter. Sweet bagels and for someone like me with a sweet tooth was a treat. But to eat sweet bagels everyday? Not sure.
Have you had a Panera bagel?
Chocolate chip bagel, yes they have those too.
Now on to the recipe,
Like us if you shop in Costco you are bound to make a purchase however careful you are of something in quantities that is more than what your family needs especially of a condiment that cannot be used quickly. One such purchase
we made no
DH made, I never do things like that ;) was of Dijon Mustard. Like everything else from Costco it usually mean not one but two bottles. Besides occasionally using it in a sandwich there wasn't much use for it till DH to atone (not really but I'd like to think that) found a recipe for spinach with mustard sauce which was not that bad, in fact it was good.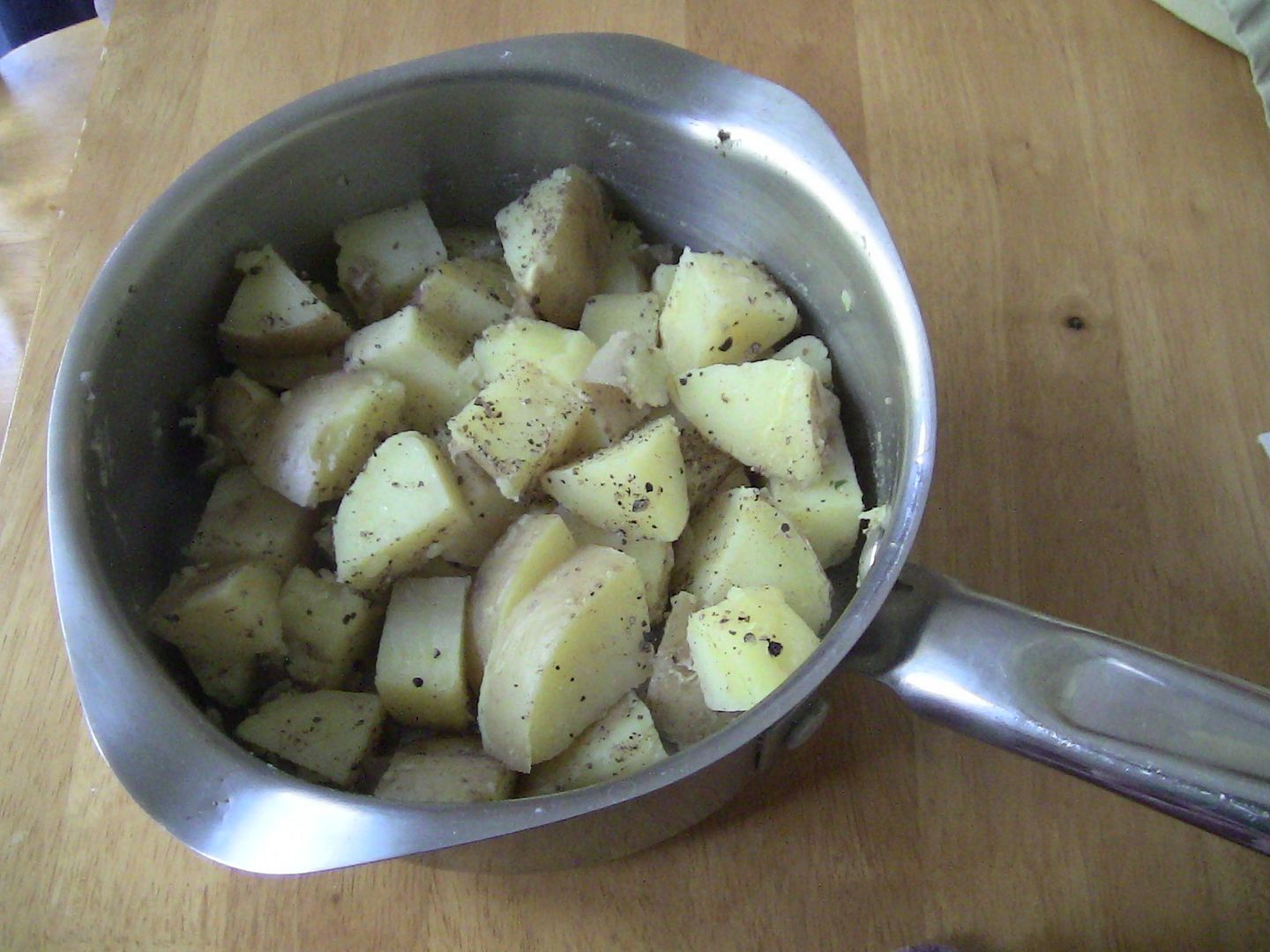 Cooked Potatoes
The next time he did a variation with Chard leaves and added a few potatoes and this was delicious with some steamed rice. So the next time he made the dish I decided to record it for posterity.
We had some fresh beans and peas from my garden so decided to use those. You can also used green bell pepper which has been diced to 1/2 inch pieces which he did the first time he made it.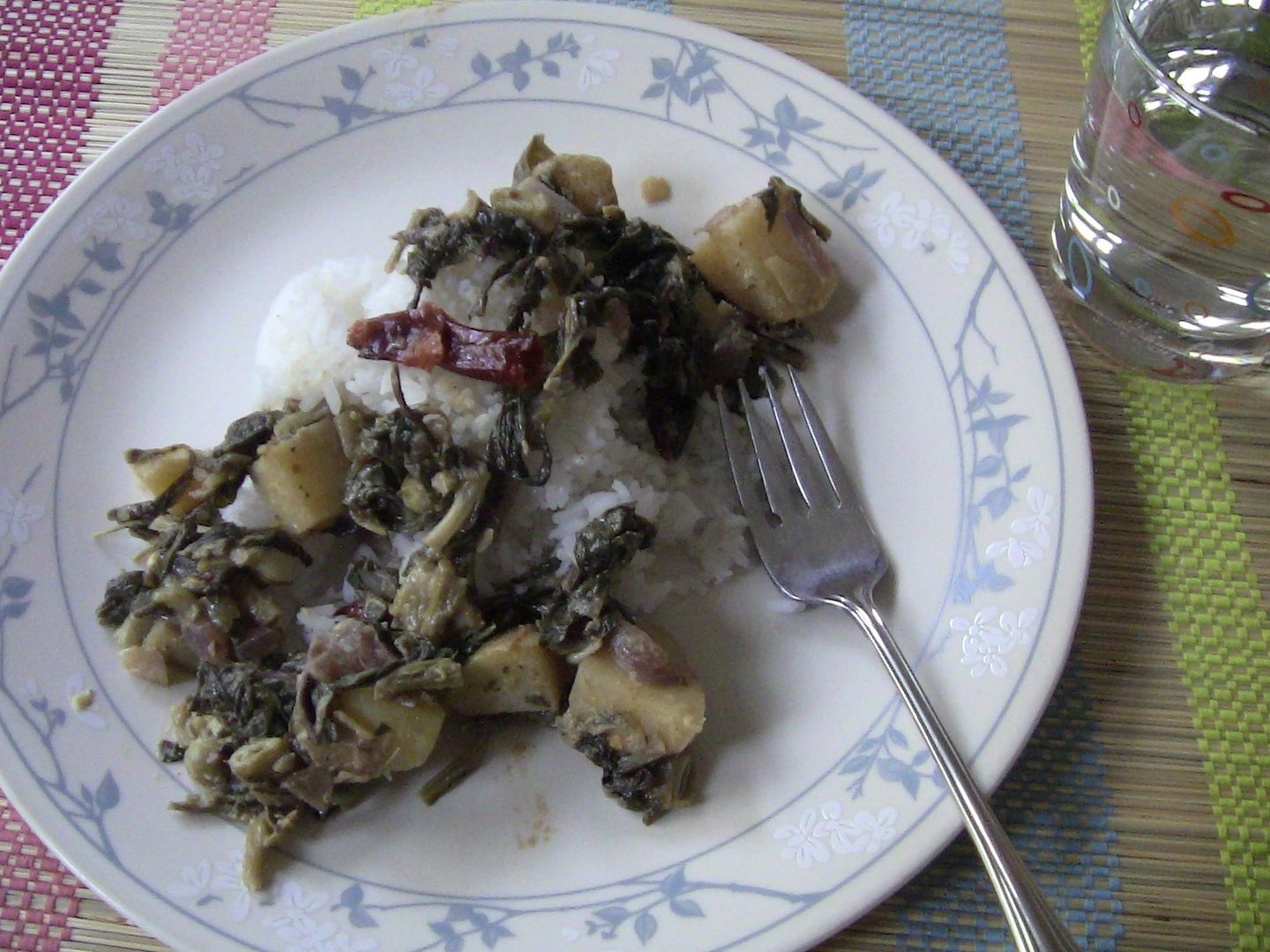 Chard Leaves and Potatoes in a Mustard Sauce
Ingredients
1. 2-3 cups of fresh Chard leaves (or Spinach leaves) washed and chopped rougly
2. 1/2 cup of chopped onions (any onion will work)
3. 4 cloves of garlic minced
4. 4-5 red chilies split and seeds removed
5. 2 green chilies slit
6. 1/2 cup of green beans and peas (optional) or green bell pepper
7. 2 potatoes scrubbed and boiled to just about done
8. 1/2 tsp black pepper
9. 1 1/2 -2 tbsp mustard (I used Grey Poupon Dijon mustard)
10. salt to taste
11. 1 tsp oil

Method
1. In a wide mouthed saute pan heat the oil and add the onions, red chilies and green chilies and saute till the onions start to turn a slight brown. Add in the garlic and saute for a minute more.
2. In the meantime par boil the beans till they are cooked. Also cook the potatoes whole till they are 3/4th cooked. Cut them into 1-2 inch dice and coat them with the black pepper and set aside.
3. Add the chopped greens to the sauted onions and let them start to wilt.
4. To this add the cut potatoes and let it cook for a couple of minutes.
5. Now add the mustard , give a good mix and let it cook for 4-5 minutes or a bit more till the potatoes are cooked fully.
6. Taste and add more salt if required.

Serve on top of steamed white rice.