I am sure a lot of you listen to TED talks so do I but I am not regular visitor to the website and neither do I watch each and every TED talk. Last week what piqued my curiosity was this article
Too Hot for TED - Income Inequality
on the National Journal website. The very same evening there was an
interview with Nick Hanauer on NPR on their marketplace show
. Then this article on
Time.com
. The talk everyone was talking about was by Nick Hanauer on Income Inequality.
The explanation that Chris Anderson's gave in a blog post is unconvincing. He might not be a puppet of the Republican party but after this episode his site and the talks they host measures a notch lower in my estimate. Truly censorship in any form is unsavory and especially from a site that claims innovation and ideas worth spreading and one that is not used to shying away from controversy. I am not ready to believe the argument that it had partisan comments. Listen and decide for yourself -
link here.
Moreover the talk has a created a buzz that might not have happened if they had posted the talk in the first place and I for sure would not be talking about it. Pay close attention to the graphs that are posted in the talk.
After you have listened to the talk and maybe thought that yes a vibrant middle class is necessary for any civil society and are ready to eat, let me recommend this quick and easy roasted fish with some fresh mango salsa and rice cooked with a blob of butter.
You can use any fish that you prefer barring salmon which might dry out if cooked this way. We used Mahi Mahi fillets. We used the outdoor gas grill but the fish can also be pan fried.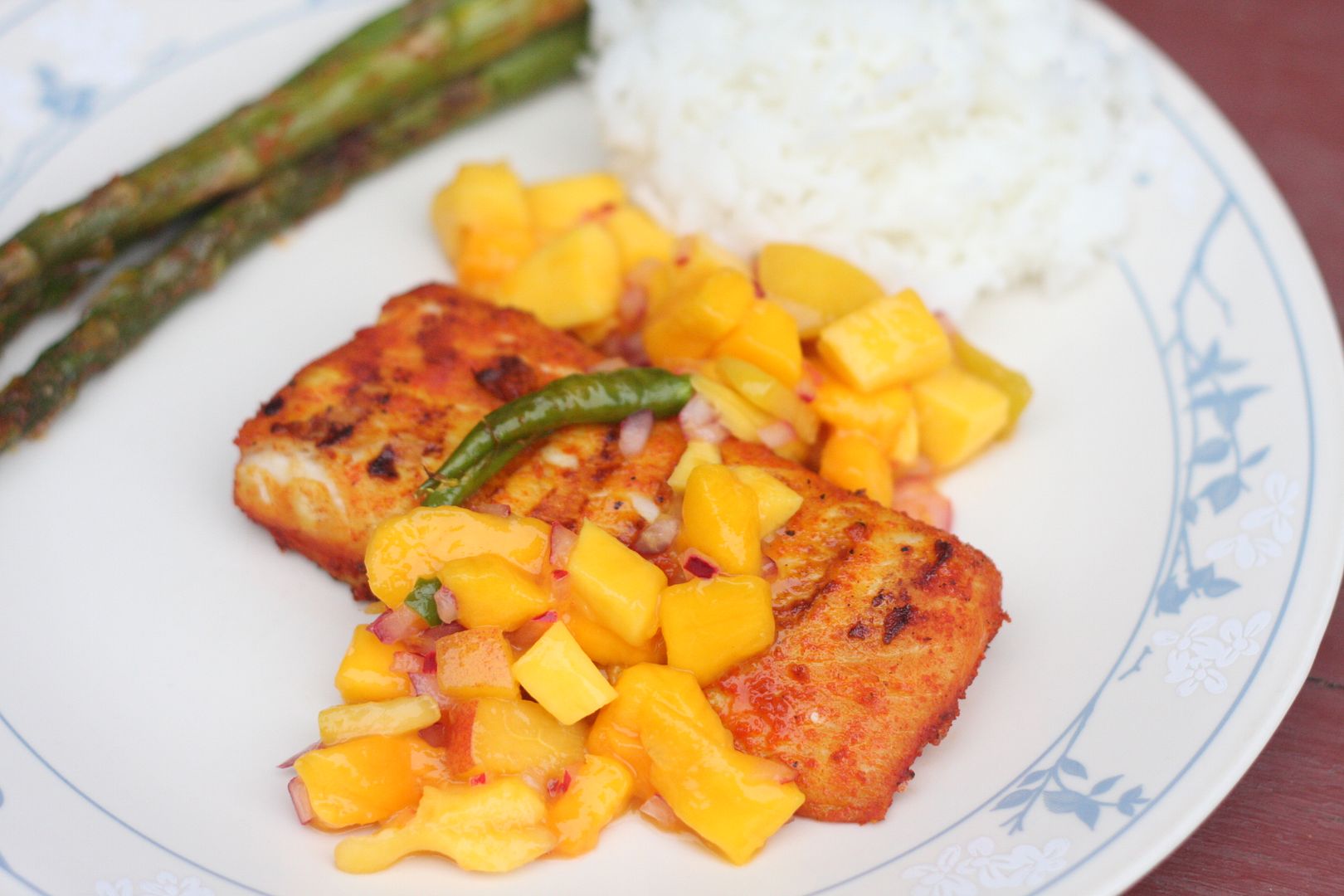 Grilled Mahi Mahi
Ingredients
1. 4-6 fillets of Mahi Mahi fish
2. 1/2 tbsp or more of chili powder
3. 2 tsp of turmeric powder
4. salt to taste
5. Oil to brush the grill

Method
1. Mix the chili powder, turmeric powder and salt together.
2. Rub on both sides of the fish and let it sit for 30-45 minutes.
3. Grill the fish or heat a griddle and pan fry the fish on both sides.

Mango Peach Salsa
Recipe from here.


Butter Rice
Ingredients
1. 1 cup of Jasmine Rice
2. 2 cups of water
3. 1/2 tbsp of butter (or use olive oil)

Method
1. In a sauce pan heat the water till boiling.
2. Add in the rinsed rice and butter
3. Cover with lid and cook on the stove top till all the water is absorbed. Turn off the heat but keep the lid for 5-10 minutes.
4.Fluff up the rice with a fork before serving.

Plate the fish with salsa and rice on the side.