I am bit miffed, I am supposed to be the cooking expert, the head chef in my kitchen right? DD cooks no bakes something and it turns out perfect and the loaf vanishes within 1 hour of it stepping out of the oven.
I have tried baking with fruit - apple, bananas and the inside is always soggy and kind of feels uncooked but this loaf she bakes comes out crumbly and perfect. Do I sound like I am 'J'? No really I am just proud of her accomplishment.
This is Spring break week and from the minute I showed DD this
recipe on Exclusively Food
she has been behind me to make it.
Couple of days ago her friend had come over and she started the request all over again. So I happily assigned the task of baking to them. We did not have all of the ingredients at home. They set off on their bikes to the grocery store, finished their purchase and completed the baking while I had a few undisturbed moments to concentrate on my work.
ready for the oven
As for hiccups just one. They used my carefully roasted almonds for blanching instead of the raw ones. Not a big disaster no.
The experiment was so successful she wanted to give it a try again and baked another load yesterday before I came back home, to enjoy some warm slices for evening snack.
I want to add a few words about
Exclusively Food
- a blog I have been following for a long time now. Fantastic and clear instructions are the hallmark of this lovely blog. Makes even the most complicated baking recipes seem very simple.
Recipe Source:
Bran, Pear and Date Loaf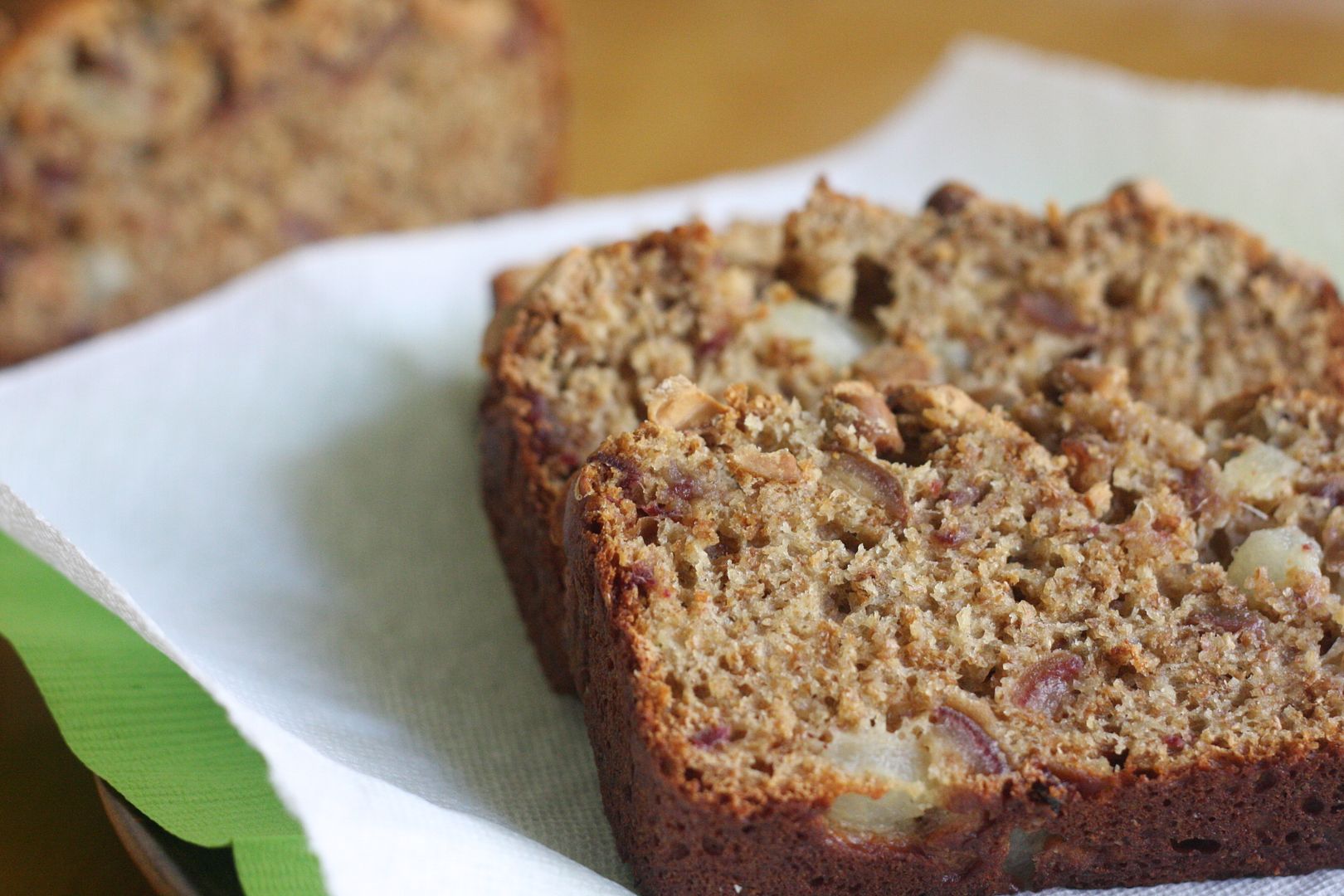 Pear and Date Loaf with Bran
Ingredients
1. 1 cup Wheat Bran (Kellog's Wheat All Bran cereal)
2. 1 6 oz Greek strained yogurt
3. 1 1/2 tsp of honey
4. 1 1/2 tsp of maple syrup (3 and 4 in place of golden syrup)
5. 1/4 cup of extra virgin olive oil
6. 1/3 cup + 3 tsp raw sugar
7. 1 cup of deseeded Deglet Noor Dates chopped into 1/2cm bits
8. 1 ripe Bartlett pear peeled and chopped into 2 cm dice (chop when adding to the mix)
9. 1 egg
10. 1/2 cup self-raising flour
11. 1/4 cup + 2 tbsp unbleached all purpose flour
12. 1/3 cup + more for nibbling blanched roughly chopped almonds (if using raw almonds see Note)
13. 1/2 tsp of baking soda
14. 1/2 tsp vanilla extract

Method
1. In a mixing bowl add yogurt, all bran, sugar, honey, maple syrup, olive oil, chopped dates, egg and vanilla extract. Mix together with a spoon.
2. Butter a 9 * 5 * 2 1/2 inch loaf pan and set aside. Preheat the pan to 365F
3. Peel and cut the pear and add it to the mixture. combine.
4. Sift the flour and baking soda and add it to the sugar mixture.
5. To Note: fold the flour into the batter with the spatula (do not mix).
6. Pour the batter into the pan and even with the spatula. add the almonds on top.
7. Bake in the middle rack for 40 minutes. Check for doneness and bake for another 5-10 minutes (see notes)

Cool and slice and see it disappear in minutes.

Note:
1. If using raw almonds, heat a pot of water and add the almonds and let sit for 10-15 minutes. Peel the skin, dry completely.
2. for checking doneness, insert a skewer in the center and if there is nothing sticking on the skewer then the cake is baked.