In my maternal grandparents home Amavasai (no moon day) was an auspicious day. The day when prayers are offered to the dead ancestors so they provide blessings for the welfare of the family. Adults observe fast in the morning and consume food only after Noon. The kitchen gets washed and the stove cleaned and certain items have to be on the menu.
One of them is pirandai kozhumbu (the English name for Pirandai is
Cissus quadrangularis
) the taste slowly grows on you and it became a favorite,
beetroot thayir pachadi
,
vendaikkai puzhikuzhambu
, pumpkin poriyal and the usual suspects rasam, paruppu and payasam.
The pumpkin poriyal is also a special occasions dish but not cooked very often on regular days. The pumpkin was sweet and the poriyal with grated coconut sprinkled on top was always a delight. So when I purchased my first pumpkin here with that taste in mind it was a disappointment (might have been a Halloween pumpkin for all I know), did not taste sweet and the texture was all wrong. I stopped buying pumpkin and switched to squashes. The butternut squash my favorite is the one that comes close to the taste and texture of the pumpkin (arsanikkai) back home.
Anita's recipe
made me want to give pumpkins a try again. I bought a wedge of Spanish pumpkin, the skin is much thinner than the American pumpkins. I modified Anita's recipe a little bit and the end result was so very good.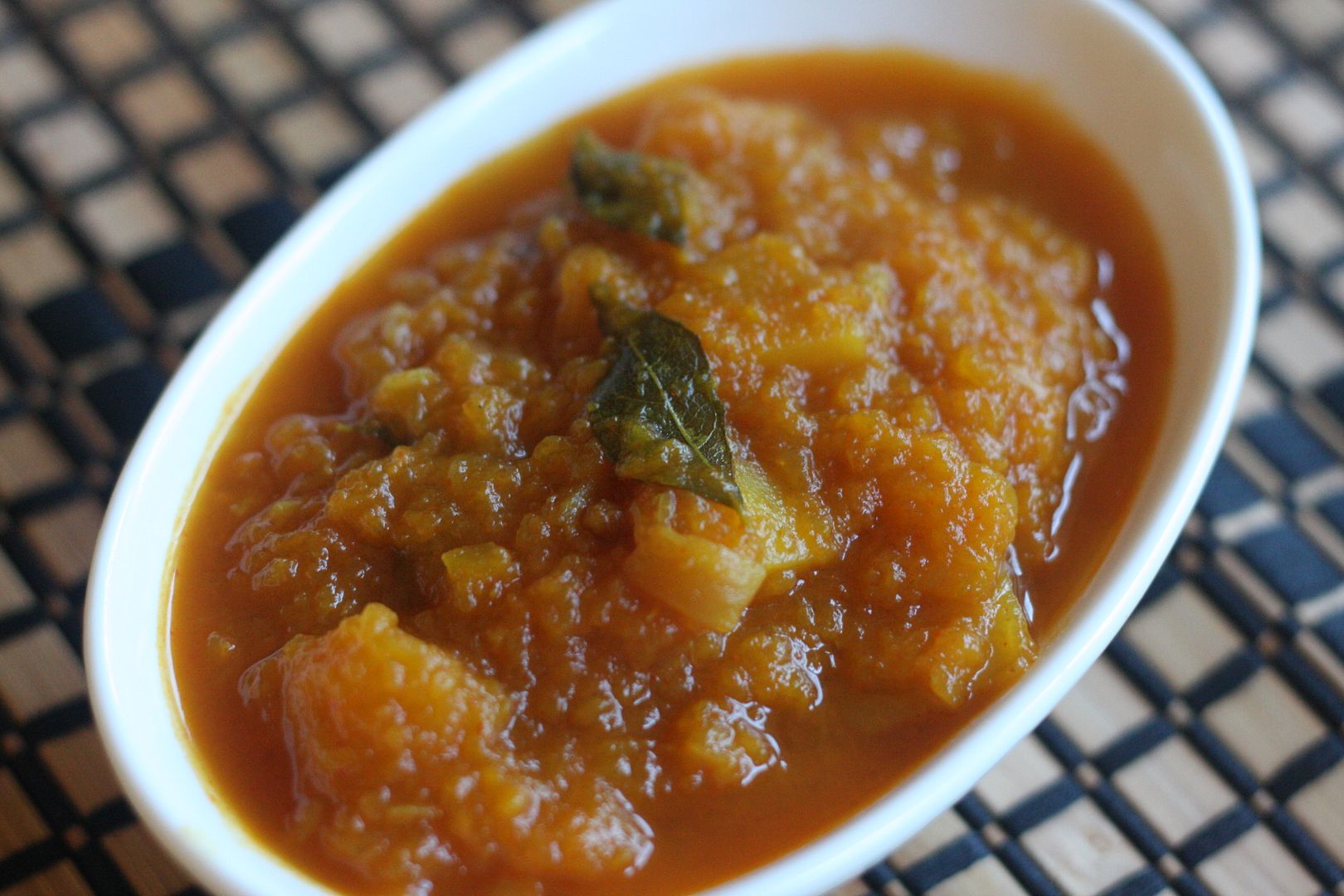 Pumpkin Curry
Ingredients
1. 1 wedge of pumpkin, skin peeled and cubed (about 2 cups)
2. 1/2 onion chopped
3. 1 tbsp ginger
4. 2-3 tsp of red chili powder
5. 1/2 tsp of roasted powdered methi seeds
6. 1 tsp turmeric powder
7. 1/2 tbsp brown sugar
8. 1 tsp amchoor powder
9. seasonings: asfoetida 1/4 tsp, methi seeds and curry leaves
10. salt to taste
11. 1 tsp of oil

Method
1. In a pressure cooker heat the oil and when hot add the asfoetida, methi seeds and curry leaves followed by onion and saute till the onions are translucent
2. Add the ginger and saute for a minute more.
3. Add in the pumpkin pieces saute for a couple more minutes
4. Add in the powders and salt saute a bit and add a cup of water and let it cook for a couple of sounds. If cooking on a stove top add a bit more extra water and cook till the pumpkins are really soft.
5.Turn off the heat and mash the pumpkins a little bit, add in the sugar and let cook for a minute more. If it is more liquidy than required let cook till the water evaporates.

Serve with chapathis or rice.