We had bought plenty of fresh green beans from our favorite Amish market. DH chose
Madhur Jaffrey's recipe for green beans with onion paste
. This is a delicious but a bit time consuming recipe. The onion paste has to be cooked long enough for the raw smell to be completely gone.
I would have sauteed the onions, ginger and garlic before blending them but I was not cooking and DH is a stickler to recipes and this is how he chose to cook. If the onions, ginger and garlic are made into paste before cooking they tend to take a long time to cook, if they are chopped really fine they cook a lot faster. How you choose to do it your personal preference.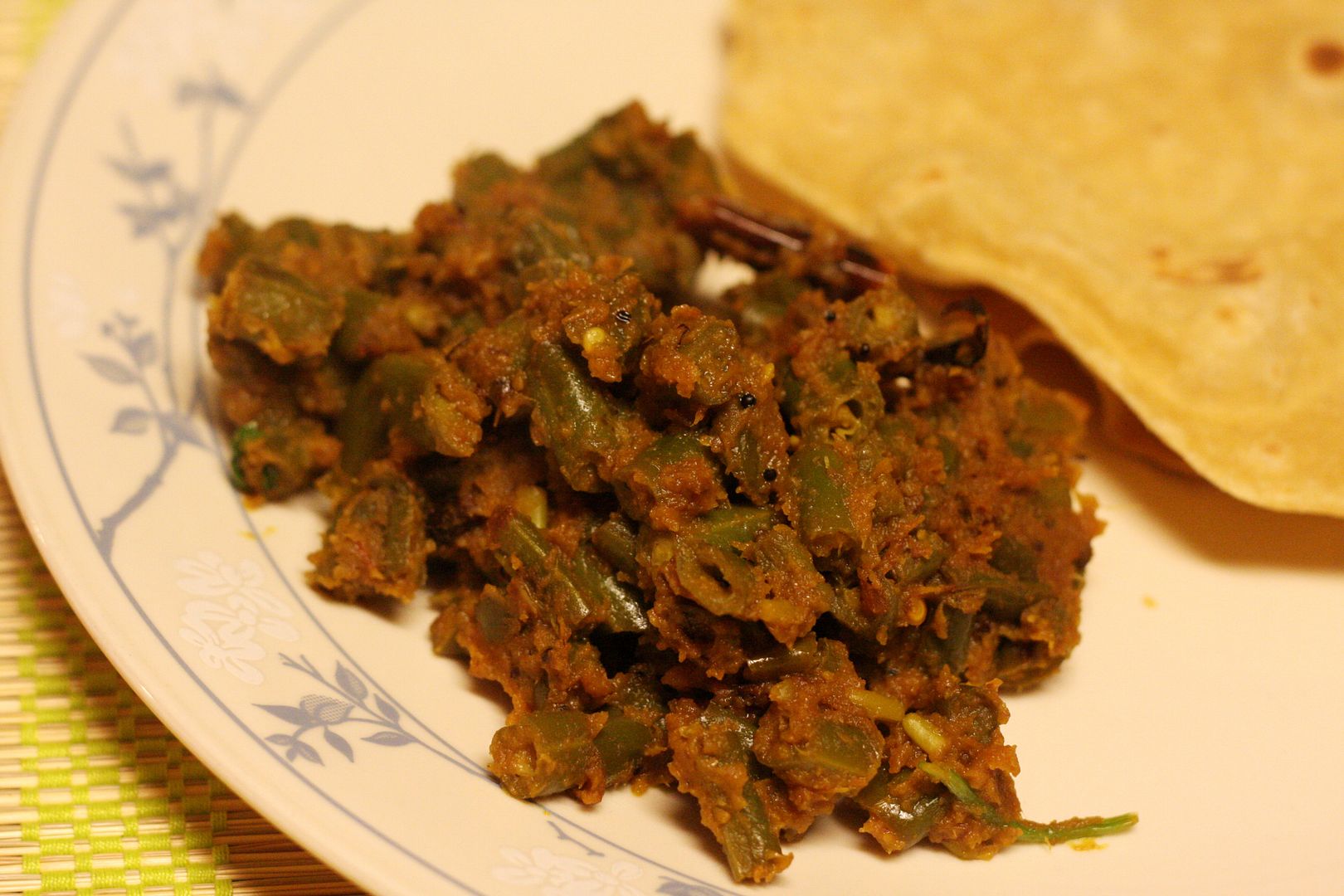 Green Beans with Onion Paste
Ingredients
1. 4 Cups of trimmed and cut into 1/2 inch pieces - Green Beans
2. 3/4 of a medium onion chopped
3. 4 garlic cloves chopped
4. 1 tomato chopped
5. 1/2 tsp turmeric powder
6. 3 tsp whole coriander seeds + 1 tsp cumin seeds, roast and then powder
7. seasonings: 1/4 tsp cumin seeds + 1/4 tsp mustard seeds
8. 2 tsp red chili powder (optional)
9. 2 whole red chilies + 2 green chilies slit
10. a handful of chopped coriander leaves
11. 1/2 tbsp lime juice
12. salt to taste
13. 1 tbsp of oil

Method
1. Blend the onion,ginger,garlic,tomato with turmeric powder to a smooth paste (do not add any water).
2. In a wide mouthed saute pan add 1/2 tbsp of oil and saute the paste till the raw smell is gone and when the paste sticks to the bottom add a tsp of water and continue to saute till oil separates or the raw smell completely disappears.
3. Add in the coriander cumin powders and mix it into to paste.
4. In another pan add a tsp of oil and add the seasonings and when the mustard starts to pop add the whole red chili and the slit green chilies.
5. Add the chopped green beans and saute for a minute.
6. Now add the sauteed onion paste and saute for a few more minutes.
7. Add salt and lime juice, cover and cook for 5-8 minutes till the beans are soft.
8. Add the chili powder when the beans are cooked and saute for a couple more minutes. Add in the coriander leaves and turn off the heat.

Serve with chapathis or with rice.