Growing up I was a voracious consumer of what my mother rightfully called pulp fiction. Language did not matter. I consumed them in my native tongue Tamil and of course my adopted language - English. English fiction books were very expensive with most of them being imported from the UK or US. If you wanted to buy you had to travel to Madras (a.k.a Chennai) the state capital or other bigger cities. Remember
Higginbotham's
? With no good libraries or the wherewithal to buy every book you want to read you learn to forage for books. Oh! those second hand books stalls were a god send.
Lucky for me my maternal uncles were voracious consumers of pulp fiction too. One summer I found their stash. It got introduced to authors like Harold Robbins, Ayn Rand, Earl Stanley Gardner, Robin Cook, John Steinbeck and several other others. The stash included book like Atlas Shrugged, Fountainhead and Grapes of Wrath. The first two kept me engaged for a few weeks, Grapes of Wrath well lets says I am still working on that.
When I got to this country and saw the public libraries the first thought that went through my head was how lucky the kids here were. The problem here is the opposite of what we had back home. With an abundant supply of books you have the job of discriminating between the ones you want to read and the ones you had no reason to bother with.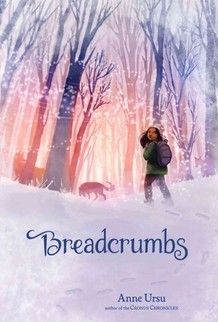 My ears are always sharpened for book recommendations. DD is at an age where she chooses her books. For DD2 who is beyond the beginning reader stage and has started to read a bit more longer books I am on the lookout for any sort of recommendation. On radio one day we heard the
Back Seat Book Club
on NPR discussing Breadcrumbs a book by Anne Ursu. DD2 had a fun reading it, while DD and me had a good time of our own reading it too. If you have kids in the 7-10 age range this is will be good read keeping them engrossed with the bowl of this tasty chili on the side.
Now on to the recipe,
Chili has never been one of my favorites. Mostly because it was the only option available in a lot of restaurants in those days with no meat. It looked spicy and red but that did not mean it was spicy or flavorful. It was bland and the cheese made it worse. I pretty much kept away from it whenever possible. That was till I tasted some at Whole Foods. It was tasty, spicy and very good. DH decided to make some on one of his cooking days. The difference between his style and mine, he follows the recipe exactly.
It is a straightforward recipe. It is great for making in bulk and freezing. Once reheated it tastes as when fresh and in some cases even better. The whole family can participate in the cooking - chopping, stirring and tasting. Only thing to be careful of is the cooking vessel. Start with a sturdy thick bottomed vessel because of the long cooking time.
Recipe Source:
Spicy Vegetarian Chili
Spicy Vegetarian Chili
1. 4 1/2 cups of cooked beans 3 + 1 1/2 (we used 1 1/2 dried red kidney beans + 1/2 cup dried black beans soaked overnight)
2. 1 medium sized White Onion
3. 1 Green bell pepper cored, seeded and cubed
4. 1 Red bell pepper cored, seeded and cubed
5. 4-5 garlic cloves
6. 2 carrots peeled and chopped
7. 3 sticks of celery chopped
8. 3 tablespoons of chopped chipotle in adobo sauce
9. 1/2 tablespoon red chili powder (adjust accordingly ours was noticeably spicy)
10. 2 tsp cumin powder
11. 28 ounces canned tomatoes (we used the whole ones and diced)
12. 2 tsp safflower oil and 1/2 tbsp olive oil
13. salt to taste

Method
1. Cook the beans in a sauce pan till they are just cooked but still very firm. (do not overcook as they will cook in the chili for another 30 minutes)
2. In a dutch oven or a wide mouthed thick bottomed pan add the oil and when hot add in all the veggies (2-7) and let them cook till they are soft (about 10 minutes) in medium heat.
3.Add in the cumin, chili powder, chiptole and salt and stir it into the veggies.
4. Add in the tomatoes and 4 cups of water and let cook for 45 minutes.
5.Now add the cooked beans and let cook for 30 more minutes.

Serve with some crusty bread or garlic bread.